Keeping Kupuna Safe at Home - KHON Interview with ASID Chapter President, Nancy Schnur, ASID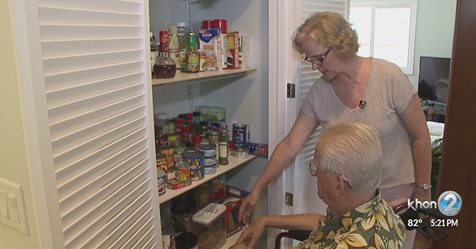 Click here for the video: http://www.khon2.com/news/local-news/kupuna-life/keeping-kupuna-safe-at-home/1226969176
HONOLULU (KHON2) - It may not be top of mind, because it's under your feet and around you: where you live. But for kupuna, there are dozens of ways to make their living space more comfortable, usable and safe.
Even before you step foot inside, the President of The American Society of Interior Designers Hawai'i says to get kupuna outside.
"This is ideal to get out of the house without leaving home," said Nancy Schnur, President of the American Society of Interior Designers Hawaii (ASID Hawaii). "You can entertain, have your morning coffee, it's protected from light showers, and it's a smooth surface back to your front door."
Unlike what you may confront "at" the front door, as Schnur explained showing the doorway.
"Obviously this threshold is not a smooth transition, you need some help getting up and over it," she said. "once you're in here, you can see the wheelchair or walker can move freely and do a complete turnaround in the kitchen."
Schnur suggests having the same flooring throughout the house.
"This is a perfect floor, it's vinyl that looks like wood," she said. "Because it's vinyl we can use it in the bathrooms and kitchens without worrying about water damage so there's no thresholds anywhere in the house it was just at the front door."
"Things we look for in a kitchen if you're in a wheelchair is when you open a cabinet, you need a drawer to pull out, the shelf to pull out," Schnur said.
In the shower, have a vertical grab bar.
And don't forget lights. Dimmers help for those with cataracts or macular degeneration, and motion sensor lights, especially down a hallway.
This was just a tiny fraction of design elements to consider but even our demonstrator John, who doesn't need all of that, learned a lot.
"Being an architect, I was familiar with quite a lot but even learned new things," he said. "and I hope I don't have to get into a situation where I have difficulty reaching into a pantry but possibly."
You can learn more this weekend at ASID Hawai'i's "Design Impacts Lives." It's free and open to the public, Saturday June 9th 10am to 4pm at Na Lama Kukui on Nimitz Highway. There'll be an interactive area, food trucks, panel discussions, and a sample sale.
For more information, visit the ASID website.