E-Newsletter: August/September 2019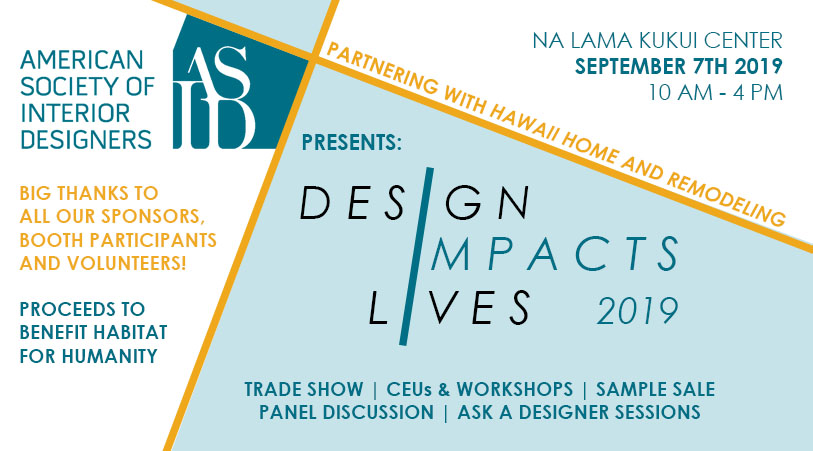 Mahalo to our partner Hawaii Home & Remodeling and to our sponsors and booth participants.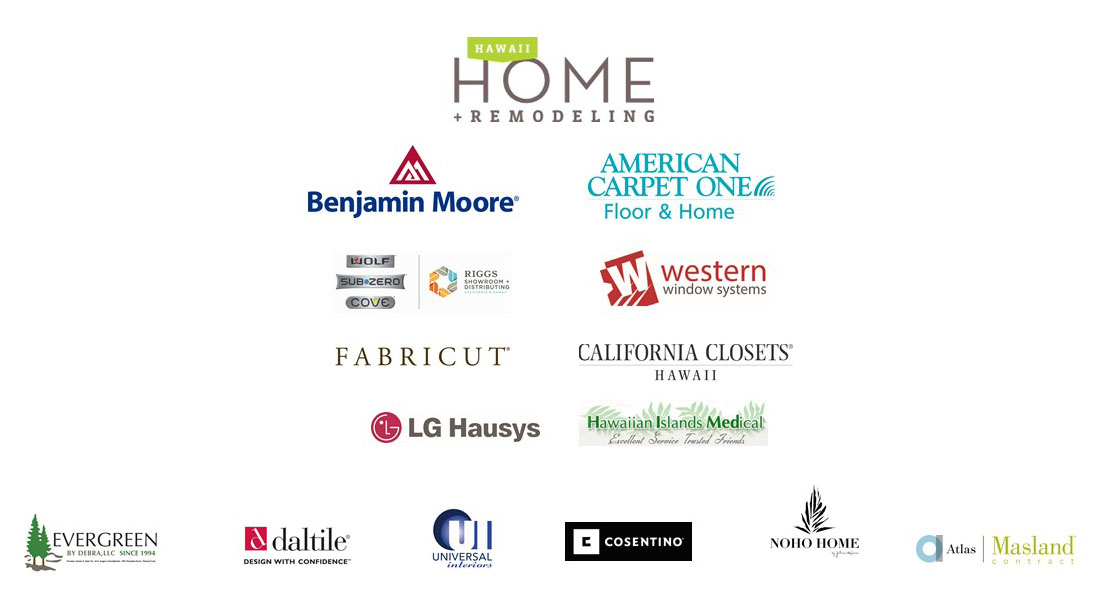 ---
President's Message
Aloha,
Hard to believe it's already August, time has flown by. We just finished representing ASID at the BIA Summer Home Show. BIA gives us a booth every year which is a great value to or membership. We did a panel discussion on Design Trends which was well attended, and we got lots of interest at our ASID booth. This is a great way for our members to be in front of people who are doing home renovation projects and educate them on the value of working with a professional designer. Thank you to everyone who participated and made this a successful event.
We are gearing up for our big event Design Impacts Lives on September 7, and still need your participation. Please consider being one of our ASID "speed date a designer" participants. It's a 3-hour commitment,12:00pm-3:00pm. The public will be paying $20 for a 20-minute consult with a designer. This is a great way to get new clients who are interested in working with a designer.
We also need help setting up the event from 7:00am-9:00am and working at the event (various shifts available) and breaking down the event from 4:00pm-6:00pm. I hope you will consider helping us out.
Lastly, we need donations for the sample sale portion of our the event. Anything home related will work. Do you have something hanging around that you ordered wrong, extra tile, random plumbing fixtures, etc? Do you have clients who are getting rid of things to be replaced by the amazing new things you have selected? I had a client give me an Indich rug and several accessories to sell at the event. Anything in saleable condition will be greatly appreciated and, remember, proceeds will help Habitat for Humanity.
We can't pull this off without the help of our association members. Please consider volunteering some time to make this event a success. You may even get some new clients along the way. I look forward to seeing many of you on September 7.
With gratitude & aloha,
Tiare Noelani Pinto, Allied ASID, CKD
president@hi.asid.org
---
Local Events (Click on event title for more details.)
September 7
Design Impacts Lives
---
National Events
November 2 – 5
Healthcare Design Expo & Conference
For a full list of upcoming national events, visit www.asid.org/events.
---
One Voice
Each day interior designers use their voices and visions to reshape spaces--and therefore the lives of those occupying them--for the better. With those same voices working in unison, they have the power to design a better future for themselves and the entire profession. That is why ASID began One Voice; to empower interior designers to get involved and advocate for or against the public policy that will ultimately influence their careers and lives. For more info:
https://www.asid.org/one-voice/action-report/4122018?utm_source=insider&utm_medium=email&utm_campaign=advocacy2018&utm_term=4.12.2018
---
Design News (Click on title for complete article.)
Navy Is The New Black In Kitchens And Bathrooms, Design Pros Say
Forbes
When a kitchen costs $63,829 to $125,721 for a major midrange to upscale remodel and a full bathroom redo spans $19,134 to $51,662, according to Remodeling's Cost vs Value Report, you're not factoring color trends for a single year into your calculation; you're designing for 10 to 20 years. Paint is easy and relatively affordable to change. Cabinets, countertops, fixtures and appliances are larger, more permanent investment choices, and they need to stand the test of time. So why is one particular color proving to be a popular and enduring choice?
Free eBook - Micro Design & Urban Living
2020 Inc
The rules for designing small houses and micro condos are different from those that apply to traditional homes. The space is limited and requires unique solutions to make the most of it. Every square inch counts and must be utilized to maximize functionality. This eBook will cover micro design solutions and concepts that will help you cater to clients living an urban lifestyle. It will include:
Would You Stay in This Hotel That Hangs 1,982 Feet Over a Cliff?
AD
If swimming in a glass-bottomed pool 1,982 feet above a cliff sounds like your idea of a good time, consider checking in to the new extreme boutique hotel concept from Hayri Atak Architectural Design Studio when it opens. The Turkish design firm has just unveiled plans for a boutique hotel that is to be built into the side of the famous Preikestolen cliff in Ryfylke, Norway, offering one of the most spectacular views in the world.
Housing Market Check-In: 6 Expert Predictions For The Second Half Of 2019
Forbes
The year has so far been a promising one for would-be home buyers. The seemingly unending rise in home prices started to slow and mortgage rates dipped to unexpected lows.
Are we witnessing the death of Main Street, or its rebirth?
Multibriefs
The decline of America's downtown "Main Streets" is nothing new. First, the rise of the automobile meant they were displaced as the nexus of community and commercial life by out-of-town malls. More recently, even the malls have fallen victim to the rise of online shopping, with 1 in 4 expected to be closed by 2022.
The 13 Items that Transformed our Homes in 2019
Vogue
Decorating a home can be a headache, especially if you live in New York City with limited space. Not only do you want to make your personal space welcoming and cozy, but you want to make the most of the space that you have. So we asked a couple of Vogue editors, about household items that made a difference in their day-to-day lives.
Next-Generation Designers Offer Insight into Future of Design
Interiors and Sources
If you've been a reader of interiors+sources for more than a decade, you may recall a special cover story we published in 2006 based on a roundtable we held with 10 young professionals who shared their insights about the design industry and where it was headed.
At the time, sustainability, licensing and certification, and educating clients on the value of design services were among the biggest concerns of these emerging designers. A lot has changed since then, and yet, some things remain the same.
---
Become a Chapter Sponsor
ASID Hawaii Chapter strives to work in support of our local interior designers by providing opportunities for continuing education, advocacy for the profession, social events and recognition of Design Excellence through our annual awards gala. While a small portion of our annual membership fees provides seed money for these activities, it is through annual sponsorships from our collaborative team of design firms and industry partners that the financial and personalized support is found to realize the programs and functions the membership expects.
As a sponsor of ASID Hawaii, your company can engage with members, participate in events, host meetings, and sponsor activities. Additionally, you will have the opportunity to increase visibility through additional marketing, branding, special access, and deeper engagement with ASID members. Sponsorship is an excellent opportunity for your business to gain exposure and showcase your products and services to our local interior design community.
For a sponsorship package please send an email reqest to: administrator@hi.asid.org.
---
Advertise with Us
There are several ways you can advertise with our chapter including email blasts, newsletter ads and website ads. Click here to learn more about advertising options.
---
Let's Connect
ASID HAWAII FACEBOOK: Please "like" us on Facebook! CLICK HERE to make sure you are up to date with ASID Hawaii's events, design news and stories. We are also on:
TWITTER
---
Maximize Your ASID Benefits
Trade Pricing and Discounts
ASID membership has its benefits—including exclusive discounts on products and services from national sponsors and industry partners.Make sure your to-the-trade offers or discounts are featured and email industrypartners@asid.org with your company logo, description of your trade service, and a link to register.
Find answers to frequenty asked membership questions including member qualifications, payments and dues, membership cards, updating your profile, CEUs,and password retrieval.
Everything you need to know about NCIDQ exams.
ASID supports the professional development of the Society's members and the profession with continuing education programs and events that allow participants to advance in their careers and build their skill sets. ASID, our Chapters, and Industry Partners offer a variety of continuing education opportunities in-person and online.
ASID Academy: The ASID Academy is a user friendly, dynamic, streamlined continuing education experience offering high-quality courses, webinars, and more in a learn anytime, anywhere (with an internet connection), on your own schedule environment. Topic areas include the Business of Design, Health & Wellness, Institutional, Healthcare, Residential, Workplace, and Hospitality & Retail design. Check out engaging courses like Designing for a New Millennial Culture and earn valuable IDCEC and AIA CEUs in the process. Explore the Academy.

Check out the new IDCEC Website Guide!
ASID members must earn a minimum of 1.0 unit (10 hours) of approved continuing education (CEU) every two years. We've updated the instructions for CEU reporting that align with IDCEC's new website to help you navigate the process.
ASID members are to utilize the Interior Design Continuing Education Council (IDCEC) registry to warehouse CEUs. Every ASID member has a unique IDCEC number to login into the website (your IDCEC number is different than your ASID number). The IDCEC user registry allows you to upload and track your continuing education activity as well as store a record under your account. Check your IDCEC account regularly to ensure your records are up to date.
Each year, ASID recognizes the exemplary achievements and outstanding service demonstrated by highly engaged members, chapters, student chapters, and industry partners through our awards and honors programs.
---
Website Log-in Help
The default login info is first name.lastname.member ID, and then the password is just your member ID. If you've forgotten your password, click Log In and then click Forgot Password.
---
About ASID
The American Society of Interior Designers (ASID) believes that design transforms lives. ASID serves the full range of the interior design profession and practice through the Society's programs, networks, and advocacy. We thrive on the strength of cross-functional and interdisciplinary relationships among designers of all specialties, including workplace, healthcare, retail and hospitality, education, institutional, and residential. We lead interior designers in shared conversations around topics that matter: from evidence-based and human-centric design to social responsibility, well-being, and sustainability. We showcase the impact of design on the human experience and the value interior designers provide.