E-Newsletter: September/October 2019
President's Message
Aloha, ASID Members:
Parting is such sweet sorrow. I can hardly believe a year has gone by. I would like to thank everyone who has participated and helped to make this year a success.
We will be having our old board/new board meeting on September 29 at my home, 45-201 Nohonani Place, from noon to 2:00pm. If anyone is interested in attending please let me know. We will be reviewing and voting on the FY20 budget and strategic plan. ALL are welcome.
We just had our second annual fundraiser: Design Impacts Lives. It was a great success. We had a sample sale to benefit Habitat for Humanity, a panel discussion on why you should hire an interior designer, and speed date a designer $20 for a 20-minute consultation; this was a great way to educate the public on the value of hiring a professional designer. Our trade show was well attended, and the feedback from all our sponsors was very positive. We will be holding this event every other year alternating with our Design Excellence Awards. Mahalo to our hard-working board members and all of the sponsors, speakers and volunteers who made this event a success.
We are putting together the committee for our 2020 Design Excellence Awards. If you'd like to help create the new design awards format, please volunteer to be on the committee. We have lots of unique ideas and we welcome everyone's input. The design awards will be celebrated in September or October 2020 so we have ample time to put together an amazing event.
I will still play an active role as past president and will be putting together the new slate of officers for FY21 board elections. If you are moved to serve, please reach out to me...or I'll be calling you.
It has been my pleasure to serve as the ASID Hawaii chapter president. I look forward to having our new president, Deedee Ackerman, take the helm on October 1. I am sure she will bring a new inspired vision for the year ahead.
With gratitude and aloha,
Tiare Pinto
A Huge Mahalo fo our Generous Design Impacts Lives Sponsors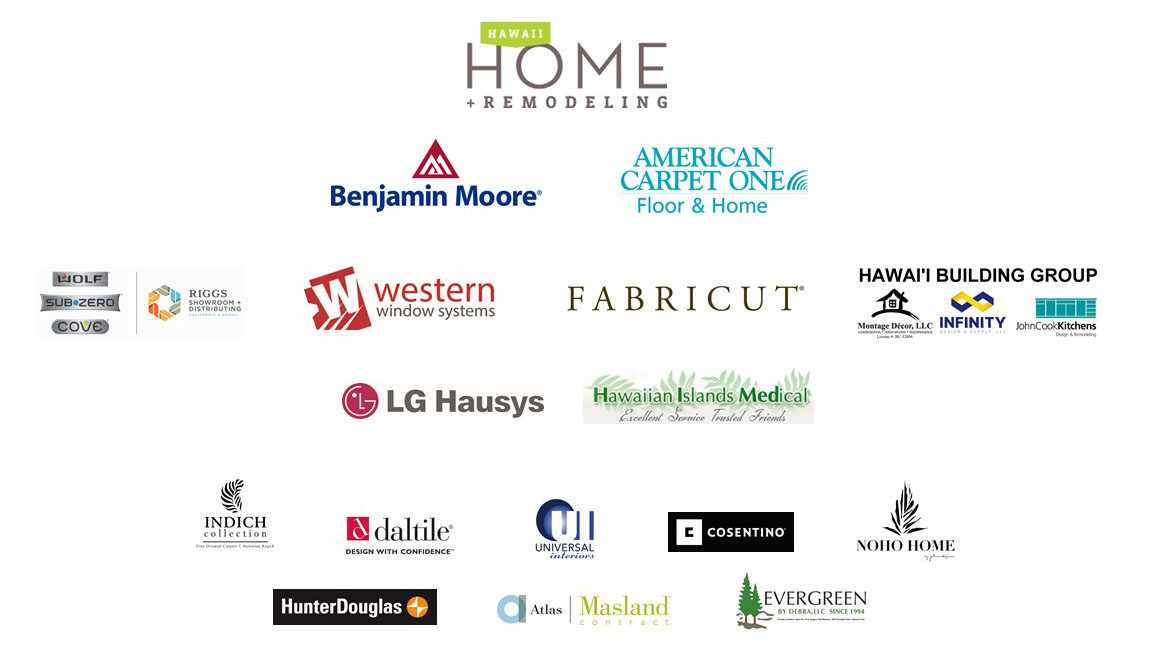 ---
Local Events (Click on event title for more details.)
October 12
Ho'huli Awards
---
National Events
November 2 – 5
Healthcare Design Expo & Conference
For a full list of upcoming national events, visit www.asid.org/events.
---
One Voice
Each day interior designers use their voices and visions to reshape spaces--and therefore the lives of those occupying them--for the better. With those same voices working in unison, they have the power to design a better future for themselves and the entire profession. That is why ASID began One Voice; to empower interior designers to get involved and advocate for or against the public policy that will ultimately influence their careers and lives. For more info click here.
---
Design News (Click on title for complete article.)
The husband-and-wife founders of Nielsen Schuh incorporated a Tesla Powerwall battery into their house, providing energy even during times of darkness and utility outages
Top Bathroom Design Trends for 2020
Builder
Trends tend to come and go with the years, and experts are already looking ahead to the design trends they expect to see in 2020. With the construction market hot, the Baltimore Post-Examiner took a look at some of bathroom trends expected to gain popularity in 2020.
Older Designers Need to Flaunt Their Strengths
MultiBriefs
We live in a culture that is always chasing after the next new thing — a mentality that favors the young. Nonetheless, when it comes to executing ideas and problem-solving, there's a lot to be said for knowledge, proven skill and experience, which older designers have in spades.
ASID Shares Winners of Its First-Ever Design Impact Awards Program
ASID explores the recent winners of its inaugural Design Impact Awards program, which recognizes new, innovative products featured at Emerald Expositions design tradeshows and conferences.
Hospitality and Residential Markets Are Redefining Workplace Design
Design News
Respitality or resimercial—whatever you call it, the workplace looks a lot more like home or a destination hotel.
50+ Decorating Tips Top Designers Swear By
Elle Decor
Inspiration to craft the home of your dreams.
Romancing the Feng Shui
New York Times
Was I blocking love in my Harlem apartment? Could clearing out under my bed open the door to my love life?
The Behr 2020 Color Trends Palettes are Here
Freshome
Behr Paint released their 2020 Color Trends Palettes and they're significant. According to the company, it's a new decade, calling for fresh and exciting new paint hues. The 3 collections of 15 colors offer enough variety to work with all design styles from modern to traditional. Unlike other paint color companies, the palettes were created […]
---
Become a Chapter Sponsor
ASID Hawaii Chapter strives to work in support of our local interior designers by providing opportunities for continuing education, advocacy for the profession, social events and recognition of Design Excellence through our annual awards gala. While a small portion of our annual membership fees provides seed money for these activities, it is through annual sponsorships from our collaborative team of design firms and industry partners that the financial and personalized support is found to realize the programs and functions the membership expects.
As a sponsor of ASID Hawaii, your company can engage with members, participate in events, host meetings, and sponsor activities. Additionally, you will have the opportunity to increase visibility through additional marketing, branding, special access, and deeper engagement with ASID members. Sponsorship is an excellent opportunity for your business to gain exposure and showcase your products and services to our local interior design community.
For a sponsorship package please send an email reqest to: administrator@hi.asid.org.
---
Advertise with Us
There are several ways you can advertise with our chapter including email blasts, newsletter ads and website ads. Click here to learn more about advertising options.
---
Let's Connect
ASID HAWAII FACEBOOK: Please "like" us on Facebook! CLICK HERE to make sure you are up to date with ASID Hawaii's events, design news and stories. We are also on:
TWITTER
---
Maximize Your ASID Benefits
Trade Pricing and Discounts
ASID membership has its benefits—including exclusive discounts on products and services from national sponsors and industry partners.Make sure your to-the-trade offers or discounts are featured and email industrypartners@asid.org with your company logo, description of your trade service, and a link to register.
Find answers to frequenty asked membership questions including member qualifications, payments and dues, membership cards, updating your profile, CEUs,and password retrieval.
Everything you need to know about NCIDQ exams.
ASID supports the professional development of the Society's members and the profession with continuing education programs and events that allow participants to advance in their careers and build their skill sets. ASID, our Chapters, and Industry Partners offer a variety of continuing education opportunities in-person and online.
ASID Academy: The ASID Academy is a user friendly, dynamic, streamlined continuing education experience offering high-quality courses, webinars, and more in a learn anytime, anywhere (with an internet connection), on your own schedule environment. Topic areas include the Business of Design, Health & Wellness, Institutional, Healthcare, Residential, Workplace, and Hospitality & Retail design. Check out engaging courses like Designing for a New Millennial Culture and earn valuable IDCEC and AIA CEUs in the process. Explore the Academy.

Check out the new IDCEC Website Guide!
ASID members must earn a minimum of 1.0 unit (10 hours) of approved continuing education (CEU) every two years. We've updated the instructions for CEU reporting that align with IDCEC's new website to help you navigate the process.
ASID members are to utilize the Interior Design Continuing Education Council (IDCEC) registry to warehouse CEUs. Every ASID member has a unique IDCEC number to login into the website (your IDCEC number is different than your ASID number). The IDCEC user registry allows you to upload and track your continuing education activity as well as store a record under your account. Check your IDCEC account regularly to ensure your records are up to date.
Each year, ASID recognizes the exemplary achievements and outstanding service demonstrated by highly engaged members, chapters, student chapters, and industry partners through our awards and honors programs.
---
Website Log-in Help
The default login info is first name.lastname.member ID, and then the password is just your member ID. If you've forgotten your password, click Log In and then click Forgot Password.
---
About ASID
The American Society of Interior Designers (ASID) believes that design transforms lives. ASID serves the full range of the interior design profession and practice through the Society's programs, networks, and advocacy. We thrive on the strength of cross-functional and interdisciplinary relationships among designers of all specialties, including workplace, healthcare, retail and hospitality, education, institutional, and residential. We lead interior designers in shared conversations around topics that matter: from evidence-based and human-centric design to social responsibility, well-being, and sustainability. We showcase the impact of design on the human experience and the value interior designers provide.