E-Newsletter: April/May 2023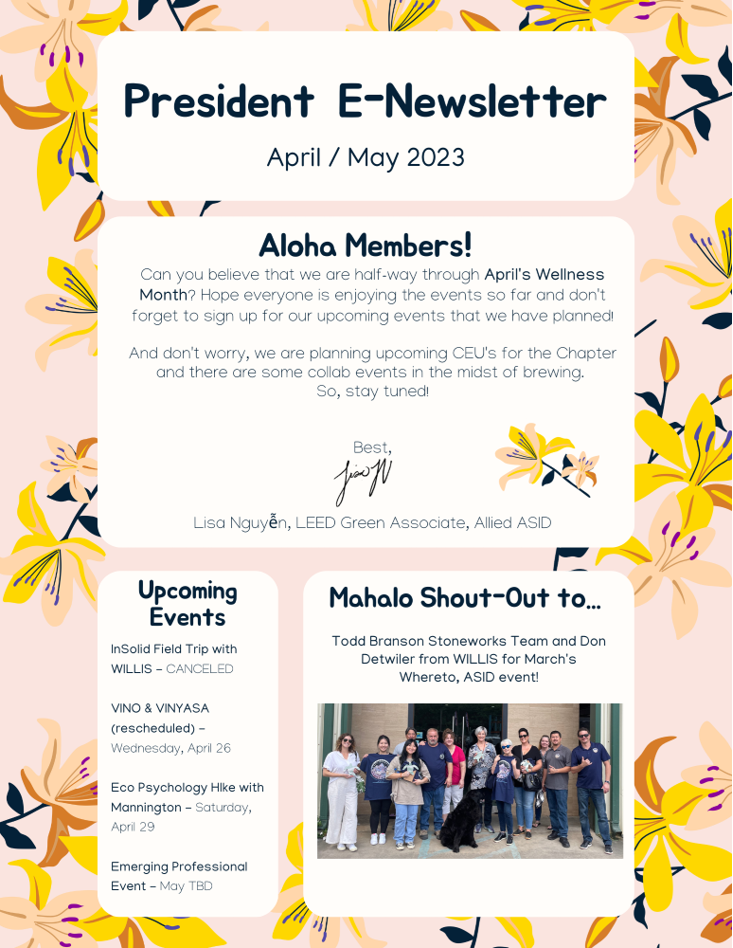 Feel free to contact Cee at administrator@hi.asid.org if you want more information on our upcoming events!
---
Become a Sponsor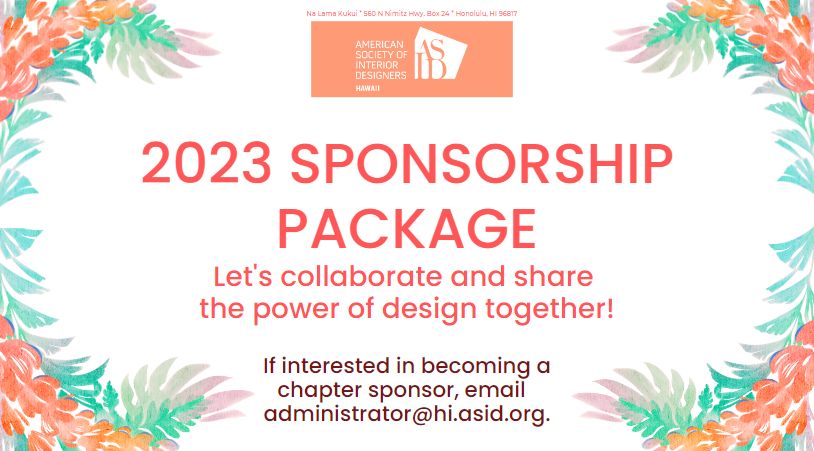 The new sponsorship package is available. Please click here for all of the exciting details.
---
CEU Reminder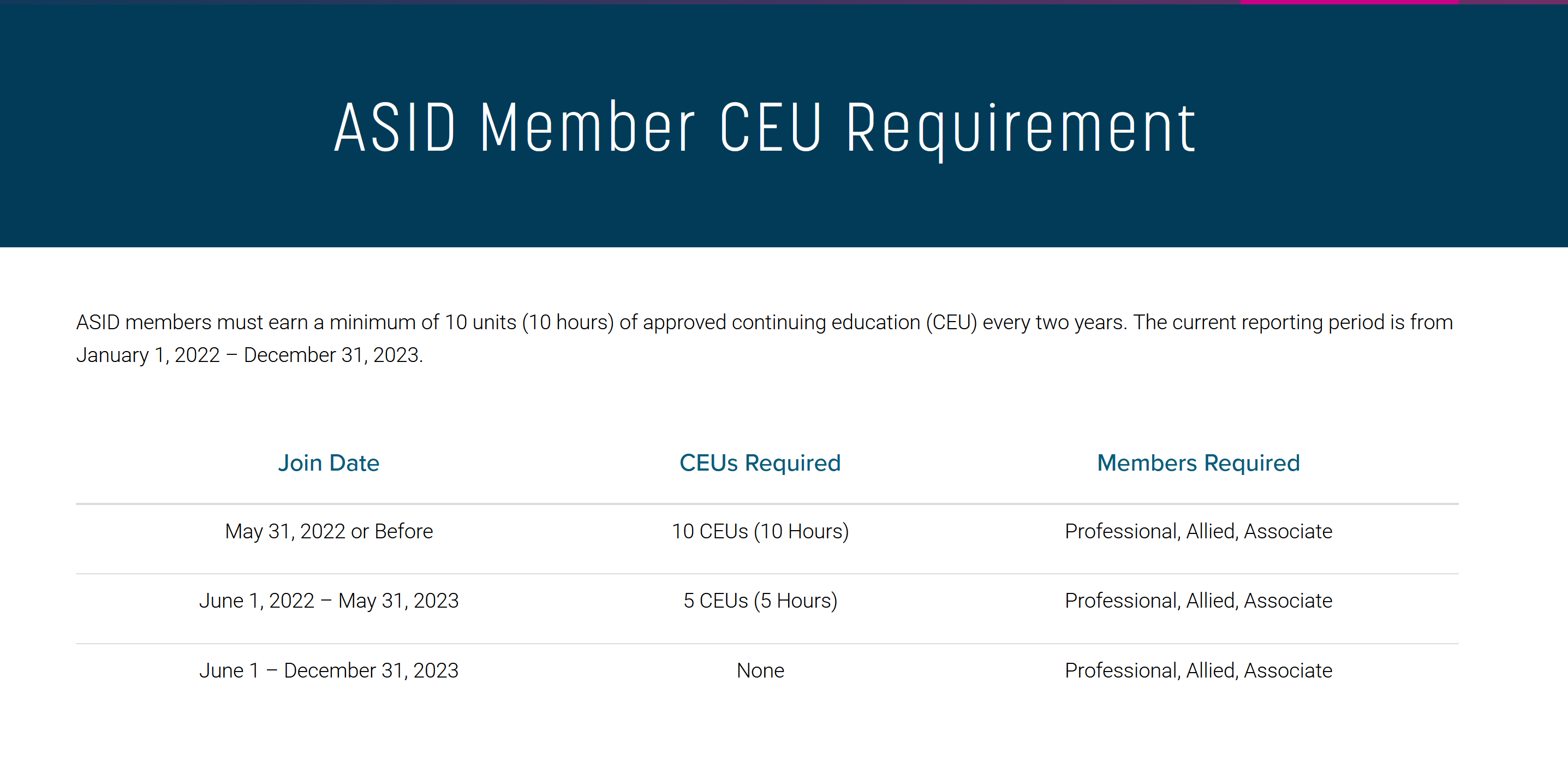 For more info on CEU requirements, please click here.
---
Local Events (Click on highlighted link for more information.)
April 26
Vino and Vinyasa
April 29
Eco Psychology Hike*
*More details to follow soon.
---
National Events
Please click here for a complete list of national events.
---
Design Articles
Your go-to guide for Milan Design Week 2023
Business of Home
Hundreds of thousands of design aficionados will descend on Milan next week for the 61st edition of Salone del Mobile, as well as the many Fuorisalone pop-ups throughout town. So pack your bags—and your cutest flats—and bookmark this page for the firsthand scoop on all the dreamy, design-forward stops this market editor will be making while she's in town. Ciao!
Alvic USA Releases Nature-Inspired 'Vivid Reality' Color Collection
designwell
Told in two stories of warmth and invigoration bring the natural colors of the world indoors.
10 Lavish Home Bar Ideas We're Loving on the AD PRO Directory
AD
Why leave the house for a cocktail? Explore designer-approved home bar ideas perfect for entertaining friends and family.
Five on Friday: April 14th, 2023
Hospitality Design
A look at the must-read news stories impacting the hospitality industry this week.
ASID Predicts the Year's Top 5 Sustainability Trends
Interiors and Sources
As eco-consciousness becomes an ingrained lifestyle choice in more neighborhoods and communities, we examine what commercial designers should take away from these consumers.
We're Spying These 7 Spring Decor Trends Everywhere
Elle Decor
ICYMI, candles are basically furniture.
Hawaii Real Estate Market: Will it Crash in 2023?
Houzeo
The Hawaii housing market is amid a major shift. The median sale price was down 3.2% in February 2023 Y-O-Y, but the number of homes sold dropped 45.7%. As mortgage rates are at record highs in 20 years by 7.08%. Sellers are reducing prices as homes stay on the market longer. Buyers finally have market power.
Now that the housing market Hawaii is threatened by a similar instance of rising mortgage rates and the possibility of a recession, buyers and homeowners are asking a familiar question: When will the housing market crash in Hawaii?
---
Let's Connect
ASID HAWAII FACEBOOK: Please "like" us on Facebook! CLICK HERE to make sure you are up to date with ASID Hawaii's events, design news and stories. We are also on:
TWITTER
---
Maximize Your ASID Benefits
Trade Pricing and Discounts
ASID membership has its benefits—including exclusive discounts on products and services from national sponsors and industry partners.Make sure your to-the-trade offers or discounts are featured and email industrypartners@asid.org with your company logo, description of your trade service, and a link to register.
Find answers to frequenty asked membership questions including member qualifications, payments and dues, membership cards, updating your profile, CEUs,and password retrieval.
Everything you need to know about NCIDQ exams.
ASID supports the professional development of the Society's members and the profession with continuing education programs and events that allow participants to advance in their careers and build their skill sets. ASID, our Chapters, and Industry Partners offer a variety of continuing education opportunities in-person and online.
ASID Academy: The ASID Academy is a user friendly, dynamic, streamlined continuing education experience offering high-quality courses, webinars, and more in a learn anytime, anywhere (with an internet connection), on your own schedule environment. Topic areas include the Business of Design, Health & Wellness, Institutional, Healthcare, Residential, Workplace, and Hospitality & Retail design. Check out engaging courses like Designing for a New Millennial Culture and earn valuable IDCEC and AIA CEUs in the process. Explore the Academy.

Check out the new IDCEC Website Guide!
ASID members must earn a minimum of 10 unit (10 hours) of approved continuing education (CEU) every two years. We've updated the instructions for CEU reporting that align with IDCEC's new website to help you navigate the process.
ASID members are to utilize the Interior Design Continuing Education Council (IDCEC) registry to warehouse CEUs. Every ASID member has a unique IDCEC number to login into the website (your IDCEC number is different than your ASID number). The IDCEC user registry allows you to upload and track your continuing education activity as well as store a record under your account. Check your IDCEC account regularly to ensure your records are up to date.
Each year, ASID recognizes the exemplary achievements and outstanding service demonstrated by highly engaged members, chapters, student chapters, and industry partners through our awards and honors programs.
---
One Voice
Each day interior designers use their voices and visions to reshape spaces--and therefore the lives of those occupying them--for the better. With those same voices working in unison, they have the power to design a better future for themselves and the entire profession. That is why ASID began One Voice; to empower interior designers to get involved and advocate for or against the public policy that will ultimately influence their careers and lives. For more info click here.
---
Website Log-in Help
The default login info is first name.lastname.member ID, and then the password is just your member ID. If you've forgotten your password, click Log In and then click Forgot Password.
---
About ASID
The American Society of Interior Designers (ASID) believes that design transforms lives. ASID serves the full range of the interior design profession and practice through the Society's programs, networks, and advocacy. We thrive on the strength of cross-functional and interdisciplinary relationships among designers of all specialties, including workplace, healthcare, retail and hospitality, education, institutional, and residential. We lead interior designers in shared conversations around topics that matter: from evidence-based and human-centric design to social responsibility, well-being, and sustainability. We showcase the impact of design on the human experience and the value interior designers provide.