E-Newsletter: December/January 2023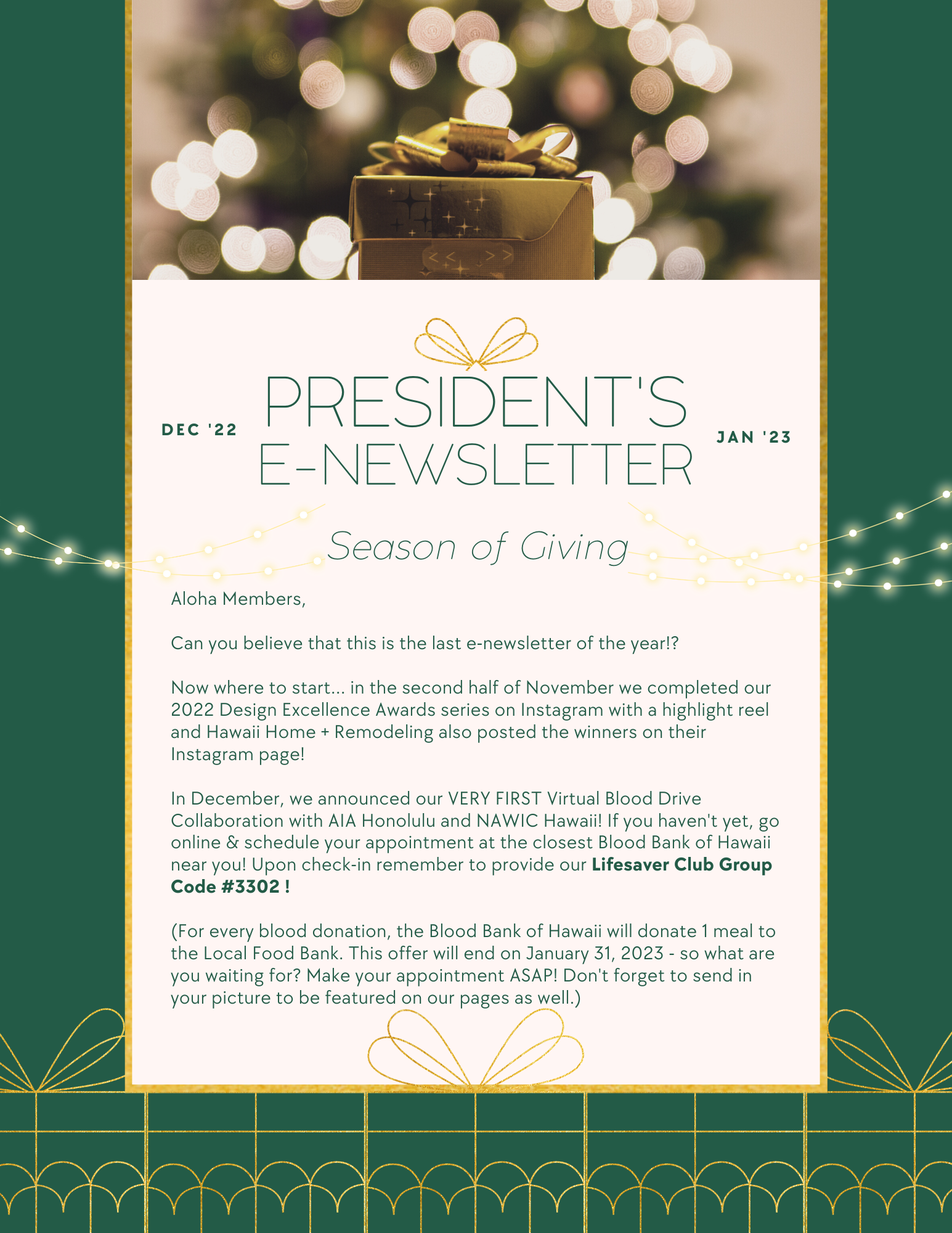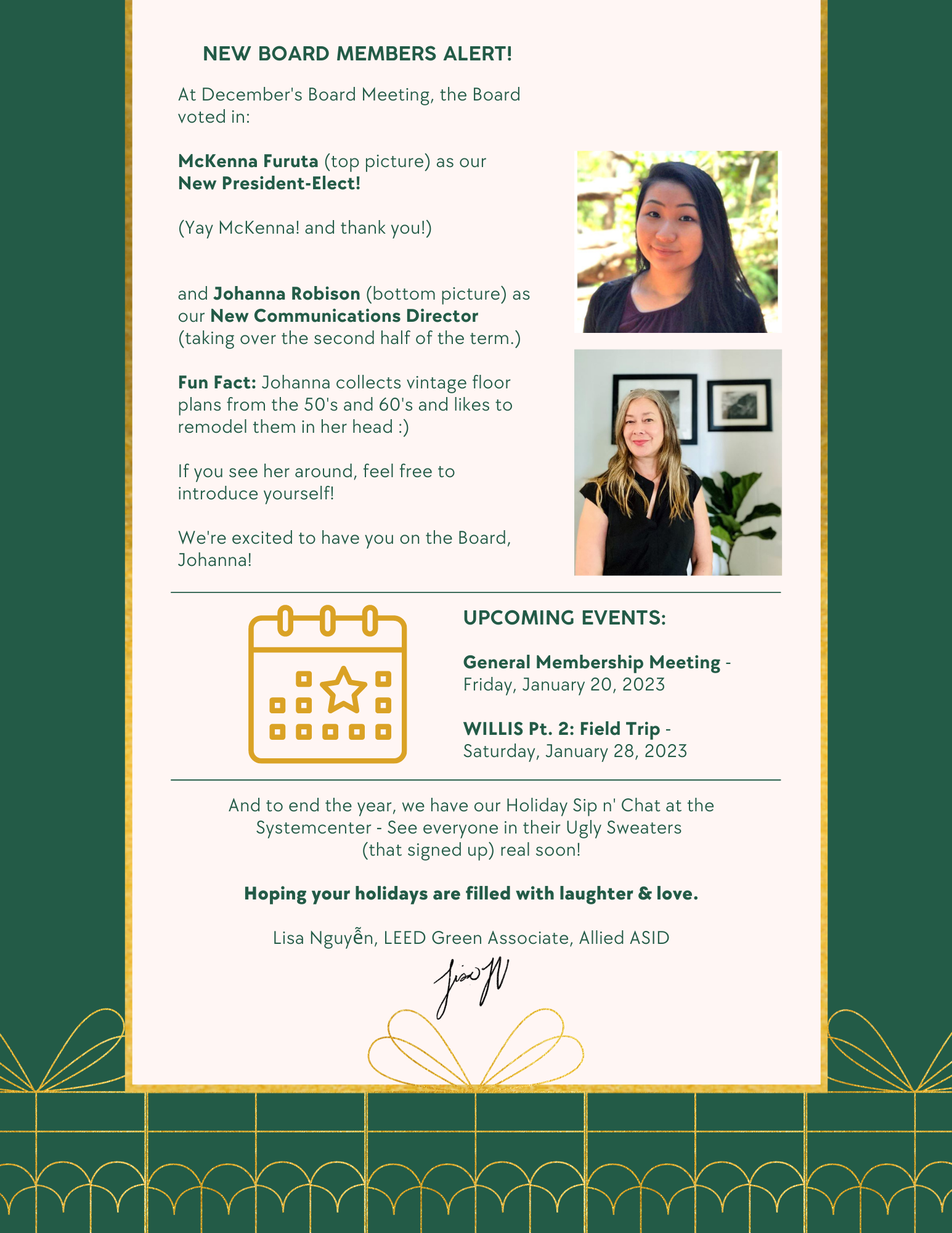 ---
Local Events (Click on highlighted link for more information.)
December 1 to January 31
Virtual Blood Drive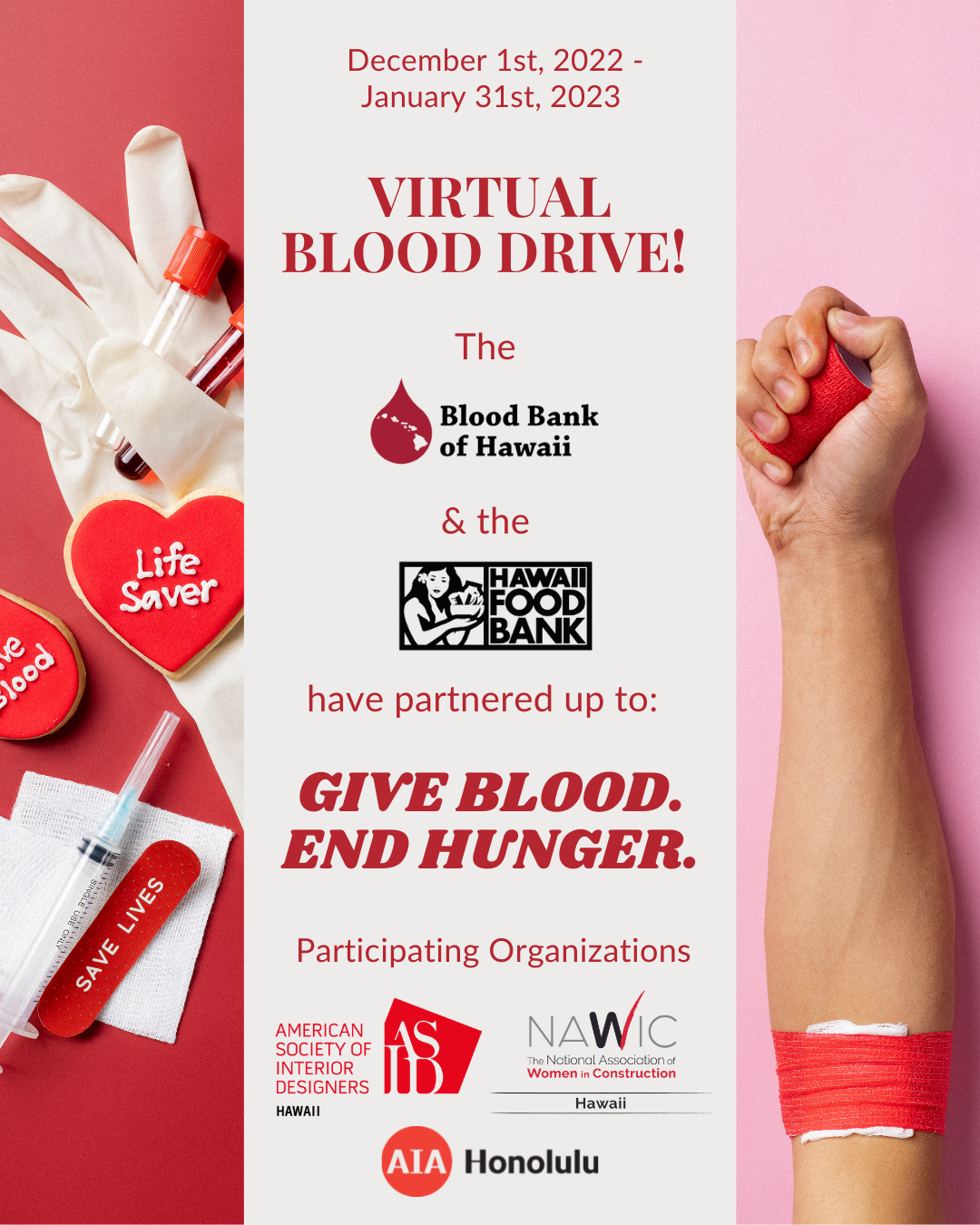 December 16
Holiday Sip n' Chat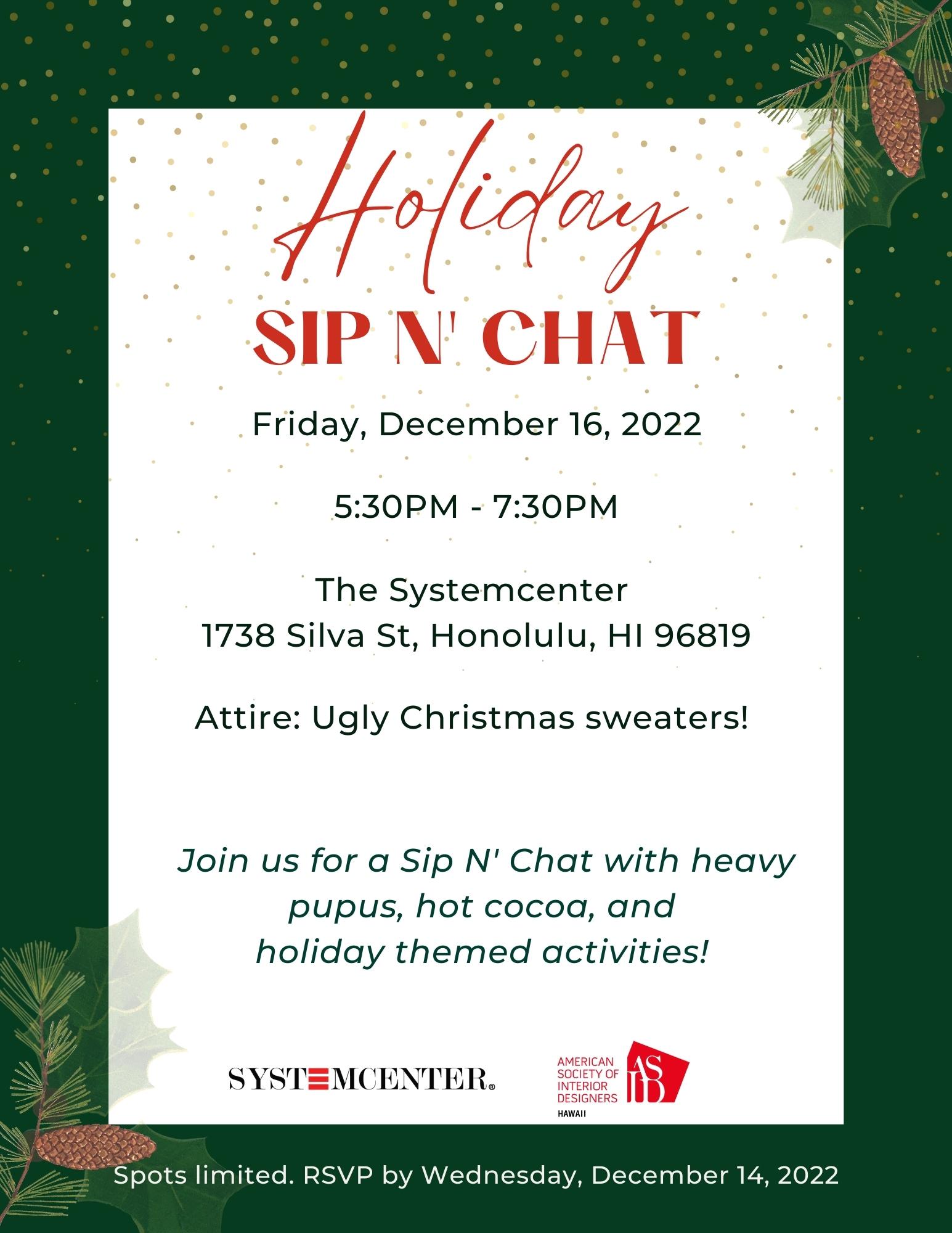 January 20 (Details soon.)
General Membership Meeting
January 28 (Details soon.)
WILLIS Part 2: Field Trip
---
National Events
Please click here for a complete list of national events.
---
Design Articles
Interior Design's Best of the Year Awards
Interior Design
See Interior Design's 2022 Best of Year Award winners, representing the best A&D projects and products from across the globe.
How two extremes of home—Louis Vuitton and Home Depot—are redefining retail.
Business of Home
At opposite ends of the market, Louis Vuitton and Home Depot are each introducing innovative store concepts. Warren Shoulberg explains how the two very different brands are opening up new possibilities for home retail.
How the Workplace Can Holistically Evolve to Support Employees
Interiors and Design
Addressing four key areas of the workplace can not only entice people back into the office, but also offer employees a space where they can become their best selves both personally...
Pantone's Color of the Year 2023 Is Viva Magenta
Design Milk
In case you haven't heard, Pantone announced their Pantone Color of the Year 2023 and it's... PANTONE 18-1750 Viva Magenta!
Best Healthy Home Upgrades For 2023
Forbes
There are countless articles and blog posts focusing on which home improvements will yield the greatest financial return on investment. But there's another way to look at the ROI conversation: Which home improvements offer the best potential for improving your personal well-being.
Behind the Design: Phillip Jeffries In HBO's White Lotus
Phillip Jeffries
While the actual "White Lotus Hotel" is purely fictional, the beautiful designs on the show are very real and can be found at the Four Seasons Resort Maui at Wailea. This open-air beachfront resort features luxurious amenities including gorgeous pools, spectacular ocean views, and several Phillip Jeffries Wallcoverings in the guest rooms and suites.
TRIBE Debuts Lifestyle Hotel in Bali
Hospitality Design
TRIBE Bali Kuta Beach draws upon local design traditions for an inclusive and intimate experience.
Gas and Electric Fireplaces Are the Future. We Asked Design Pros How to Make Them Seem Real.
WSJ
Facing stricter restrictions on wood-burning fireplaces, interior designers are learning to decorate around the alternatives so well that homeowners don't really care that the fire isn't "authentic."
2022 Healthcare Design Breaking Through Finale: Meet The Winner And Finalists
Healthcare Design
Healthcare Design's conceptual design competition ended in October. Here's an inside look at the conceptual designs that made it to the program's final round.
---
Let's Connect
ASID HAWAII FACEBOOK: Please "like" us on Facebook! CLICK HERE to make sure you are up to date with ASID Hawaii's events, design news and stories. We are also on:
TWITTER
---
Maximize Your ASID Benefits
Trade Pricing and Discounts
ASID membership has its benefits—including exclusive discounts on products and services from national sponsors and industry partners.Make sure your to-the-trade offers or discounts are featured and email industrypartners@asid.org with your company logo, description of your trade service, and a link to register.
Find answers to frequenty asked membership questions including member qualifications, payments and dues, membership cards, updating your profile, CEUs,and password retrieval.
Everything you need to know about NCIDQ exams.
ASID supports the professional development of the Society's members and the profession with continuing education programs and events that allow participants to advance in their careers and build their skill sets. ASID, our Chapters, and Industry Partners offer a variety of continuing education opportunities in-person and online.
ASID Academy: The ASID Academy is a user friendly, dynamic, streamlined continuing education experience offering high-quality courses, webinars, and more in a learn anytime, anywhere (with an internet connection), on your own schedule environment. Topic areas include the Business of Design, Health & Wellness, Institutional, Healthcare, Residential, Workplace, and Hospitality & Retail design. Check out engaging courses like Designing for a New Millennial Culture and earn valuable IDCEC and AIA CEUs in the process. Explore the Academy.

Check out the new IDCEC Website Guide!
ASID members must earn a minimum of 10 unit (10 hours) of approved continuing education (CEU) every two years. We've updated the instructions for CEU reporting that align with IDCEC's new website to help you navigate the process.
ASID members are to utilize the Interior Design Continuing Education Council (IDCEC) registry to warehouse CEUs. Every ASID member has a unique IDCEC number to login into the website (your IDCEC number is different than your ASID number). The IDCEC user registry allows you to upload and track your continuing education activity as well as store a record under your account. Check your IDCEC account regularly to ensure your records are up to date.
Each year, ASID recognizes the exemplary achievements and outstanding service demonstrated by highly engaged members, chapters, student chapters, and industry partners through our awards and honors programs.
---
One Voice
Each day interior designers use their voices and visions to reshape spaces--and therefore the lives of those occupying them--for the better. With those same voices working in unison, they have the power to design a better future for themselves and the entire profession. That is why ASID began One Voice; to empower interior designers to get involved and advocate for or against the public policy that will ultimately influence their careers and lives. For more info click here.
---
Website Log-in Help
The default login info is first name.lastname.member ID, and then the password is just your member ID. If you've forgotten your password, click Log In and then click Forgot Password.
---
About ASID
The American Society of Interior Designers (ASID) believes that design transforms lives. ASID serves the full range of the interior design profession and practice through the Society's programs, networks, and advocacy. We thrive on the strength of cross-functional and interdisciplinary relationships among designers of all specialties, including workplace, healthcare, retail and hospitality, education, institutional, and residential. We lead interior designers in shared conversations around topics that matter: from evidence-based and human-centric design to social responsibility, well-being, and sustainability. We showcase the impact of design on the human experience and the value interior designers provide.