E-Newsletter: May/June 2023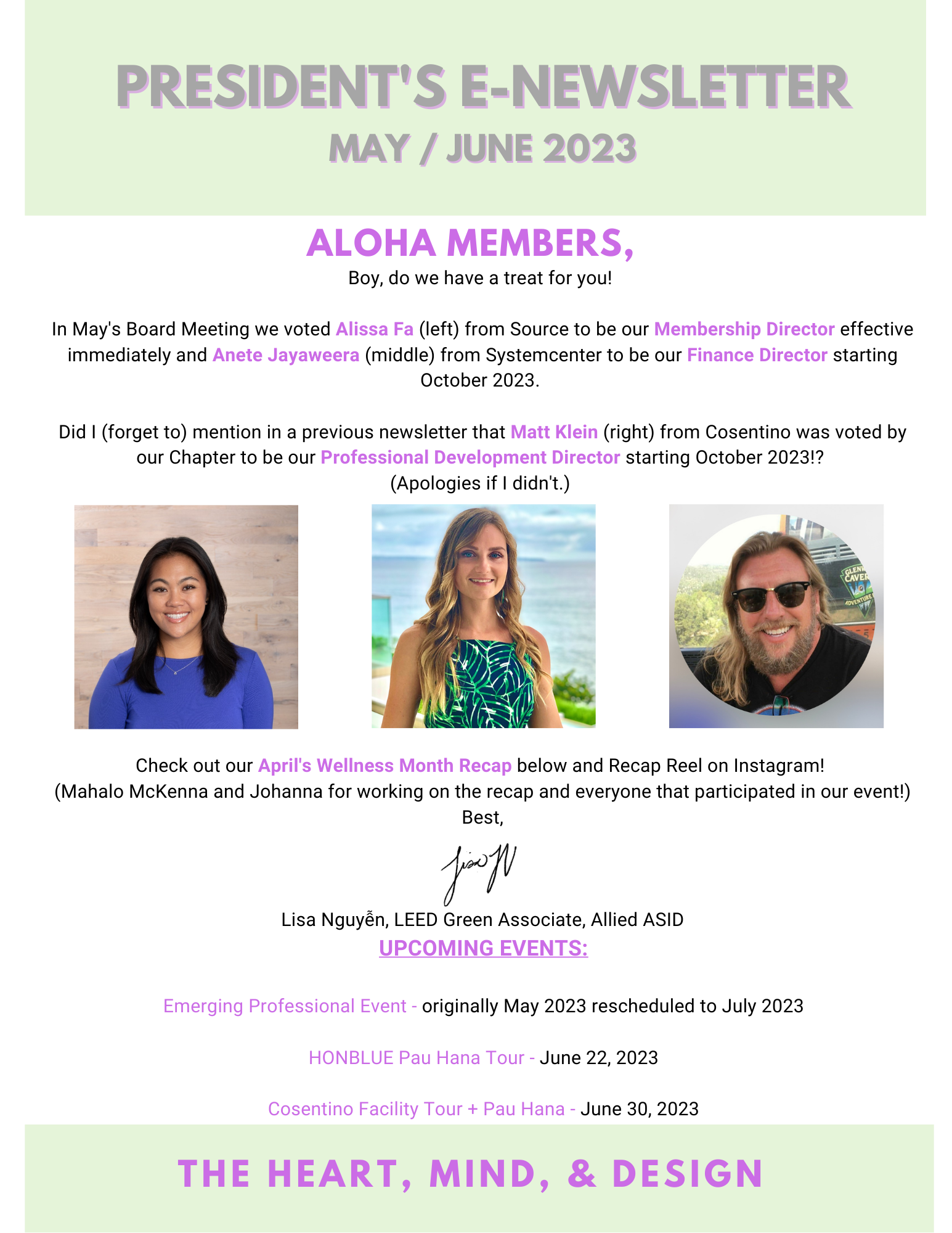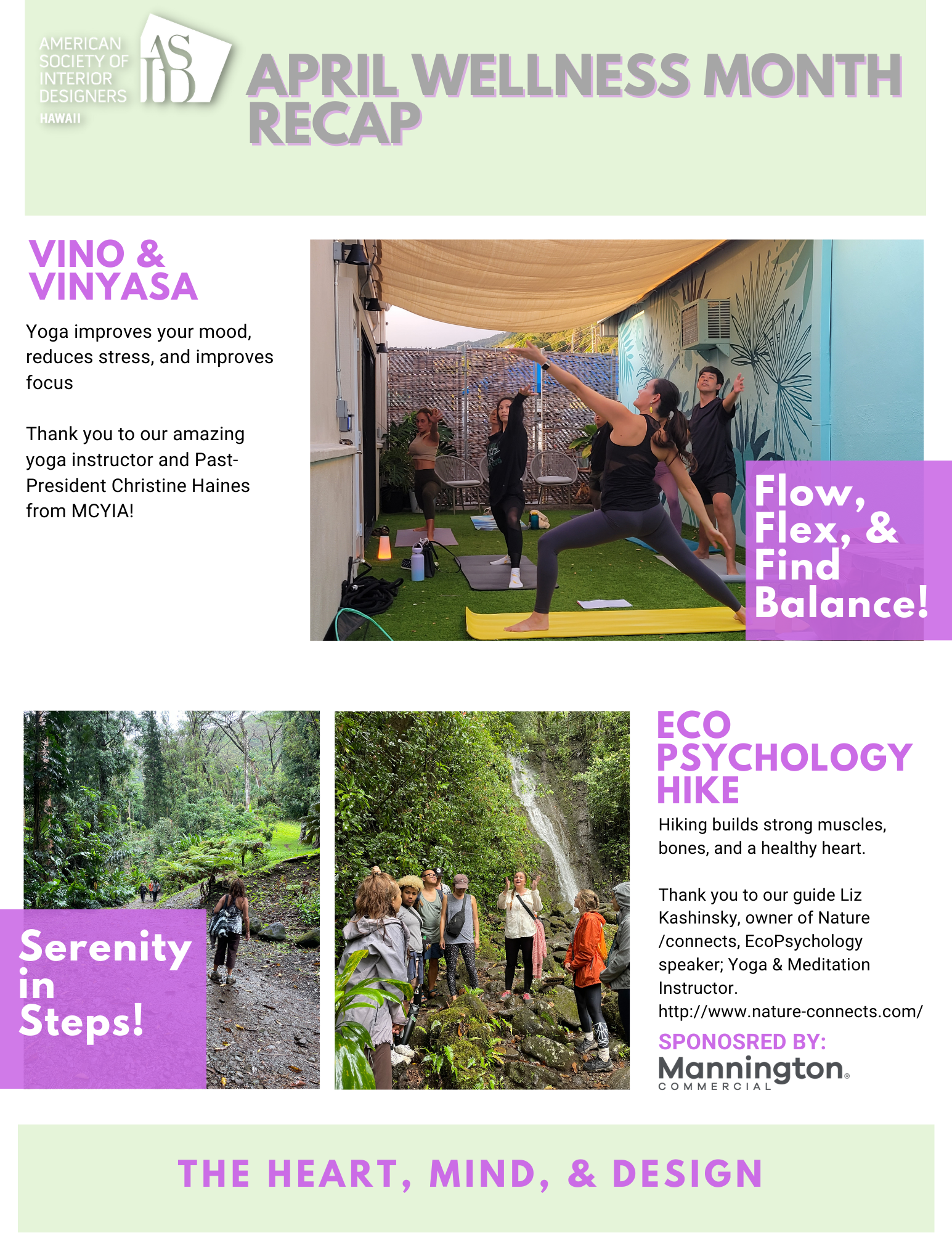 ---
Become a Sponsor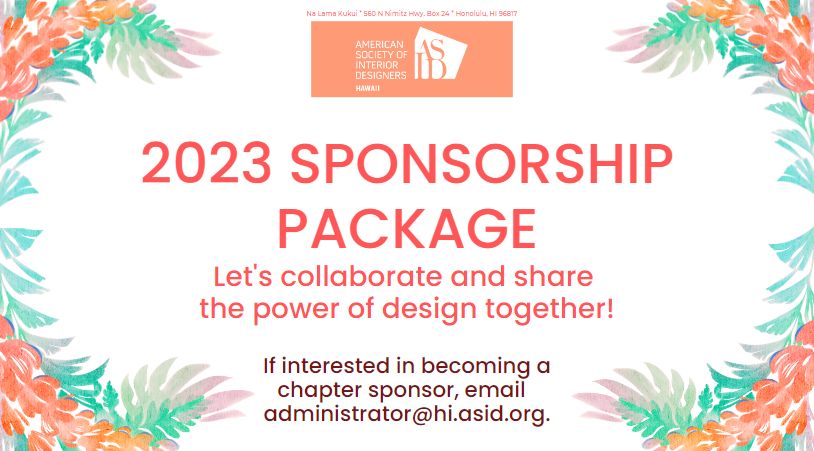 The new sponsorship package is available. Please click here for all of the exciting details.
---
CEU Reminder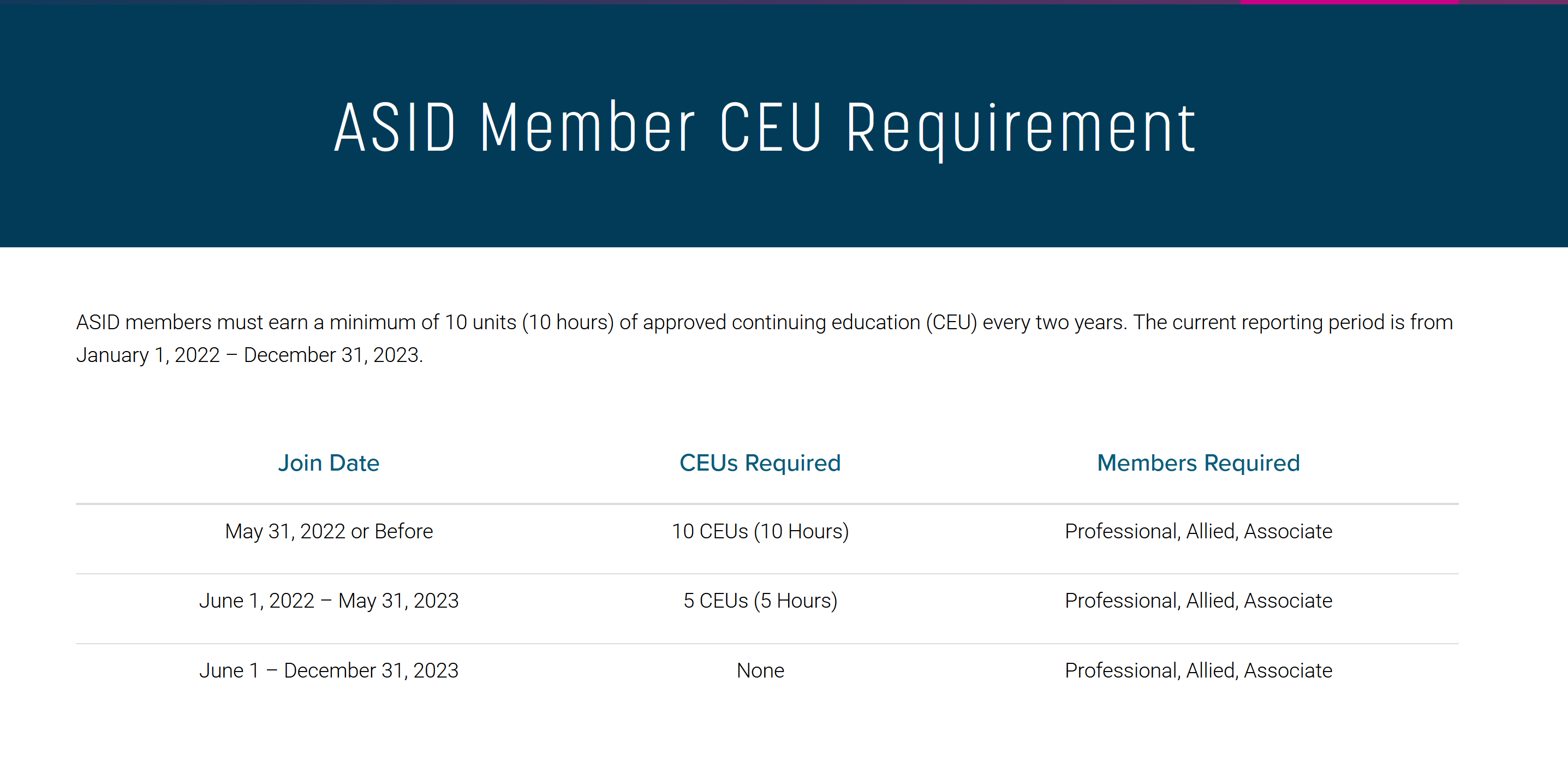 For more info on CEU requirements, please click here.
---
Local Events (Click on highlighted link for more information.)
June 22
HonBlue Pau Hana Tour*
June 30
Cosentino Facility Tour +Pau Hana*
July
Emerging Professional Event (Rescheduled from May)*
*More details to follow soon.
---
National Events
Please click here for a complete list of national events.
---
Design Articles
These 10 Trends Will Define Outdoor Design in 2023
Dwell
Take your garden to the next level with this year's biggest trends—from elegant ombré paving and textured tiles to boldly geometric garden features and native plants.
World's first 3D-printed hotel is set to make its debut in Texas next year.
Prestige
A printed hotel, yes you heard that right. El Cosmico is the name of the first hotel in the world that uses 3D printing technology in its construction. The property is expected to open in 2024 in Texas.
Ikea grapples with inflation, Bunny Williams makes a big change and more.
Business of Home
This week in design, the Metaverse Architecture and Design Awards announces its first slate of winners, home insurance premiums spike in climate-vulnerable states with rising populations, and Avocado faces a class action suit over sustainability claims.
SGA Report Outlines Emerging Trends for Workplace Amenities
Interiors and Sources
The results indicate more focus on personal well-being and safety, interest in sustainable modes of transportation, convenient places to grab food and packages, and spaces that...
The Reality Of Remote Work and Wellness
Work Design Magazine
Evaluating the true impact of remote work on employee well-being is key to making more effective decisions about work arrangements.
The World's 8 Most Mind-Bending Homes
AD
From Mexico's Casa Orgánica to Antoni Gaudí's iconic Casa Batlló in Spain, these structures are characterized by swirling shapes and vibrant colors.
8 Interior Design Trends We're Excited About Right Now, from Moss-Core to Aluminum Everything
Elle Decor
Coming from Milan to a living room near you!
---
Let's Connect
ASID HAWAII FACEBOOK: Please "like" us on Facebook! CLICK HERE to make sure you are up to date with ASID Hawaii's events, design news and stories. We are also on:
TWITTER
---
Maximize Your ASID Benefits
Trade Pricing and Discounts
ASID membership has its benefits—including exclusive discounts on products and services from national sponsors and industry partners.Make sure your to-the-trade offers or discounts are featured and email industrypartners@asid.org with your company logo, description of your trade service, and a link to register.
Find answers to frequenty asked membership questions including member qualifications, payments and dues, membership cards, updating your profile, CEUs,and password retrieval.
Everything you need to know about NCIDQ exams.
ASID supports the professional development of the Society's members and the profession with continuing education programs and events that allow participants to advance in their careers and build their skill sets. ASID, our Chapters, and Industry Partners offer a variety of continuing education opportunities in-person and online.
ASID Academy: The ASID Academy is a user friendly, dynamic, streamlined continuing education experience offering high-quality courses, webinars, and more in a learn anytime, anywhere (with an internet connection), on your own schedule environment. Topic areas include the Business of Design, Health & Wellness, Institutional, Healthcare, Residential, Workplace, and Hospitality & Retail design. Check out engaging courses like Designing for a New Millennial Culture and earn valuable IDCEC and AIA CEUs in the process. Explore the Academy.

Check out the new IDCEC Website Guide!
ASID members must earn a minimum of 10 unit (10 hours) of approved continuing education (CEU) every two years. We've updated the instructions for CEU reporting that align with IDCEC's new website to help you navigate the process.
ASID members are to utilize the Interior Design Continuing Education Council (IDCEC) registry to warehouse CEUs. Every ASID member has a unique IDCEC number to login into the website (your IDCEC number is different than your ASID number). The IDCEC user registry allows you to upload and track your continuing education activity as well as store a record under your account. Check your IDCEC account regularly to ensure your records are up to date.
Each year, ASID recognizes the exemplary achievements and outstanding service demonstrated by highly engaged members, chapters, student chapters, and industry partners through our awards and honors programs.
---
One Voice
Each day interior designers use their voices and visions to reshape spaces--and therefore the lives of those occupying them--for the better. With those same voices working in unison, they have the power to design a better future for themselves and the entire profession. That is why ASID began One Voice; to empower interior designers to get involved and advocate for or against the public policy that will ultimately influence their careers and lives. For more info click here.
---
Website Log-in Help
The default login info is first name.lastname.member ID, and then the password is just your member ID. If you've forgotten your password, click Log In and then click Forgot Password.
---
About ASID
The American Society of Interior Designers (ASID) believes that design transforms lives. ASID serves the full range of the interior design profession and practice through the Society's programs, networks, and advocacy. We thrive on the strength of cross-functional and interdisciplinary relationships among designers of all specialties, including workplace, healthcare, retail and hospitality, education, institutional, and residential. We lead interior designers in shared conversations around topics that matter: from evidence-based and human-centric design to social responsibility, well-being, and sustainability. We showcase the impact of design on the human experience and the value interior designers provide.