E-Newsletter: November/December 2022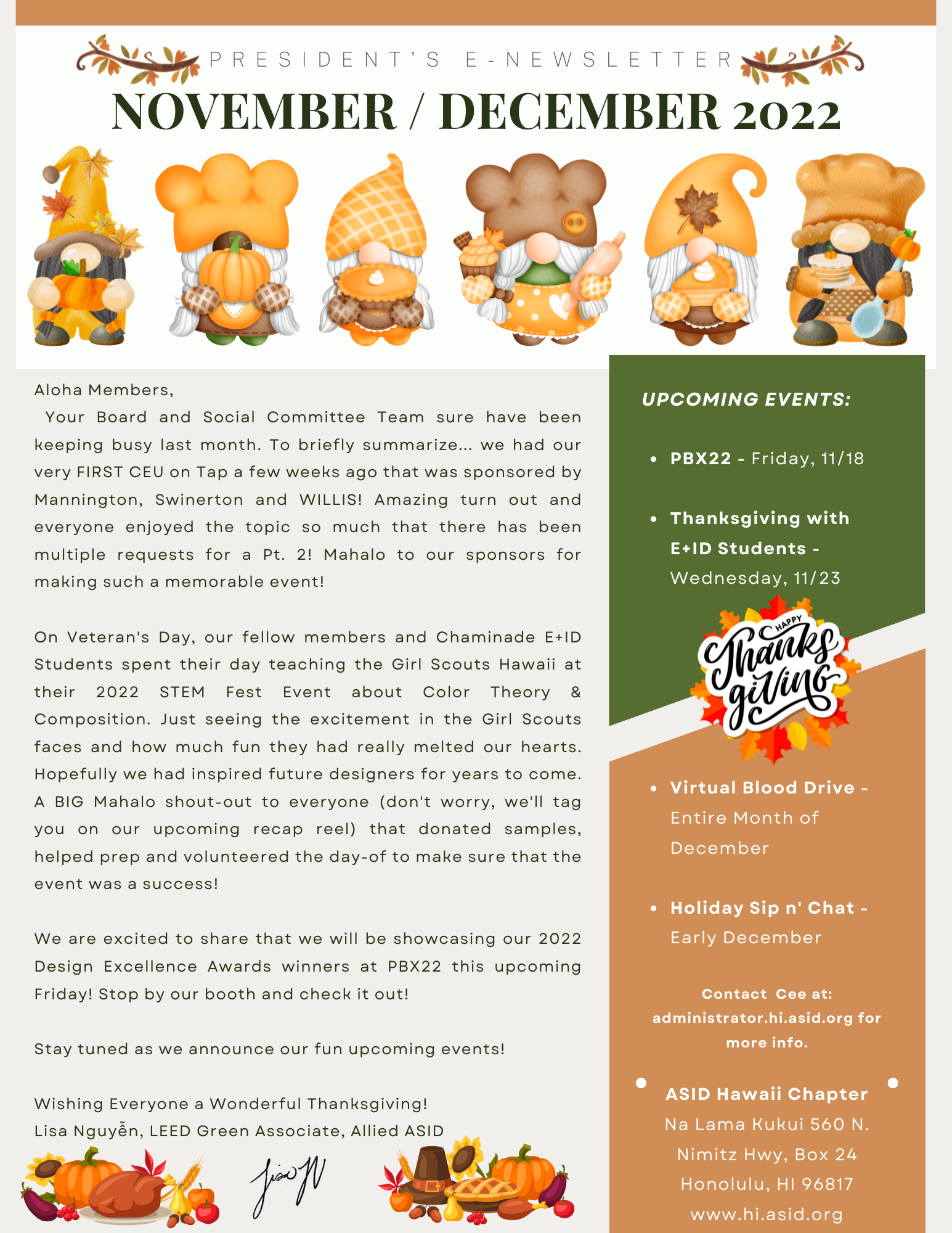 ---
Local Events (Click on highlighted link for more information.)
November 18
PBX22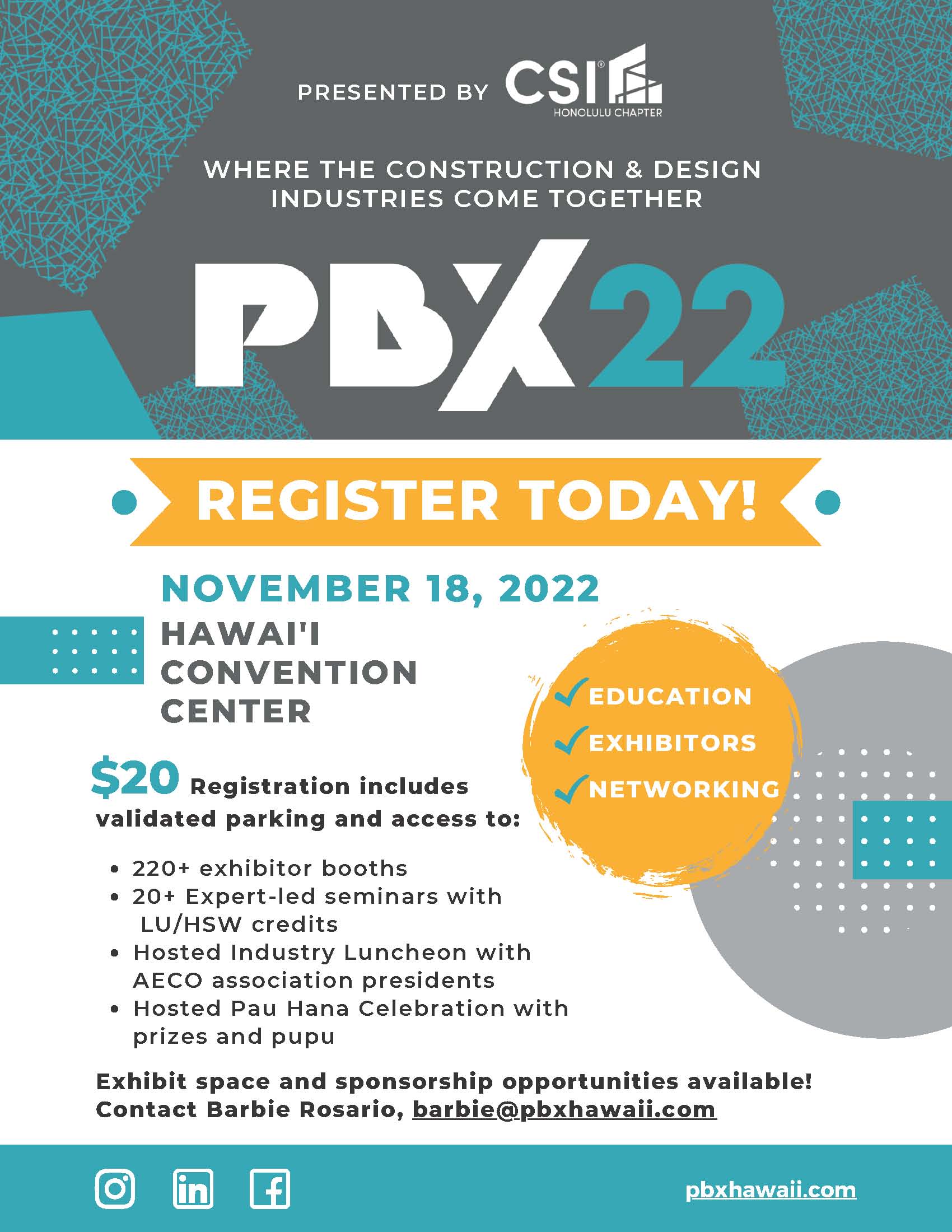 ---
National Events
Please click here for a complete list of national events.
---
Design Articles
Four Things You Probably Don't Know About Interior Design Styles In Hawaii
Forbes
Known for its gorgeous land, stunning homes, and fun, kitschy style, living in Hawaii isn't just different from the contiguous 48 states; it is truly like no place else in the world. The land has a unique history and culture, which is reflected in the lifestyle of the people who live there as well as the style of their homes.
Waste Not: How Green Architecture Transforms our Future
Prestige
Climate change, recessions and housing crises are only a handful of problems that encourage architects to explore alternative construction materials. Shervin Sharghy, founder of EcoBricks, and HK Timberbank CEO Ricci Wong explain where Hong Kong stands in the move towards sustainable architecture and discuss what the future holds.
7 Tips to Decorate Your Home for the Holidays From an Avid Decorator
The Spruce
When the leaves turn from green to brilliant shades of red, orange, and yellow, home decorators make a run for their storage containers and start setting up celebratory scenes for each coming season. For some, however, every day is a day for dressing the home in signs, figurines, and florals—October through the year's end is like their Super Bowl.
10 Books for the Design Lover's Library (Or Coffee Table)
Design Milk
A bibliophile since childhood, I love reading everything from biographies to the backs of cereal boxes. So, I absolutely jumped at the chance to share ten of my current favorites with you in the realms of art, design, and architecture. Nearly all of these books are in my own collection – on the bookshelf or on the coffee table – so they're legitimate recommendations that I'd pick up for any of my family or friends. (Maybe the tiniest hint to get started on your holiday shopping, if you haven't already…)
$65 Million 'Big Island' Land Offering Could Make History At Sotheby's Concierge Auctions In November
Forbes
A 400-acre Pali Kai parcel of land that overlooks the Pacific Ocean just listed for $65 million, presenting an opportunity for the buyer to break sales records.
What's Behind The Rising Demand For Universal Design?
Builder
If the concept of universal design brings to mind images of a slab-on-grade house with medical-grade adaptations, then the 2021 Southern Living Showcase Home might surprise you.
The Ultimate Bath Is an Ode to the World's Most Luxurious Bathrooms
Vogue
Wellness, as an interior design trend, has been on the rise: more and more, people want their homes to feel like an oasis of domestic calm, or a spa-like sanctuary. "Homeowners are increasingly searching for designs and products that will promote good health and an overall sense of well-being," a recent report from the American Society of Interior Designers found, noting an increased interest in "places where they can relax and restore from the increased stresses of everyday life."
42 Entryway Ideas for a Fantastic First Impression
AD
An elegant foyer introduces your home's personality and welcomes your guests—these AD-approved entryway ideas are guaranteed to make a stylish first impression.
---
Let's Connect
ASID HAWAII FACEBOOK: Please "like" us on Facebook! CLICK HERE to make sure you are up to date with ASID Hawaii's events, design news and stories. We are also on:
TWITTER
---
Maximize Your ASID Benefits
Trade Pricing and Discounts
ASID membership has its benefits—including exclusive discounts on products and services from national sponsors and industry partners.Make sure your to-the-trade offers or discounts are featured and email industrypartners@asid.org with your company logo, description of your trade service, and a link to register.
Find answers to frequenty asked membership questions including member qualifications, payments and dues, membership cards, updating your profile, CEUs,and password retrieval.
Everything you need to know about NCIDQ exams.
ASID supports the professional development of the Society's members and the profession with continuing education programs and events that allow participants to advance in their careers and build their skill sets. ASID, our Chapters, and Industry Partners offer a variety of continuing education opportunities in-person and online.
ASID Academy: The ASID Academy is a user friendly, dynamic, streamlined continuing education experience offering high-quality courses, webinars, and more in a learn anytime, anywhere (with an internet connection), on your own schedule environment. Topic areas include the Business of Design, Health & Wellness, Institutional, Healthcare, Residential, Workplace, and Hospitality & Retail design. Check out engaging courses like Designing for a New Millennial Culture and earn valuable IDCEC and AIA CEUs in the process. Explore the Academy.

Check out the new IDCEC Website Guide!
ASID members must earn a minimum of 10 unit (10 hours) of approved continuing education (CEU) every two years. We've updated the instructions for CEU reporting that align with IDCEC's new website to help you navigate the process.
ASID members are to utilize the Interior Design Continuing Education Council (IDCEC) registry to warehouse CEUs. Every ASID member has a unique IDCEC number to login into the website (your IDCEC number is different than your ASID number). The IDCEC user registry allows you to upload and track your continuing education activity as well as store a record under your account. Check your IDCEC account regularly to ensure your records are up to date.
Each year, ASID recognizes the exemplary achievements and outstanding service demonstrated by highly engaged members, chapters, student chapters, and industry partners through our awards and honors programs.
---
One Voice
Each day interior designers use their voices and visions to reshape spaces--and therefore the lives of those occupying them--for the better. With those same voices working in unison, they have the power to design a better future for themselves and the entire profession. That is why ASID began One Voice; to empower interior designers to get involved and advocate for or against the public policy that will ultimately influence their careers and lives. For more info click here.
---
Website Log-in Help
The default login info is first name.lastname.member ID, and then the password is just your member ID. If you've forgotten your password, click Log In and then click Forgot Password.
---
About ASID
The American Society of Interior Designers (ASID) believes that design transforms lives. ASID serves the full range of the interior design profession and practice through the Society's programs, networks, and advocacy. We thrive on the strength of cross-functional and interdisciplinary relationships among designers of all specialties, including workplace, healthcare, retail and hospitality, education, institutional, and residential. We lead interior designers in shared conversations around topics that matter: from evidence-based and human-centric design to social responsibility, well-being, and sustainability. We showcase the impact of design on the human experience and the value interior designers provide.