E-Newsletter: April/May 2021
Mahalo to our 2021 All Access and Newsletter Sponsors

---
President's Message
Aloha, ASID Hawaii Chapter Members:
Happy Spring! This past weekend we had our first Ask A Designer event of the year. Thank you to those who participated and to SYSTEMCENTER for sponsoring the event.
We would also like to thank the following sponsors for their generous contributions to our reusable ASID swag bags filled with goodies:
Peter Vincent Architects
Honblue
Riggs Distributing Inc.
Daltile
LG Hausys
Atlas-Masland
Solid State Lighting Hawaii
We plan to host more Ask A Designer events in the future. This is a wonderful way to connect to homeowners and promote the ASID organization and its members.
The Spring semester is wrapping up soon for the Environmental + Interior Design students. We just finished our first ASID Student Speaker Series. We had guest speakers from the design profession talk to the students about working in the design profession, lighting design, and materiality in interior design (including metal, stone, paints, and plastics). If you're interested in being a guest speaker for next semester, please reach out at president@hi.asid.org
We are gearing up for upcoming Design Forum with SYSTEMCENTER. On Friday, May 7, designers from SYSTEMCENTER will be presenting 5 hot topics from 10am to 12:30pm. Our Eventbrite link to RSVP for a session will be up soon, so please keep a look out for that.
Our Board of Directors are grateful for all the immense support we've been receiving in just these past couple of months and we are working diligently to provide opportunities and interactive activities for our members and supporters within the design community.
Thank you,
McKenna Makizuru, Allied ASID
President, Hawaii Chapter
president@hi.asid.org
---
Facemask Fundraiser

---
2021 Calendar
May
Design Forum Presented by SystemCenter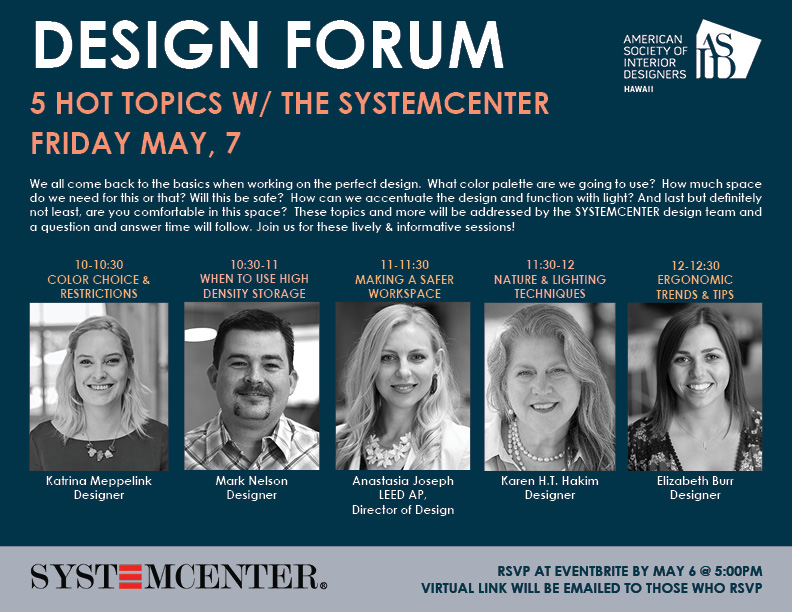 Beach Clean-Up Volunteer Event
Help Us Help the Community
June
Landscape Design Event
Possible CEU credit for members.
July
Sponsored Event
you can sponsor an event on any topic! this spot is open.
August
Virtual Sample Sale
Help us collection donations for resale to the public.
September
Bi-Annual Public Event (Design Impacts Lives)
---
2021 National Events
For a full list of national events, click here.
---
Design News (Click on title for complete article.)
2021's Top 10 Tile Trends to Look for While Celebrating National Tile Day
Interiors and Sources
In celebration of the fifth National Tile Day, Coverings—the largest international tile and stone exhibition and conference in North America—has announced its top 10 tile trends for 2021.
An Award-Winning House in Melbourne Is Lauded for Its Biophilic Design
Design Milk
No matter where you sit, there is an element of nature that can be experienced throughout this home.
Design Experts Predict These 5 Outdoor Living Trends Will Be Hot for Summer 2021
Forbes
Summer vacation plans are still on pause for millions of homeowners, which means lots of people are looking for ways to turn their outdoor spaces into dreamy warm weather escapes.
Emerging Wellness Trends for the 55+ Buyer Demographic
Builder
As the group hit hardest by the pandemic, the 55+ home buyers are reexamining their living situations.
The Dangers of Home Title Fraud: What it Is and How to stop it.
MultiBriefs
It's time to look at one of the latest cybersecurity threats out there. An emerging trend is home title fraud, which literally is robbing people of their home and the home equity they have built up over the course of years. You might be surprised to learn that real estate and rental fraud grew more than 2.6 times the rate of credit card fraud from 2015 to 2019.
12 Interior Designers on the Woman-Designed Home Items They Love Most
Vogue
Vogue wanted to highlight artisans whose works make our homes that much more haute. We asked 12 interior designers to share their favorite female makers and why, exactly, they love them. Some names you may recognize…
Saudi Arabia Building 100-Mile-Long "Linear" City
Architecture and Design
Stretching from the mountains to the Red Sea, "the Line" anchors the kingdom's $500 billion green city, Neom.
HD Celebrates the Women of Hospitality
Hospitality Design
A compilation of Hospitality Design's female-focused coverage during Women's History Month 2021.
In 2021, Everyone Wants an Outdoor Room
Elle Décor
The great indoors are coming outside in the wake of the pandemic, thanks to clever decorating and new design solutions.
---
Become a Chapter Sponsor
ASID Hawaii Chapter strives to work in support of our local interior designers by providing opportunities for continuing education, advocacy for the profession, social events and recognition of Design Excellence through our annual awards gala. While a small portion of our annual membership fees provides seed money for these activities, it is through annual sponsorships from our collaborative team of design firms and industry partners that the financial and personalized support is found to realize the programs and functions the membership expects.
As a sponsor of ASID Hawaii, your company can engage with members, participate in events, host meetings, and sponsor activities. Additionally, you will have the opportunity to increase visibility through additional marketing, branding, special access, and deeper engagement with ASID members. Sponsorship is an excellent opportunity for your business to gain exposure and showcase your products and services to our local interior design community.
For a sponsorship package please send an email reqest to: administrator@hi.asid.org.
---
Advertise with Us
There are several ways you can advertise with our chapter including email blasts, newsletter ads and website ads. Please send an email to administrator@hi.asid.org to learn more about advertising options.
---
Let's Connect
ASID HAWAII FACEBOOK: Please "like" us on Facebook! CLICK HERE to make sure you are up to date with ASID Hawaii's events, design news and stories. We are also on:
TWITTER
---
Maximize Your ASID Benefits
Trade Pricing and Discounts
ASID membership has its benefits—including exclusive discounts on products and services from national sponsors and industry partners.Make sure your to-the-trade offers or discounts are featured and email industrypartners@asid.org with your company logo, description of your trade service, and a link to register.
Find answers to frequenty asked membership questions including member qualifications, payments and dues, membership cards, updating your profile, CEUs,and password retrieval.
Everything you need to know about NCIDQ exams.
ASID supports the professional development of the Society's members and the profession with continuing education programs and events that allow participants to advance in their careers and build their skill sets. ASID, our Chapters, and Industry Partners offer a variety of continuing education opportunities in-person and online.
ASID Academy: The ASID Academy is a user friendly, dynamic, streamlined continuing education experience offering high-quality courses, webinars, and more in a learn anytime, anywhere (with an internet connection), on your own schedule environment. Topic areas include the Business of Design, Health & Wellness, Institutional, Healthcare, Residential, Workplace, and Hospitality & Retail design. Check out engaging courses like Designing for a New Millennial Culture and earn valuable IDCEC and AIA CEUs in the process. Explore the Academy.

Check out the new IDCEC Website Guide!
ASID members must earn a minimum of 10 unit (10 hours) of approved continuing education (CEU) every two years. We've updated the instructions for CEU reporting that align with IDCEC's new website to help you navigate the process.
ASID members are to utilize the Interior Design Continuing Education Council (IDCEC) registry to warehouse CEUs. Every ASID member has a unique IDCEC number to login into the website (your IDCEC number is different than your ASID number). The IDCEC user registry allows you to upload and track your continuing education activity as well as store a record under your account. Check your IDCEC account regularly to ensure your records are up to date.
Each year, ASID recognizes the exemplary achievements and outstanding service demonstrated by highly engaged members, chapters, student chapters, and industry partners through our awards and honors programs.
---
One Voice
Each day interior designers use their voices and visions to reshape spaces--and therefore the lives of those occupying them--for the better. With those same voices working in unison, they have the power to design a better future for themselves and the entire profession. That is why ASID began One Voice; to empower interior designers to get involved and advocate for or against the public policy that will ultimately influence their careers and lives. For more info click here.
---
Website Log-in Help
The default login info is first name.lastname.member ID, and then the password is just your member ID. If you've forgotten your password, click Log In and then click Forgot Password.
---
About ASID
The American Society of Interior Designers (ASID) believes that design transforms lives. ASID serves the full range of the interior design profession and practice through the Society's programs, networks, and advocacy. We thrive on the strength of cross-functional and interdisciplinary relationships among designers of all specialties, including workplace, healthcare, retail and hospitality, education, institutional, and residential. We lead interior designers in shared conversations around topics that matter: from evidence-based and human-centric design to social responsibility, well-being, and sustainability. We showcase the impact of design on the human experience and the value interior designers provide.