E-Newsletter: August/September 2020
Mahalo to our 2020 Chapter Sponsors

---
President's Message
Aloha,
We are excited to announce that judging is over for the Design Excellence Awards. Mahalo to the judges for all their hard work and expertise. The results will be presented via a web event and on our homepage via a video, which is currently in production. We will let you know as soon as they are ready for viewing. We are seeking input and consideration for the 2020 Design Excellence Awards Honorees for the categories described below. These awards recognize the exemplary achievements and outstanding service demonstrated by highly engaged members and industry partners. Encompassing projects and people, these honors highlight the value of interior design and shine a spotlight on those promoting the impact of design in their practice and work. Current 2019-2020 ASID Hawaii board members may not be nominated. The nominee must be an ASID Hawaii Chapter member and can be nominated by another individual, or self-nominated. Please submit your nomination form by August 21.
Categories:
Chapter Community Service: Presented to an individual(s) who have designed a project done on a pro-bono basis, completed anytime between 2017-2019. Groups or individuals are eligible; Groups must include an ASID Hawaii member(s).

Chapter Industry Partner Merit Award: Presented to a Hawaii Chapter Industry Partner for significant service to their chapters of the Society, have made contributions that have enhanced the chapter through support of the design profession.

Emerging Professional Award: Presented to an individual that has been recognized as a rising leader in the interior design industry. Must be an ASID Hawaii designer with up to 10 years of professional practice.

Student Alum Award:Presented to an individual who has advanced from an accredited interior design program and has advanced from ASID Student Membership to Allied Membership after January 1, 2017. This individual has shown leadership potential and has a bright future in interior design.
Please contact administrator@hi.asid.org for a nomination form.
ASID has extended free access to the ASID Academy for members through December 31, 2020! The Academy houses the continuing education courses you need to power your lifelong learning, covering topics from sustainability to biophilic design innovations to healthy building practices. Additionally, the full ASID COVID-19 webinar series, The Interior View, can be found on the Academy, along with a newly curated selection of CEUs from valued industry partners. Be sure to check back often, as new courses are added weekly! READ MORE
Design titan and new ASID Interim CEO, Gary Wheeler, FASID, FIIDA, recently gave an interview discussing the importance of putting the design profession at the center of the conversation now and post-COVID. He also shares his design journey and the important role ASID played in his career advancement and success. "As the professionals most responsible for human experience within the built environment, interior designers take seriously their role in finding safe, functional, and healthy solutions for building use during and after this pandemic. The profession boasts such creativity and innovation, we need to stand up and show what we have to offer at this time of crisis," said Wheeler. READ MORE
That's it for now. Stay safe and healthy!
Mahalo nui loa,
Dee Dee Ackerman
Hawaii Chapter President
president@hi.asid.org
---
Local Events
Save the Date: Design Excellence Awards
Fall 2020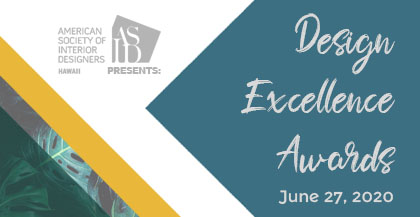 ---
National Events
For a full list of upcoming national events, visit www.asid.org/events.
---
One Voice
Each day interior designers use their voices and visions to reshape spaces--and therefore the lives of those occupying them--for the better. With those same voices working in unison, they have the power to design a better future for themselves and the entire profession. That is why ASID began One Voice; to empower interior designers to get involved and advocate for or against the public policy that will ultimately influence their careers and lives. For more info click here.
---
Design News (Click on title for complete article.)
Millennial Generation Displaying Similar Home Behaviors as Their Parents
Builder
For millennials, everything old is new again in new housing markets.
Shifting Conditions Present Challenges for Designers
MultiBriefs
At the beginning of the third quarter, as many states began to relax restrictions, business appeared to be picking up for interior designers in some sectors and regions of the country. With the recent resurgence in outbreaks of the coronavirus nationwide, however, activity has pulled back somewhat in recent weeks.
The New Workplace: Wellness and the Pursuit of Worker Safety Can Co-Exist
Workplace Design
The office, as we know it, is ripe for upheaval. While companies are reevaluating the role of the office after a long period of remote working, it's important to be mindful of whether we might be risking wellness in the name of safety. Designers will play an important role in the prevention of contact transmission of disease in the workplace.
Mioou: Modern Cat Furniture Designed by an Architect
Design Milk
Both you and your cats will love Mioou cat furniture featuring modern scratching houses, tunnels, and posts.
How These Public Spaces Are Safely Reopening in Creative Ways
A&D
Though safety precautions for reopened spaces are fairly standard, these examples prove there's room to introduce a little ingenuity.
More Ideas About Design After the Coronavirus
Tree Hugger
Architect Tom Bassett-Dilley on air quality and privacy gradients.
Strategies For Reopening During The COVID-19 Pandemic
Healthcare Design
Healthcare facilities should rethink technology usage, entrance/exit layouts, and waiting room strategies as they start bringing back elective and non-critical care.
Data-Driven Building Design That Gives More Than It Takes
Interiors and Sources
An emerging, data-driven framework for building operations and materials is changing the way we look at sustainable design.
---
Become a Chapter Sponsor
ASID Hawaii Chapter strives to work in support of our local interior designers by providing opportunities for continuing education, advocacy for the profession, social events and recognition of Design Excellence through our annual awards gala. While a small portion of our annual membership fees provides seed money for these activities, it is through annual sponsorships from our collaborative team of design firms and industry partners that the financial and personalized support is found to realize the programs and functions the membership expects.
As a sponsor of ASID Hawaii, your company can engage with members, participate in events, host meetings, and sponsor activities. Additionally, you will have the opportunity to increase visibility through additional marketing, branding, special access, and deeper engagement with ASID members. Sponsorship is an excellent opportunity for your business to gain exposure and showcase your products and services to our local interior design community.
For a sponsorship package please send an email reqest to: administrator@hi.asid.org.
---
Advertise with Us
There are several ways you can advertise with our chapter including email blasts, newsletter ads and website ads. Click here to learn more about advertising options.
---
Let's Connect
ASID HAWAII FACEBOOK: Please "like" us on Facebook! CLICK HERE to make sure you are up to date with ASID Hawaii's events, design news and stories. We are also on:
TWITTER
---
Maximize Your ASID Benefits
Trade Pricing and Discounts
ASID membership has its benefits—including exclusive discounts on products and services from national sponsors and industry partners.Make sure your to-the-trade offers or discounts are featured and email industrypartners@asid.org with your company logo, description of your trade service, and a link to register.
Find answers to frequenty asked membership questions including member qualifications, payments and dues, membership cards, updating your profile, CEUs,and password retrieval.
Everything you need to know about NCIDQ exams.
ASID supports the professional development of the Society's members and the profession with continuing education programs and events that allow participants to advance in their careers and build their skill sets. ASID, our Chapters, and Industry Partners offer a variety of continuing education opportunities in-person and online.
ASID Academy: The ASID Academy is a user friendly, dynamic, streamlined continuing education experience offering high-quality courses, webinars, and more in a learn anytime, anywhere (with an internet connection), on your own schedule environment. Topic areas include the Business of Design, Health & Wellness, Institutional, Healthcare, Residential, Workplace, and Hospitality & Retail design. Check out engaging courses like Designing for a New Millennial Culture and earn valuable IDCEC and AIA CEUs in the process. Explore the Academy.

Check out the new IDCEC Website Guide!
ASID members must earn a minimum of 1.0 unit (10 hours) of approved continuing education (CEU) every two years. We've updated the instructions for CEU reporting that align with IDCEC's new website to help you navigate the process.
ASID members are to utilize the Interior Design Continuing Education Council (IDCEC) registry to warehouse CEUs. Every ASID member has a unique IDCEC number to login into the website (your IDCEC number is different than your ASID number). The IDCEC user registry allows you to upload and track your continuing education activity as well as store a record under your account. Check your IDCEC account regularly to ensure your records are up to date.
Each year, ASID recognizes the exemplary achievements and outstanding service demonstrated by highly engaged members, chapters, student chapters, and industry partners through our awards and honors programs.
---
Website Log-in Help
The default login info is first name.lastname.member ID, and then the password is just your member ID. If you've forgotten your password, click Log In and then click Forgot Password.
---
About ASID
The American Society of Interior Designers (ASID) believes that design transforms lives. ASID serves the full range of the interior design profession and practice through the Society's programs, networks, and advocacy. We thrive on the strength of cross-functional and interdisciplinary relationships among designers of all specialties, including workplace, healthcare, retail and hospitality, education, institutional, and residential. We lead interior designers in shared conversations around topics that matter: from evidence-based and human-centric design to social responsibility, well-being, and sustainability. We showcase the impact of design on the human experience and the value interior designers provide.