E-Newsletter: August/September 2017
President's Message
Aloha,
The excitement is building as we get closer to the Design Excellence Awards gala! Please register to attend and join us as we honor Hawaii's finest interior designers, celebrate design, and introduce the newly elected ASID Hawaii Chapter board members. Celebration includes an evening cocktail hour and networking, raffle, dinner, and awards reception. Hawaii phenom-singer-songwriter, Glenn Medeiros and DJ Jazzy Jay will provide the entertainment.
We are now accepting nominations for the Byron Yee Service Award. This award is bestowed by the ASID Hawaii Chapter upon an Industry Partner that has demonstrated outstanding contribution, support and promotion of ASID Hawaii events. The award will be presented during the awards gala on September 23. Please click here to submit your nomination.
We can really use some volunteers to help with the setup on the night of the awards gala. Please contact me at chuen@mcyia.com if you can volunteer at the gala, or if you are interested in becoming a sponsor.
We hope to see you all at the awards gala!
Mahalo,
Chuen Yee, ASID
Hawaii Chapter President
---
Click Here For More Info and to RSVP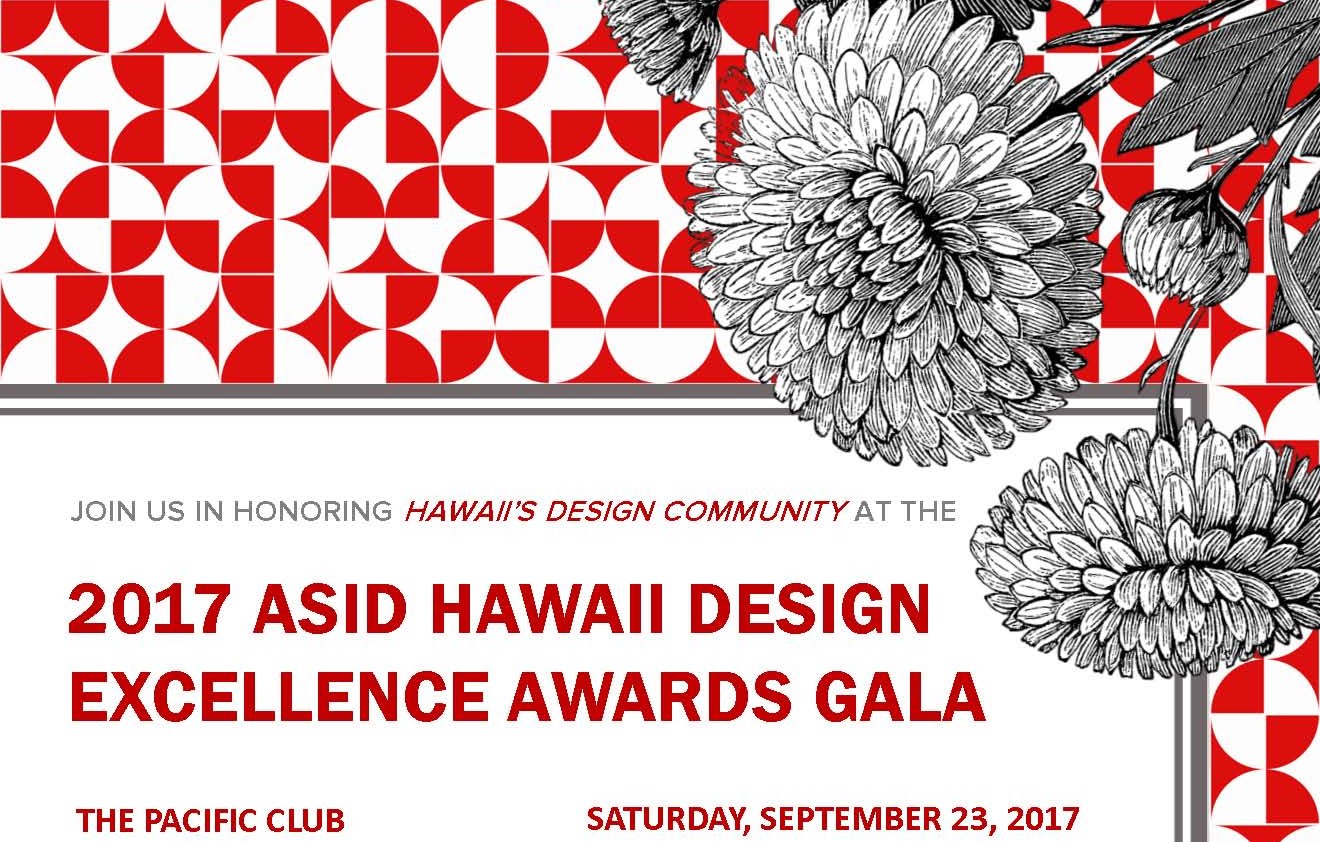 Mahalo to Our Sponsors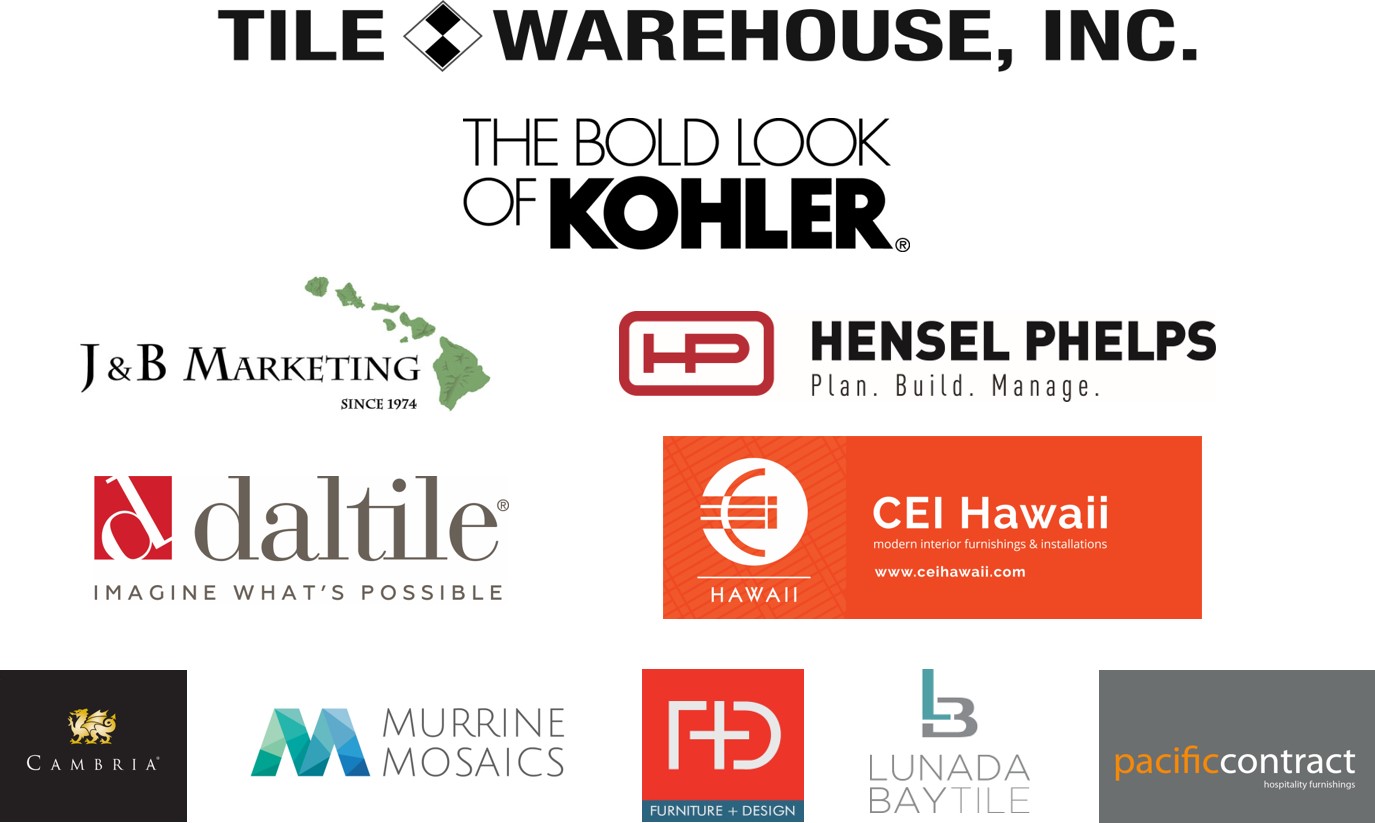 ---
Partner Spotlight Webinar
Partner Spotlight provides a monthly 30-minute forum for designers to engage with ASID National Industry Partners, manufacturers, and experts on new trends, product launches, and more. The webinar series does not provide CEUs, but allows members to learn about new and differentiated products and tools to support specification.
September 20
Williams-Sonoma
October 10
Pratt and Lambert Paints
October 18
Benjamin Moore
November 1
Sherwin-Williams
---
Local Events (Click on event title for more details.)
August 22
CEU Event: Artistry Meets Innovation
August 23
Lighting Tour with Robert Billingsley (Sold Out)
September 23
Design Excellence Awards
October 6
BIA Hawaii 32nd Annual Renaissance Building & Remodeling Awards
Please contact administrator@hi.asid.org if you would like to promote your upcoming events in our newsletter, website or Facebook.
---
National Events (Click on event title for more details.)
Oct 14 – 18
Highpoint Fall Market
Oct 20 – 24
Host Milano
Nov 8 – 10
Greenbuild
Nov 11 – 14
Healthcare Design Expo
Nov 12 – 13
BDNY
For a full list of upcoming events, visit www.asid.org/events.
---
Design News (Click on title for more details.)
50 Years Ago, Home Design Got Its Groove On
The Boston Globe
The year marked a turning point in society, culture, and design, abandoning buttoned-up for exuberant, minimalism for maximalism. Postwar consumerism and Kennedy-era optimism yielded to a rejection of materialism and disillusionment with government intervention in Vietnam. An influx of new music (most notably the Beatles' "Sgt. Pepper's Lonely Hearts Club Band"), global styles, and psychedelic drugs added steam to the counterculture movement.
ASID IDBI Indicates Positive Business Activity
ASID
The American Society of Interior Designers' (ASID) Interior Design Billings Index (IDBI) has recorded 18 straight months in which more than 50 percent of firms reported an increase or no decrease in design services. Based on the six-month outlook score of 66.5 (above 50 indicates industry expansion), design firms expect to continue on a positive path forward in 2017.
The Instagram Stories Your Brand Needs To Create
Multibriefs: By Emma Fitzpatrick
Did you know Instagram now has more than 700 million monthly active users as of April? That's 100 million more users than the network had in December, and it's double the number of users the platform had only two years ago. Instagram Stories, launched last August, plays a significant role in that. As Instagram Stories continues to grow, learn what kind of content brands are creating, so your business can participate and captivate your audience.
What Will the Office Look Like in 10 Years? 6 Experts Predict the Future
CNN
It happens every few years: a seismic shift in the way we live our lives fuels a change in human behavior so significant, it blows the concept of the office as we know it out of the water. Modern technology is no exception. Fast becoming the catalyst behind one of the biggest shake-ups the office has ever seen – from design to location and from sustainability to well-being – it is the shift of our generation. And hard though it may be to believe that robotic security guards and app-controlled meeting rooms are just the beginning, there is still a long way to go.
Gucci Is Launching a Decor Line—And It's As Fantastic As You'd Think
Vogue
Praise be to the fashion and home decor gods—Gucci is launching a home line. Earlier today, the Italian fashion house, which is currently under the creative leadership of Alessandro Michele, announced the news. "Gucci is pleased to announce the launch of Gucci Décor, an eclectic collection of items with which customers can dress their own spaces," the press release read. "The idea is not to prescribe a particular decorative look, but to provide elements that allow for living spaces to be customized." The Italian fashion house also shared the news on their Instagram account, where they posted a series of illustrations by artist Alex Merry depicting the line.
How a Groundbreaking Interior Designer Helped Jackie O. Change the White House
Smithsonian
During her life, designer and decorator Sister Parish was known for her unique taste. Today, her influence can be felt across the country. As the inventor of American country style, sometimes called "shabby chic," echoes of her style can be seen in Ralph Lauren catalogs and Martha Stewart Living magazines. "If you have a quilt," the New York Times wrote, "you probably owe it to Ms. Parish."
---
ASID HAWAII FACEBOOK: Please "like" us on Facebook! CLICK HERE to make sure you are up to date with ASID Hawaii's events, design news and stories. We are also on:
TWITTER
---
One Voice
Each day interior designers use their voices and visions to reshape spaces--and therefore the lives of those occupying them--for the better. With those same voices working in unison, they have the power to design a better future for themselves and the entire profession. That is why ASID began One Voice; to empower interior designers to get involved and advocate for or against the public policy that will ultimately influence their careers and lives.
Industry Partners
Be more than a source – be a resource. ASID comprises over 2,000 Industry Partner member companies. Successful industry representatives gain a competitive edge by building meaningful relationships and providing knowledge to their clients. Learn more about the ASID Industry Partners program and discover exclusive membership benefits to grow your brand and business at https://www.asid.org/belong/apply/industry-partners.
Trade Pricing and Discounts
ASID membership has its benefits—including exclusive discounts on products and services from national sponsors and industry partners.Make sure your to-the-trade offers or discounts are featured and email industrypartners@asid.org with your company logo, description of your trade service, and a link to register.
Website Help
The default login info is first name.lastname.member ID, and then the password is just your member ID. If you've forgotten your password, click Log In and then click Forgot Password.
Membership FAQs
Find answers to frequenty asked membership questions including member qualifications, payments and dues, membership cards, updating your profile, CEUs,and password retrieval.
NCIDQ Exam
Everything you need to know about NCIDQ exams.
Maximize Your ASID Benefits
The ASID national website at https://www.asid.org/ is your best resource for ways to improve your business and further your education. Please visit the site for all the information you need to be successful.
Learn at ASID: ASID supports the professional development of the Society's members and the profession with continuing education programs and events that allow participants to advance in their careers and build their skill sets. ASID, our Chapters, and Industry Partners offer a variety of continuing education opportunities in-person and online.
Additionally, ASID bylaws and policies require all practitioner members (Professional, Allied, and Associate members) to meet the Society's continuing education requirement.
Awards & Competition: Each year, ASID recognizes the exemplary achievements and outstanding service demonstrated by highly engaged members, chapters, student chapters, and industry partners through our awards and honors programs.
About ASID
The American Society of Interior Designers (ASID) believes that design transforms lives. ASID serves the full range of the interior design profession and practice through the Society's programs, networks, and advocacy. We thrive on the strength of cross-functional and interdisciplinary relationships among designers of all specialties, including workplace, healthcare, retail and hospitality, education, institutional, and residential. We lead interior designers in shared conversations around topics that matter: from evidence-based and human-centric design to social responsibility, well-being, and sustainability. We showcase the impact of design on the human experience and the value interior designers provide.