E-Newsletter: January/February 2020
President's Message
Aloha, Hawaii ASID Members:
The FY2020 election will start on January 15. Please watch for an email from Election Buddy for your link to the ballots. Voting will end at 5pm on January 25. Your slate of candidates are listed further down in this newsletter.
Our chapter will be participating in the upcoming BIA Homebuilding and Remodeling Show and need volunteers for Saturday and Sunday (January 25 and 26). Please contact McKenna at mckenna@funghawaii.com if you can help out.
Don't forget to register for the upcoming CEU: The New Consumer 'Neo versus Traditional' on January 24. This presentation uncovers why targeting the new consumer versus the traditional will drastically change your sales, marketing, and pricing strategies forever. Attendees will learn who spends the most, discover insights into their consumer's values, attitudes and ultimately, buying behavior and communication preference. Most importantly, attendees will learn how to quickly connect with their customer, close jobs faster, work less, and maximize their projects!
We are ironing out the details for the Design Excellence Awards that will be held on June 27, so be sure to save the date. We have a new and exciting format this year, and hope that many of you enter. Please watch for our email with more details soon.
Me ke aloha pumehana,
Dee Dee Ackerman, Allied ASID
D L Ackerman Design Group, LLC
president@hi.asid.org
---
Upcoming Election
Please watch for an email from Election Buddy on January 15. The email will contain a link to the election site. For those members who have opted out of emails, a letter will be sent containing a link. Be sure to vote by January 25.
Slate:
President Elect
Christine Reimer, Allied ASID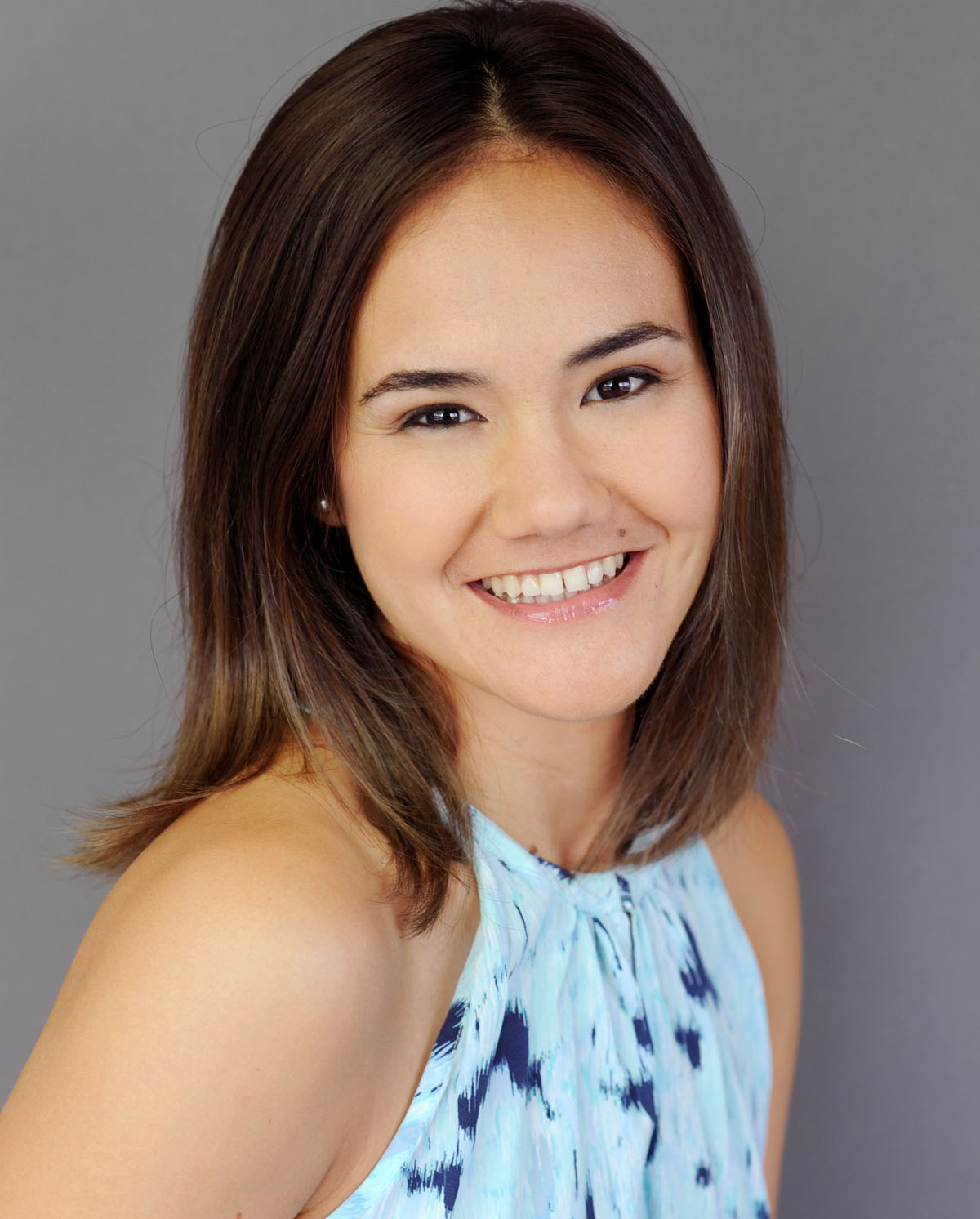 Christine received her B.S. in Interior Design with a minor in Business from Northern Arizona University. Born and raised on Oahu, Hawaii was always her home and she returned to pursue a career in Interior Design. She is currently a Senior Designer at MCYIA Interior Architecture and Design.
As a board member, she hopes to bring fellow designers together to participate in events and see the value of what ASID Hawaii Chapter has to offer. She would like to bridge the gap between student and professional members, with the hopes to increase chapter membership and support.
At-Large Director
Heidi Petersen, Allied ASID
Heidi Petersen is the Owner and Principle Interior Designer at Raven and Vine Interior Design Studio in Honolulu. She received her Bachelor of Arts Degree in Interior Design from Marylhurst University in Oregon and has been designing for over 20 years. Heidi has worked for residential design firms and large global retail companies. Her career has allowed her to travel the world and work on high profile projects in the US and abroad; inclusive of flagship stores and pop-up shops for major world-wide events.
In 2018 Heidi left the corporate world to follow her dreams and start her own interior design business in Hawaii. She is also the founder of the Corporate Recovery Program and in her spare time she writes poetry and self-published her first book in 2018.
Membership Director
Lisa Nguyen, Allied ASID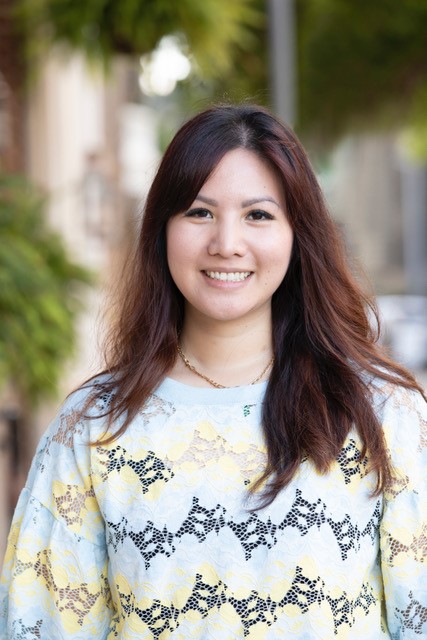 Lisa Nguyen graduated Magna Cum Laude with a Bachelor of Fine Art from Chaminade University in 2014. She is currently employed as a Project Manager/Interior Designer with Peter Vincent Architects where she is responsible for the interior design and furnishing of luxury residential, commercial and hospitality projects.
Lisa's goals include increasing involvement of younger members, create new and fun events for ASID recognition and fund raising and improve ASID standards for presentations and activities.
---
Local Events
CEU: The New Consumer 'Neo vs Traditional'
January 24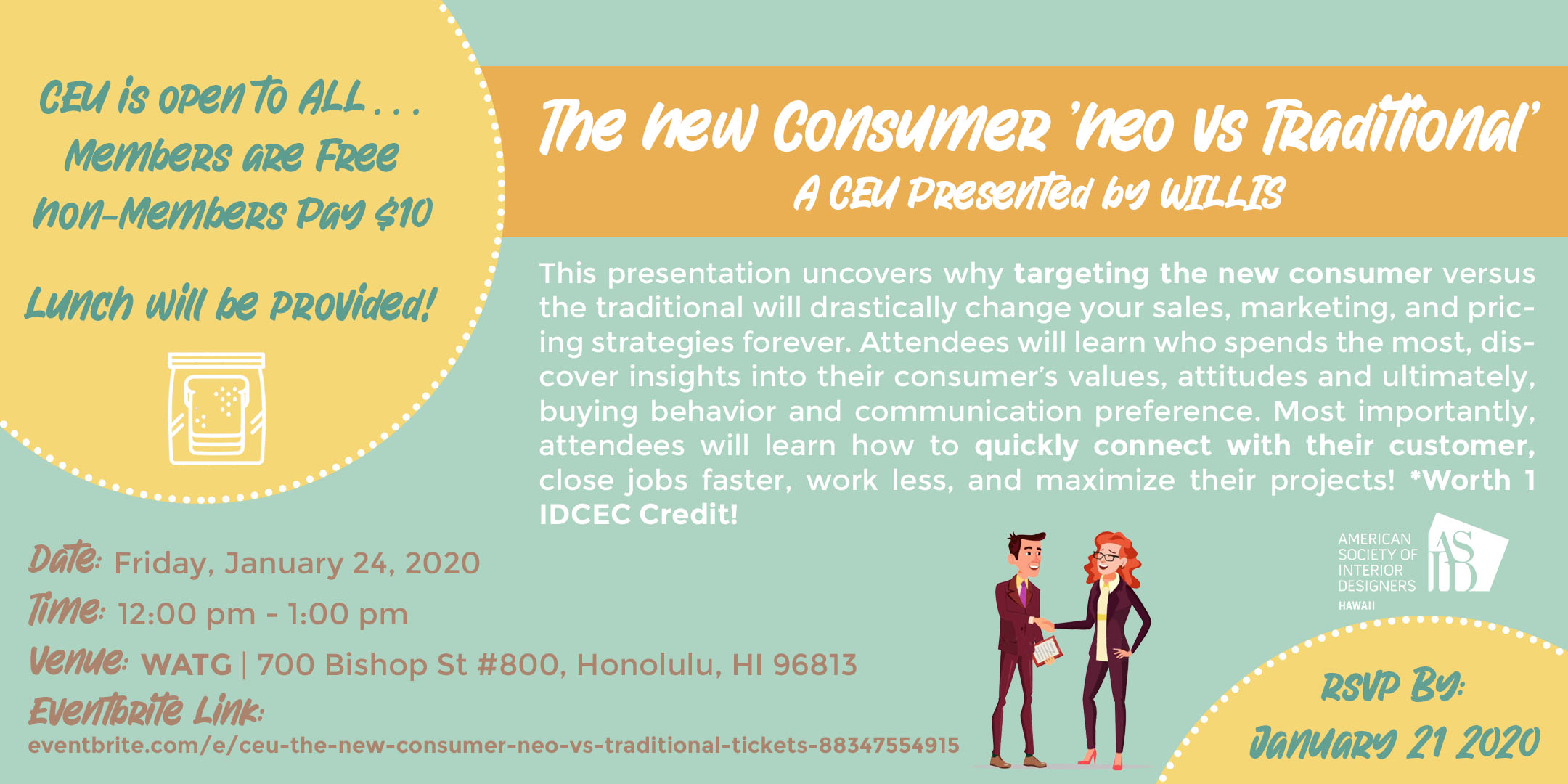 BIA 2020 Big Home Building & Remodeling
January 24-26
Save the Date: Spring Fling
March 20
Save the Date: Design Excellence Awards
June 27
---
National Events
KBIS
January 21-23
SCALE: The National Student Summit
February 21 – 23
WELL Conference
March 29 – April 1
For a full list of upcoming national events, visit www.asid.org/events.
---
One Voice
Each day interior designers use their voices and visions to reshape spaces--and therefore the lives of those occupying them--for the better. With those same voices working in unison, they have the power to design a better future for themselves and the entire profession. That is why ASID began One Voice; to empower interior designers to get involved and advocate for or against the public policy that will ultimately influence their careers and lives. For more info click here.
---
Design News (Click on title for complete article.)
What A $500,000 House Looks Like In The Nation's Top Cities
Forbes
For two lucky viewers, this year's Super Bowl won't just mean bragging rights or a smorgasbord of finger foods and beer. Thanks to a new contest launched by online lender Rocket Mortgage, it could mean their dream home as well. During the big game February 2, the Rocket Mortgage Squares contest will offer $50,000 in cash for randomly drawn winners at each score change (up to 30 of them). At the end of the game, two grand-prize winners will get $500,000 to potentially use toward their dream home. What that "dream home" will look like, though? Well, that depends on where those winners are located.
Designers Want to Leave Shiplap and All-Gray Interiors in the 2010s
Builder
After its peak in popularity during the late 2010s, design professionals are eager to see an end to the modern farmhouse craze, according to Sherwin-Williams.
Our Neverending Love Affair with 70s Design
Chicago Tribune
When you think of past decades that oozed style, the Hollywood glitz of the '30s or the pop-infused '60s come to mind, but the decade that hands-down has been the most influential in fashion — and that is making a splash this spring in home design — is the '70s.
8 Interior Design Predictions For 2020 (And What's On Its Way Out)
Vogue
There are a few design trends we've seen a lot over the past few years: mid-century modern, stark white kitchens, faux-lambskin rugs, and so many shades of pink. But the twenty teens are coming to an end, and many of the distinctive styles are set to fade accordingly. So if you're looking to decorate your home this year—or, make sure it doesn't feel dated—what should be on your mood board?
Design Students Learn Community Firsthand with Hospital Project
Design News
The challenge in working with community partners in an academic setting is leading students to see communities as equal partners and not just as resources for their project's success. Find out how Louisiana State University School of Interior Design students are learning firsthand.
When do you charge friends and family for design advice?
Business of Home
For designers, being asked for decorating advice comes with the territory, but when friends and family want help, at what point do you ask for compensation? We asked six designers—Doreen Chambers, Vanessa Deleon, Meredith Ellis, Grant K. Gibson, Jennifer Mehditash and Sarah Willett—how they know when it's time to stop doling out free expertise.
10+ Interior Design Apps That Will Revolutionize Your Next Redo
Elle
Itching for a redesign? There's an app for that.
---
Become a Chapter Sponsor
ASID Hawaii Chapter strives to work in support of our local interior designers by providing opportunities for continuing education, advocacy for the profession, social events and recognition of Design Excellence through our annual awards gala. While a small portion of our annual membership fees provides seed money for these activities, it is through annual sponsorships from our collaborative team of design firms and industry partners that the financial and personalized support is found to realize the programs and functions the membership expects.
As a sponsor of ASID Hawaii, your company can engage with members, participate in events, host meetings, and sponsor activities. Additionally, you will have the opportunity to increase visibility through additional marketing, branding, special access, and deeper engagement with ASID members. Sponsorship is an excellent opportunity for your business to gain exposure and showcase your products and services to our local interior design community.
For a sponsorship package please send an email reqest to: administrator@hi.asid.org.
---
Advertise with Us
There are several ways you can advertise with our chapter including email blasts, newsletter ads and website ads. Click here to learn more about advertising options.
---
Let's Connect
ASID HAWAII FACEBOOK: Please "like" us on Facebook! CLICK HERE to make sure you are up to date with ASID Hawaii's events, design news and stories. We are also on:
TWITTER
---
Maximize Your ASID Benefits
Trade Pricing and Discounts
ASID membership has its benefits—including exclusive discounts on products and services from national sponsors and industry partners.Make sure your to-the-trade offers or discounts are featured and email industrypartners@asid.org with your company logo, description of your trade service, and a link to register.
Find answers to frequenty asked membership questions including member qualifications, payments and dues, membership cards, updating your profile, CEUs,and password retrieval.
Everything you need to know about NCIDQ exams.
ASID supports the professional development of the Society's members and the profession with continuing education programs and events that allow participants to advance in their careers and build their skill sets. ASID, our Chapters, and Industry Partners offer a variety of continuing education opportunities in-person and online.
ASID Academy: The ASID Academy is a user friendly, dynamic, streamlined continuing education experience offering high-quality courses, webinars, and more in a learn anytime, anywhere (with an internet connection), on your own schedule environment. Topic areas include the Business of Design, Health & Wellness, Institutional, Healthcare, Residential, Workplace, and Hospitality & Retail design. Check out engaging courses like Designing for a New Millennial Culture and earn valuable IDCEC and AIA CEUs in the process. Explore the Academy.

Check out the new IDCEC Website Guide!
ASID members must earn a minimum of 1.0 unit (10 hours) of approved continuing education (CEU) every two years. We've updated the instructions for CEU reporting that align with IDCEC's new website to help you navigate the process.
ASID members are to utilize the Interior Design Continuing Education Council (IDCEC) registry to warehouse CEUs. Every ASID member has a unique IDCEC number to login into the website (your IDCEC number is different than your ASID number). The IDCEC user registry allows you to upload and track your continuing education activity as well as store a record under your account. Check your IDCEC account regularly to ensure your records are up to date.
Each year, ASID recognizes the exemplary achievements and outstanding service demonstrated by highly engaged members, chapters, student chapters, and industry partners through our awards and honors programs.
---
Website Log-in Help
The default login info is first name.lastname.member ID, and then the password is just your member ID. If you've forgotten your password, click Log In and then click Forgot Password.
---
About ASID
The American Society of Interior Designers (ASID) believes that design transforms lives. ASID serves the full range of the interior design profession and practice through the Society's programs, networks, and advocacy. We thrive on the strength of cross-functional and interdisciplinary relationships among designers of all specialties, including workplace, healthcare, retail and hospitality, education, institutional, and residential. We lead interior designers in shared conversations around topics that matter: from evidence-based and human-centric design to social responsibility, well-being, and sustainability. We showcase the impact of design on the human experience and the value interior designers provide.