E-Newsletter: July/Aug 2020
Mahalo to our 2020 Chapter Sponsors

---
President's Message
Aloha,
Judging for the Design Excellence Awards is almost finished. We will not be holding a physical awards ceremony this year, but plan to announce the winners in the Fall. We do not have an exact date yet. We are looking into hosting a virtual event, but that information won't be finalized until the end of July. We will keep you informed as we progress and finalize the details.
ASID is conducting a resiliency survey. The purpose of this research study is to examine attributes of interior design professionals, their experiences during the pandemic, and expected changes in the design of the built environment. This study seeks to identify issues interior design businesses and professionals face during major disruptions, track changes implemented in the industry, test the viability of industry-wide changes, and demonstrate the value of design.
The 'health check-up' from the Resiliency Report throughout and after COVID-19 will offer a holistic view of the vigor of our interior design community and develop new best practices to assist the industry at an individual and organizational level.
SURVEY OPEN: JUNE 30 – JULY 24, 2020, Click Here to Participate
Be sure to take advantage of the free advertising we are offering. During this unprecedented time of change it has become our board's mission to assist in driving business to our membership. We are offering a temporary no cost opportunity for all our members to be featured on our website and social media platforms. This includes a slide on our home page for one week, a small ad in our newsletter (IPs only) and small ads posted on our Facebook page and on Instagram.
To participate, please submit the following for our use in your promotion:
1-2 High Resolution Photos of your Interior Design work
Logo and/or personal image
Company digital information – website and social media.
1-2 sentence bio - this needs to be short enough to be catching on Instagram and Facebook.
Please submit all information to administrator@hi.asid.org.
Stay safe, and we hope to see you all soon.
Mahalo nui loa,
Dee Dee Ackerman
Hawaii Chapter President
president@hi.asid.org
---
Local Events
Save the Date: Design Excellence Awards
Fall 2020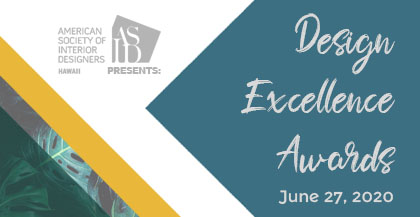 ---
National Events
For a full list of upcoming national events, visit www.asid.org/events.
---
One Voice
Each day interior designers use their voices and visions to reshape spaces--and therefore the lives of those occupying them--for the better. With those same voices working in unison, they have the power to design a better future for themselves and the entire profession. That is why ASID began One Voice; to empower interior designers to get involved and advocate for or against the public policy that will ultimately influence their careers and lives. For more info click here.
---
Design News (Click on title for complete article.)
Bounty of benefits in buildings of biophilic design.
Forbes
Over the course of human history, people have spent most of their days in natural environments. Only in recent times has the built environment replaced the natural world as a habitat for much of human life. Scant wonder people tend to enjoy and be at their best around trees, flowers, grass, shrubs, water and other natural elements. We are prewired to be healthier in nature.
That's the thought behind biophilic design, a building industry concept aiming to boost occupant connections to the natural world, including plants, natural light, patterns, color and natural material palettes.
Home design priorities changing as owners age in place.
MultiBriefs
With the largest percentage of homeownership and length of stay, as well as home asset value, the 55-plus market continues to drive demand for home design, remodeling and renovation services. Older homeowners are more likely to hire a professional…
10 renovations to consider before reopening your office.
Workplace Design
Skender's Clay Edwards shares the ten office updates he recommends to support a healthy return to work. This summer, as offices are starting to…
Design embraces its hawaiian habitat.
Architectural Digest
On a stunning lava rock field site in Kona, this stunning home seems to hover over the landscape as a series of pavilions.
Tiny house on wheels with a spacious interior.
Digs Digs
The whole world is crazy about cabins and small houses that can be moved or placed somewhere in the wild letting you escape and relax. This little structure on wheels by Mint Tiny homes has an interior of only 36 square meters and yet it has everything one needs to enjoy a full vacation at...
New eHandbook Offers Strategies for Reopening Offices Post-COVID-19
Interiors and Design
Offices are slowly beginning to reopen and the need to do so safely to protect occupants has never been more paramount, which is why we've put together this eBook on best practices for reopening corporate spaces following COVID-19.
Thinking about going in on a house with grandma? Hear from 5 families who bought together.
Curbed
The ups and downs of multigenerational housing.
---
Become a Chapter Sponsor
ASID Hawaii Chapter strives to work in support of our local interior designers by providing opportunities for continuing education, advocacy for the profession, social events and recognition of Design Excellence through our annual awards gala. While a small portion of our annual membership fees provides seed money for these activities, it is through annual sponsorships from our collaborative team of design firms and industry partners that the financial and personalized support is found to realize the programs and functions the membership expects.
As a sponsor of ASID Hawaii, your company can engage with members, participate in events, host meetings, and sponsor activities. Additionally, you will have the opportunity to increase visibility through additional marketing, branding, special access, and deeper engagement with ASID members. Sponsorship is an excellent opportunity for your business to gain exposure and showcase your products and services to our local interior design community.
For a sponsorship package please send an email reqest to: administrator@hi.asid.org.
---
Advertise with Us
There are several ways you can advertise with our chapter including email blasts, newsletter ads and website ads. Click here to learn more about advertising options.
---
Let's Connect
ASID HAWAII FACEBOOK: Please "like" us on Facebook! CLICK HERE to make sure you are up to date with ASID Hawaii's events, design news and stories. We are also on:
TWITTER
---
Maximize Your ASID Benefits
Trade Pricing and Discounts
ASID membership has its benefits—including exclusive discounts on products and services from national sponsors and industry partners.Make sure your to-the-trade offers or discounts are featured and email industrypartners@asid.org with your company logo, description of your trade service, and a link to register.
Find answers to frequenty asked membership questions including member qualifications, payments and dues, membership cards, updating your profile, CEUs,and password retrieval.
Everything you need to know about NCIDQ exams.
ASID supports the professional development of the Society's members and the profession with continuing education programs and events that allow participants to advance in their careers and build their skill sets. ASID, our Chapters, and Industry Partners offer a variety of continuing education opportunities in-person and online.
ASID Academy: The ASID Academy is a user friendly, dynamic, streamlined continuing education experience offering high-quality courses, webinars, and more in a learn anytime, anywhere (with an internet connection), on your own schedule environment. Topic areas include the Business of Design, Health & Wellness, Institutional, Healthcare, Residential, Workplace, and Hospitality & Retail design. Check out engaging courses like Designing for a New Millennial Culture and earn valuable IDCEC and AIA CEUs in the process. Explore the Academy.

Check out the new IDCEC Website Guide!
ASID members must earn a minimum of 1.0 unit (10 hours) of approved continuing education (CEU) every two years. We've updated the instructions for CEU reporting that align with IDCEC's new website to help you navigate the process.
ASID members are to utilize the Interior Design Continuing Education Council (IDCEC) registry to warehouse CEUs. Every ASID member has a unique IDCEC number to login into the website (your IDCEC number is different than your ASID number). The IDCEC user registry allows you to upload and track your continuing education activity as well as store a record under your account. Check your IDCEC account regularly to ensure your records are up to date.
Each year, ASID recognizes the exemplary achievements and outstanding service demonstrated by highly engaged members, chapters, student chapters, and industry partners through our awards and honors programs.
---
Website Log-in Help
The default login info is first name.lastname.member ID, and then the password is just your member ID. If you've forgotten your password, click Log In and then click Forgot Password.
---
About ASID
The American Society of Interior Designers (ASID) believes that design transforms lives. ASID serves the full range of the interior design profession and practice through the Society's programs, networks, and advocacy. We thrive on the strength of cross-functional and interdisciplinary relationships among designers of all specialties, including workplace, healthcare, retail and hospitality, education, institutional, and residential. We lead interior designers in shared conversations around topics that matter: from evidence-based and human-centric design to social responsibility, well-being, and sustainability. We showcase the impact of design on the human experience and the value interior designers provide.