E-Newsletter: July/August 2021
Mahalo to our 2021 All Access and Newsletter Sponsors

---
President's Message
Your chapter Board of Directors is looking for ways to give back to our members and we want to hear from you! To continue to better our chapter, we are hoping to send out quarterly surveys, with different topics and categories. This quarter's survey focuses on social media and publishing outlets. You should have already received the email containing the survey link. It is a short 10-question survey, so please take a few minutes to complete it. Those who complete the survey will be entered to win a $25 Amazon gift card. The survey will close on July 30 at 6:00pm.
The Systemcenter is hosting a live double CEU event at their showroom. This event aims to educate participants on why people need a strong connection to nature at work, the benefits of making these connections through purposeful design, and the tools architects and designers can use to bring the indoors out and the outdoors in in both practical and inspirational ways in the future. Click on the link for the invite:
https://www.eventbrite.com/e/systemcenter-live-double-ceu-event-tickets-163133044327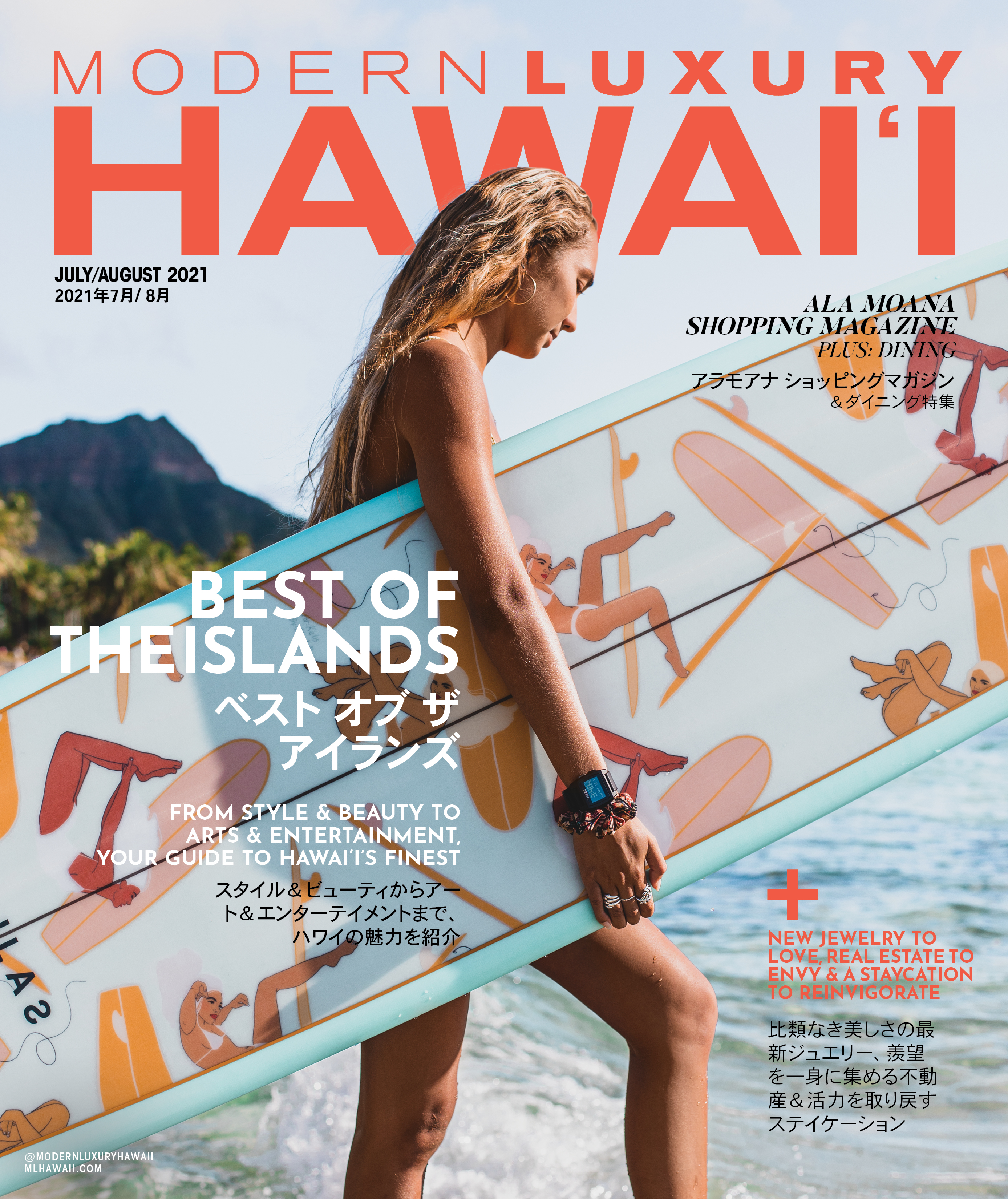 Modern Luxury Hawaii is pleased to present their annual BEST OF THE ISLANDS edition, a sourced and curated ultimate guide to luxury lifestyle in Hawaii. The issue specifically highlights our community's unique home and design industry featuring a serene Walker Warner Architects sanctuary, one-of-a-kind interiors, Philpotts' Place showroom, home furnishings by Pacific Home, and more! To receive your complimentary issue as a valued ASID Hawaii member, please contact KInoshita@ModernLuxury.com
Please save the date for our next Ask A Designer Event, on Saturday, September 4, 2021. If you would like more information, or would like to volunteer, please email me at president@hi.asid.org.
We are actively collecting items for a future virtual sample sale as well as a live sale. A donation form is attached to this newsletter's email, or you can request one from administrator@hi.asid.org. For more information, please contact me. Your support is greatly appreciated!
And finally, the ASID Hawaii Chapter board of directors, would like share our sorrow regarding the loss of a beloved member, Karren Barrozi. During her successful interior design career, Karren gave back by serving as President of ASID twice, and consistently supported our designers in the community. She was very loved and respected, and we will continue to honor the life of our dear friend.
Thank you,
McKenna Makizuru, Allied ASID
President, Hawaii Chapter
president@hi.asid.org
---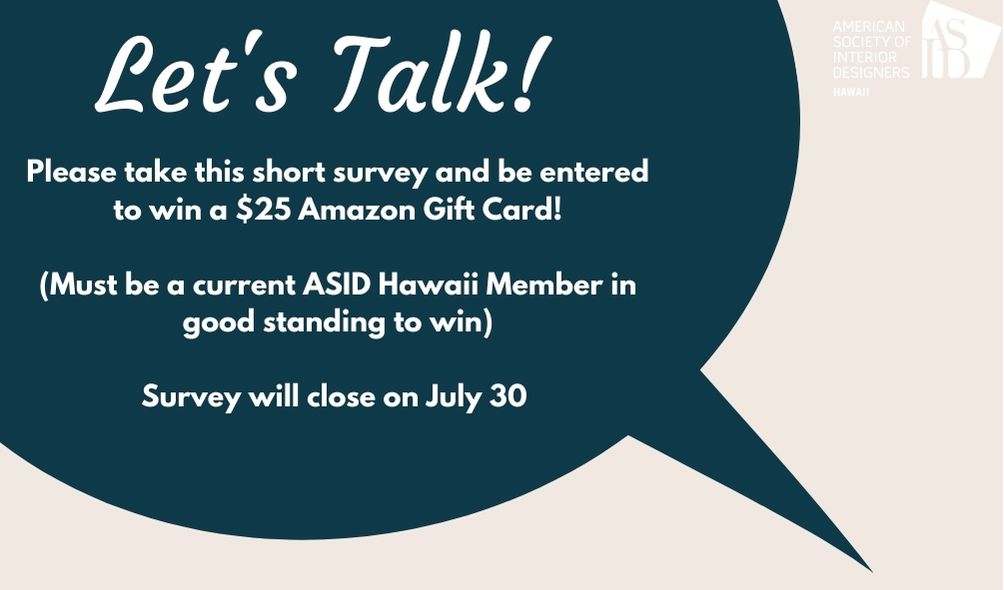 Survey link: https://www.surveymonkey.com/r/72NZVMJ
---
Chapter News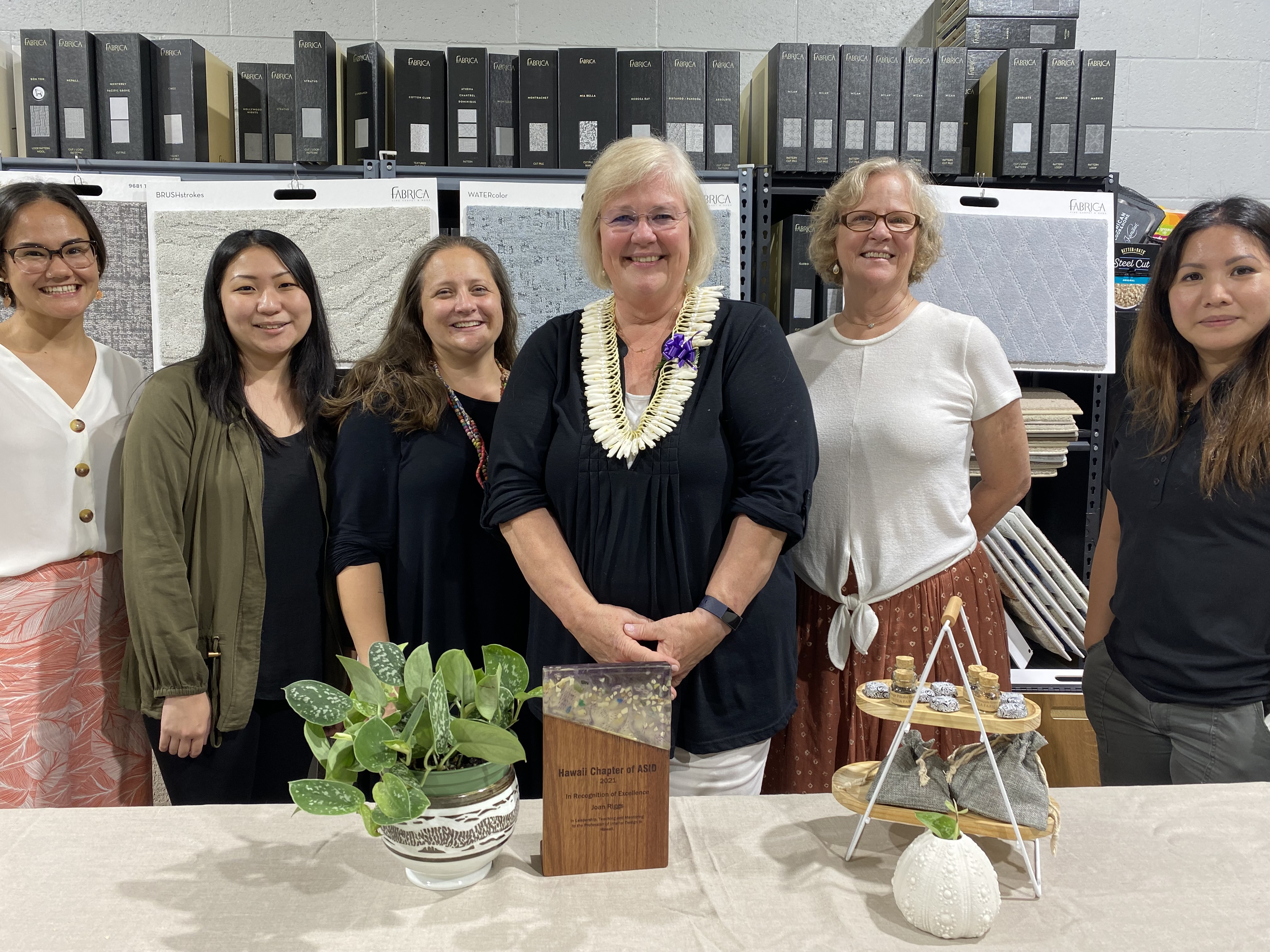 After 18 years as part of Chaminade's faculty, over 13 as the Environmental+Interior Design Program Director, Joan Riggs has retired. Joan will be greatly missed, as she has been an integral part of the Hawaii design community. She was very active in our chapter as a board member and as part of our Design Excellence Awards team.
This year, ASID Hawaii Chapter honored Joan with a Recognition of Excellence award for her many contributions to our chapter and her outstanding support.
Mahalo nui loa, Joan!
---
2021 Calendar
July
July 29: Bella Pietra CEU Event – 2021 and Beyond Design Trend
August
(Date TBD) Infinium Interiors Rescheduled Normann Copenhagen Briefing
(Date TBD) Virtual Sample Sale Collection (Help us collect donations for resale to the public. Contact president@hi.asid.org to donate items. Thanks for your support!)
August 11: Willis Lunch and Learn (Tentative)
August 12: Systemcenter Double CEU Pau Hana Event – 4-7PM
August 26: HonBlue: Pau Hana & Showroom Tour
September
(Date TBD) Design Impacts Lives/Ask a Designer
---
2021 National Events
ASID has an exciting offer for five days of FREE learning and inspiration at the ASID 2021 Virtual Conference, July 19-23! We invite you to register ASAP. Space is filling up and virtual registrations are limited.
For a full list of national events, click here.
---
Design News (Click on title for complete article.)
Three Comfort Hacks to Brighten the Workplace
DesignWell
Employees welcome back office life with these residential-inspired tweaks.
Home Hygiene Delivered Four Ways
DesignWell
Design and technology come together to safeguard homes.
Ask an Expert: How Do I Make My Home More Energy-Efficient?
Dwell
Three eco-conscious designers share simple ways to boost your home's energy efficiency.
Exploring the MegaResort
Las Vegas Review-Journal
Resorts World Las Vegas is the first new casino-resort to be constructed on the Strip in more than a decade. At $4.3 billion, the 3,506-room Resorts World is the most expensive hotel-casino ever built in Nevada.
CDC Greenlights First Ocean Cruise Since Start of Pandemic
Seatrade Cruise News
Celebrity Edge, a Celebrity Cruises vessel, will become the first ship to return to service in the U.S. since COVID-19 hit early last year. On top of the milestone, Captain Kate McCue will be the first woman from the U.S. to helm a major commercial line. At present, all ship guests aged 16 and above are required to show proof of COVID-19 vaccination.
A Midcentury Home in L.A. Gets a Japandi–Inspired Refresh
Dubbed the Zen Den, this serene home by the creative duo behind Working Holiday Studio is brightened with an infusion of natural light and now serves as the couple's personal residence and design showroom.
---
Become a Chapter Sponsor
ASID Hawaii Chapter strives to work in support of our local interior designers by providing opportunities for continuing education, advocacy for the profession, social events and recognition of Design Excellence through our annual awards gala. While a small portion of our annual membership fees provides seed money for these activities, it is through annual sponsorships from our collaborative team of design firms and industry partners that the financial and personalized support is found to realize the programs and functions the membership expects.
As a sponsor of ASID Hawaii, your company can engage with members, participate in events, host meetings, and sponsor activities. Additionally, you will have the opportunity to increase visibility through additional marketing, branding, special access, and deeper engagement with ASID members. Sponsorship is an excellent opportunity for your business to gain exposure and showcase your products and services to our local interior design community.
For a sponsorship package please send an email reqest to: administrator@hi.asid.org.
---
Advertise with Us
There are several ways you can advertise with our chapter including email blasts, newsletter ads and website ads. Please send an email to administrator@hi.asid.org to learn more about advertising options.
---
Let's Connect
ASID HAWAII FACEBOOK: Please "like" us on Facebook! CLICK HERE to make sure you are up to date with ASID Hawaii's events, design news and stories. We are also on:
TWITTER
---
Maximize Your ASID Benefits
Trade Pricing and Discounts
ASID membership has its benefits—including exclusive discounts on products and services from national sponsors and industry partners.Make sure your to-the-trade offers or discounts are featured and email industrypartners@asid.org with your company logo, description of your trade service, and a link to register.
Find answers to frequenty asked membership questions including member qualifications, payments and dues, membership cards, updating your profile, CEUs,and password retrieval.
Everything you need to know about NCIDQ exams.
ASID supports the professional development of the Society's members and the profession with continuing education programs and events that allow participants to advance in their careers and build their skill sets. ASID, our Chapters, and Industry Partners offer a variety of continuing education opportunities in-person and online.
ASID Academy: The ASID Academy is a user friendly, dynamic, streamlined continuing education experience offering high-quality courses, webinars, and more in a learn anytime, anywhere (with an internet connection), on your own schedule environment. Topic areas include the Business of Design, Health & Wellness, Institutional, Healthcare, Residential, Workplace, and Hospitality & Retail design. Check out engaging courses like Designing for a New Millennial Culture and earn valuable IDCEC and AIA CEUs in the process. Explore the Academy.

Check out the new IDCEC Website Guide!
ASID members must earn a minimum of 10 unit (10 hours) of approved continuing education (CEU) every two years. We've updated the instructions for CEU reporting that align with IDCEC's new website to help you navigate the process.
ASID members are to utilize the Interior Design Continuing Education Council (IDCEC) registry to warehouse CEUs. Every ASID member has a unique IDCEC number to login into the website (your IDCEC number is different than your ASID number). The IDCEC user registry allows you to upload and track your continuing education activity as well as store a record under your account. Check your IDCEC account regularly to ensure your records are up to date.
Each year, ASID recognizes the exemplary achievements and outstanding service demonstrated by highly engaged members, chapters, student chapters, and industry partners through our awards and honors programs.
---
One Voice
Each day interior designers use their voices and visions to reshape spaces--and therefore the lives of those occupying them--for the better. With those same voices working in unison, they have the power to design a better future for themselves and the entire profession. That is why ASID began One Voice; to empower interior designers to get involved and advocate for or against the public policy that will ultimately influence their careers and lives. For more info click here.
---
Website Log-in Help
The default login info is first name.lastname.member ID, and then the password is just your member ID. If you've forgotten your password, click Log In and then click Forgot Password.
---
About ASID
The American Society of Interior Designers (ASID) believes that design transforms lives. ASID serves the full range of the interior design profession and practice through the Society's programs, networks, and advocacy. We thrive on the strength of cross-functional and interdisciplinary relationships among designers of all specialties, including workplace, healthcare, retail and hospitality, education, institutional, and residential. We lead interior designers in shared conversations around topics that matter: from evidence-based and human-centric design to social responsibility, well-being, and sustainability. We showcase the impact of design on the human experience and the value interior designers provide.