E-Newsletter: June/July 2020
Mahalo to our 2020 Chapter Sponsors

---
President's Message
Aloha,
Judging has started for the Design Excellence Awards. Mahalo to our entrants and sponsors for supporting this event. We are still working on the logistics for the awards, and will keep you updated.
The American Society of Interior Designers (ASID) has named renowned designer Gary Wheeler, FASID, FIIDA as its Interim Chief Executive Officer. The appointment comes on the heels of the recent announcement that Randy Fiser, Hon. FASID will step down from his position as CEO at the end of July. Wheeler, one of the most respected names in design, will lead the organization through the transition period until a permanent CEO is named.
"For eight years, Randy has provided invaluable leadership, passion, vision, and service to our community," said ASID Board of Directors Chair Jennifer Kolstad, ASID, Associate AIA. "He understood and championed the ability of interior design to impact not only the beauty around us but also our health, wellness, and wellbeing. His recent efforts have further strengthened ASID's position as the global leader on interior environments. We will miss his contributions to our network."
A search committee comprising ASID members, Board members, and industry professionals has begun the process of identifying the permanent CEO. The committee will be chaired by ASID Board Member John Cialone, FASID. Click here for more on this upcoming change in leadership.
We still have some open slots for the free advertising we are offering. During this unprecedented time of change it has become our board's mission to assist in driving business to our membership. We are offering a temporary no cost opportunity for all our members to be featured on our website and social media platforms. This includes a slide on our home page for one week, a small ad in our newsletter (IPs only) and small ads posted on our Facebook page and on Instagram.
To participate, please submit the following for our use in your promotion:
1-2 High Resolution Photos of your Interior Design work
Logo and/or personal image
Company digital information - website, IG, etc
1-2 sentence bio - this needs to be short enough to be catching on Instagram and Facebook.
Please submit all information to administrator@hi.asid.org.
Take care, and we hope to see you soon.
Mahalo nui loa,
Dee Dee Ackerman
Hawaii Chapter President
president@hi.asid.org
---
Local Events
Save the Date: Design Excellence Awards
Fall 2020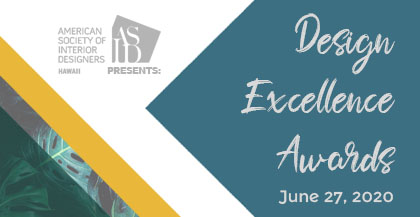 ---
National Events
For a full list of upcoming national events, visit www.asid.org/events.
---
Featured Chapter Sponsor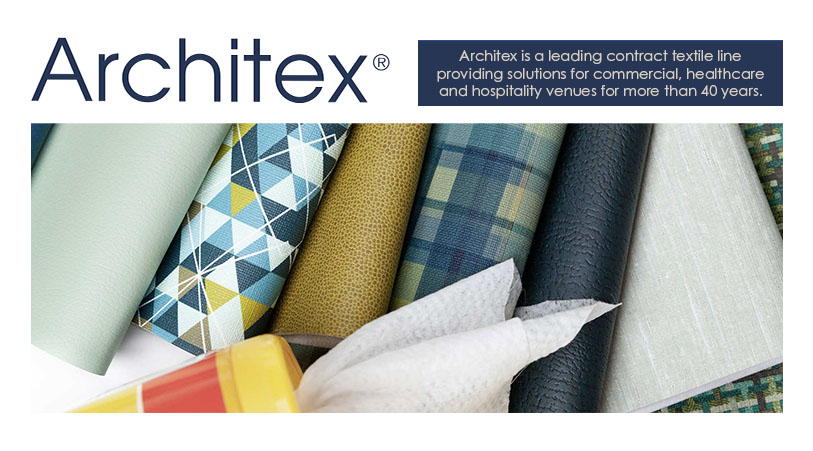 Architex is a leading contract textile line providing solutions for commercial, healthcare and hospitality venues for more than 40 years. By blending innovative design, technology and sustainable practices, Architex creates inspiring products in an array of applications. Our broad product offerings include upholstery, wallcovering and privacy curtain fabrics as well as drapery and non-wovens. Our expansive and evolving product line is specified by interior designers, architects, government institutions and purchasing agents from around the world.
---
One Voice
Each day interior designers use their voices and visions to reshape spaces--and therefore the lives of those occupying them--for the better. With those same voices working in unison, they have the power to design a better future for themselves and the entire profession. That is why ASID began One Voice; to empower interior designers to get involved and advocate for or against the public policy that will ultimately influence their careers and lives. For more info click here.
---
Design News (Click on title for complete article.)
Firms Persevere Despite Q1 Challenges According to ASID's Interior Design Billings Index Surveys
Interior Design
Most in the design industry don't need an official survey to detail current business conditions, which pose unchartered challenges for many. Regardless, the American Society of Interior Designers examined the first quarter of 2020 with its Interior Design Billings Index, continuing an initiative the professional organization has undertaken since 2008.
Homebound homeowners pursue remodeling projects
MultiBriefs
Like other sectors of the housing industry, remodeling services have experienced a substantial drop in demand as a result of health and safety concerns arising from the COVID-19 pandemic. At the same time, being confined to home has given homeowners…
14 Summer Bedding Ideas to Sleep Soundly on the Hottest Nights
Vogue
Unsure if you need summer bedding? Let's get real here: Pop culture may paint a rosy picture of summer nights—hello, Grease!—but on a Monday night during August, you aren't having a late-night adventure with a hapless, handsome crush. You're blasting the air conditioning, kicking your heavy comforter off your bed, and cursing the 90-degree weather outside.
A Round Up Of Our Favorite Separation Solution Products
Workplace Design
After almost three months of working from home, many organizations are looking forward to getting back to their offices. As you begin to make your return to work plans, check out this round up of our favorite separation solutions that will make things easy and safe for you and your employees.
25 Refined Brown Bathroom Decor Ideas
DigsDigs
Brown isn't the most obvious choice of color for a home renovation, and that's unfair: it's refined, it's warm and soothing and it goes well with all kinds of neutrals. Such a color is often seen in entryways or kitchens but what about incorporating it into bathroom décor? Let me share some ideas to show...
How Will Restaurant Design Change After COVID-19?
Interiors and Sources
From outdoor seating to open-kitchen layouts, Wilson Associates' Michael Lawless and Keiko Matsumoto discuss the creative concepts designers are utilizing to help aid a smooth transition to a "new normal" for dining out.
17 Kitchen Trends That Reign Supreme in 2020
Elle Decor
Get started on your renovation plans with these pointers from the pros.
---
Become a Chapter Sponsor
ASID Hawaii Chapter strives to work in support of our local interior designers by providing opportunities for continuing education, advocacy for the profession, social events and recognition of Design Excellence through our annual awards gala. While a small portion of our annual membership fees provides seed money for these activities, it is through annual sponsorships from our collaborative team of design firms and industry partners that the financial and personalized support is found to realize the programs and functions the membership expects.
As a sponsor of ASID Hawaii, your company can engage with members, participate in events, host meetings, and sponsor activities. Additionally, you will have the opportunity to increase visibility through additional marketing, branding, special access, and deeper engagement with ASID members. Sponsorship is an excellent opportunity for your business to gain exposure and showcase your products and services to our local interior design community.
For a sponsorship package please send an email reqest to: administrator@hi.asid.org.
---
Advertise with Us
There are several ways you can advertise with our chapter including email blasts, newsletter ads and website ads. Click here to learn more about advertising options.
---
Let's Connect
ASID HAWAII FACEBOOK: Please "like" us on Facebook! CLICK HERE to make sure you are up to date with ASID Hawaii's events, design news and stories. We are also on:
TWITTER
---
Maximize Your ASID Benefits
Trade Pricing and Discounts
ASID membership has its benefits—including exclusive discounts on products and services from national sponsors and industry partners.Make sure your to-the-trade offers or discounts are featured and email industrypartners@asid.org with your company logo, description of your trade service, and a link to register.
Find answers to frequenty asked membership questions including member qualifications, payments and dues, membership cards, updating your profile, CEUs,and password retrieval.
Everything you need to know about NCIDQ exams.
ASID supports the professional development of the Society's members and the profession with continuing education programs and events that allow participants to advance in their careers and build their skill sets. ASID, our Chapters, and Industry Partners offer a variety of continuing education opportunities in-person and online.
ASID Academy: The ASID Academy is a user friendly, dynamic, streamlined continuing education experience offering high-quality courses, webinars, and more in a learn anytime, anywhere (with an internet connection), on your own schedule environment. Topic areas include the Business of Design, Health & Wellness, Institutional, Healthcare, Residential, Workplace, and Hospitality & Retail design. Check out engaging courses like Designing for a New Millennial Culture and earn valuable IDCEC and AIA CEUs in the process. Explore the Academy.

Check out the new IDCEC Website Guide!
ASID members must earn a minimum of 1.0 unit (10 hours) of approved continuing education (CEU) every two years. We've updated the instructions for CEU reporting that align with IDCEC's new website to help you navigate the process.
ASID members are to utilize the Interior Design Continuing Education Council (IDCEC) registry to warehouse CEUs. Every ASID member has a unique IDCEC number to login into the website (your IDCEC number is different than your ASID number). The IDCEC user registry allows you to upload and track your continuing education activity as well as store a record under your account. Check your IDCEC account regularly to ensure your records are up to date.
Each year, ASID recognizes the exemplary achievements and outstanding service demonstrated by highly engaged members, chapters, student chapters, and industry partners through our awards and honors programs.
---
Website Log-in Help
The default login info is first name.lastname.member ID, and then the password is just your member ID. If you've forgotten your password, click Log In and then click Forgot Password.
---
About ASID
The American Society of Interior Designers (ASID) believes that design transforms lives. ASID serves the full range of the interior design profession and practice through the Society's programs, networks, and advocacy. We thrive on the strength of cross-functional and interdisciplinary relationships among designers of all specialties, including workplace, healthcare, retail and hospitality, education, institutional, and residential. We lead interior designers in shared conversations around topics that matter: from evidence-based and human-centric design to social responsibility, well-being, and sustainability. We showcase the impact of design on the human experience and the value interior designers provide.