E-Newsletter: March/April 2020
President's Message
Aloha, Hawaii ASID Members:
The Coronavirus is, I'm sure, effecting all of us in every day events. Our board members and I hope that this will be over soon and rest assured that we will keep you all informed as to changes and cancellations of upcoming events for our Chapter. We wish you all good health in these uncertain times.
The CLC Leadership and WELL conference scheduled for March, has been postponed till August. Three of our board members will be attending the new schedule. Our Ask A Designer has been rescheduled for sometime in September 2020. Please look out for our changed dates.
The Design Excellence Awards is still on track for June 27. The location of this event will be held at Entrepreneur Sandbox. This is a new venue for us and we look forward in sharing it with you. Due to an error in the Call For Entries Package, we will be doing a final extension for entries to March 19. We are opening up the call for entries for all projects extending past the last 3 years, as long as it has not won a previous ASID Hawaii Design ExcellenceAwards (including Award of Excellence, Award of Merit, and Award of Honor).To enter the 2020 ASID Design Excellence Awards, please request an entry package by emailing administrator@hi.asid.org, Your completed Letter of Intent and payment is needed to obtain the full entry package and submission instructions. We must receive the Letter of Intent and payment by March 19, 2020 at 5:00pm. Digital submission instructions and access to the system will follow within three days of receipt of your completed Letter of Intent form and payment. Final entry uploads to your Dropbox folder has been extended to April 6, 2020, at 5:00pm. Winners will be announced at the 2020 ASID Hawaii Design Excellence Awards Gala on June 27, 2020 (please mark your calendars). More information to come.Good luck to all designers! If you have any questions, please contact our administrator, Cee, atadministrator@hi.asid.org.
We recently held a Student Mixer with Chaminade University, that was a big success. We look forward in having these students eventually become the leaders of our ASID Hawaii Chapter. Our Student Rep to the Board Samantha Mortimer, was fortunate in being able to attend ASID's SCALE Conference in February. Samantha came back with a tremendous amount of knowledge which she shared with both the current Board and with the students at Chaminade University. Nancy Schnur, ASID and I, are working on a Grass Roots Grant from ASID. This could involve legislation that would benefit our chapter. I will keep everyone in the loop as to our progress.
Lastly, we are still looking for annual and event sponsors for our chapter. As a sponsor of ASID Hawaii, your company will have the opportunity to gain exposure, engage with members, participate in events, host meetings, and sponsor activities for the design professionals, and student members. ASID Hawaii strives to work in support of our local interior designers, and it is through annual sponsorships from collaborative team of design firms and industry partners that the financial and personalized support is found to realize the programs for our membership. For a sponsorship package please send an email request to: administrator@hi.asid.org
As always, we hope that you and your families will continue to be safe from all virus threats. Breathe, stay calm, disinfect and wash your hands!
Mahalo nui loa,
Dee Dee Ackerman
Hawaii Chapter President
president@hi.asid.org
---
Help Needed
Architectural firm in Honolulu is seeking to hire someone experienced in Studio Designer who would be willing to come to their offices to do a hands-on tutorial. Please contact Eduardo Bahia at eduardo@edbdesignstudio.com for further details.
---
Local Events
March 18
Tommy Bahama Event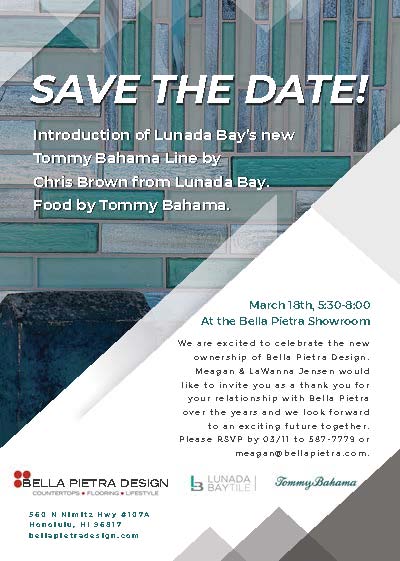 Save the Date: Design Excellence Awards
June 27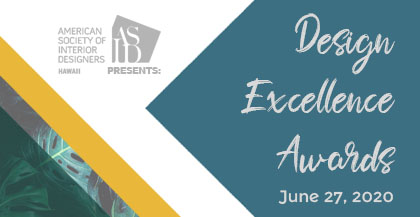 ---
National Events
For a full list of upcoming national events, visit www.asid.org/events.
---
Local News
Samantha Mortimer, Student Representative to the Board, recently attended SCALE, in Seattle. SCALE helps students take on their first professional role by engaging with successful professionals in their field and learning from a mind-blowing cast of speakers. Following is Samantha's summary of the conference.
As Student Rep to the Board, I recently had the opportunity to attend SCALE 2020, The ASID National Student Summit, in Seattle, Washington. The event was not only an amazing experience, but full of valuable information, networking opportunities, and collaboration with other SRBs and Interior Design students. This year's theme for the Student Chapter Leadership Training was "Level Up." During this training session, we discussed unique ways of which we can take the student and professional engagement experience to the next level. Quite a few ideas were shared and I am looking forward to introducing several of them into our ASID Hawaii chapter. I wholeheartedly appreciate this opportunity and all the support from our chapter to make it possible. In closing, three key takeaways that I would love to share are:
1. Experience shapes your perspective
2. Go where you are rare
3. Don't wait until your project to build your tool box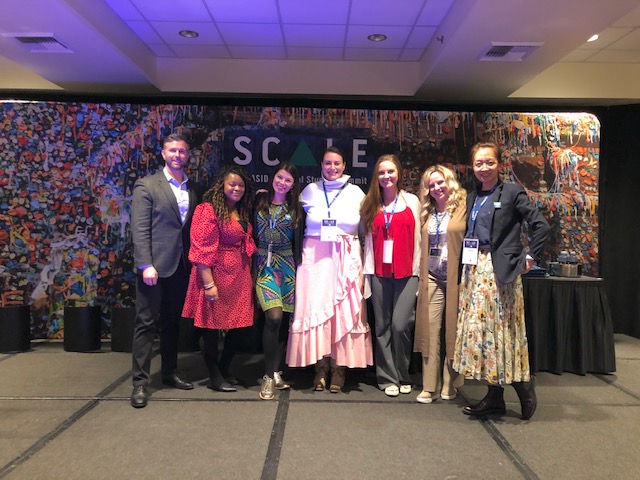 Pictured from Left to Right: Matthew De Greeter- VP, Education & Engagement ASID, Rosemarie Abraham- Associate, Community Engagement ASID, Amy- Virginia SRB, Bella- Washington DC SRB, Samantha- Hawaii SRB, Marchell- Florida SRB, LeLe- Georgia SRB
---
One Voice
Each day interior designers use their voices and visions to reshape spaces--and therefore the lives of those occupying them--for the better. With those same voices working in unison, they have the power to design a better future for themselves and the entire profession. That is why ASID began One Voice; to empower interior designers to get involved and advocate for or against the public policy that will ultimately influence their careers and lives. For more info click here.
---
Design News (Click on title for complete article.)
Realtors: More Home Shoppers Being Greeted With Hand Sanitizer
Builder
Nearly 1 in 4 sellers is changing home presentation in the face of coronavirus.
What are the features homeowners want the most?
Multibriefs
A survey by Porch and Homes.com has identified the top features that people want when they're looking for a home — and how much they're willing to bust the budget to pay for it.
5 Spring Home Design Trends: Wallpapered ceilings are in and white kitchens are out
Chicago Tribune
As professional pundits predict everything from the economy to politics and food, design experts gaze, too, into their crystal balls. Some of our favorite influencers think our homes will be wrapped in more personalized colors, patterns and textures in the year ahead. The main reason for greater boldness is an overall sense of weariness after years of being surrounded by safe grays, beiges and whites. We're also less fearful about scaring away buyers for resale. Live and enjoy what you want is the new mantra. We've rounded up five top trends to help you get started.
Smart Universal Design Allows New Homes To Keep Pace With Buyers' Lives
Builder
Check out the ways Japan-based Sekisui House has led change in the age-in-place trend.
What to Know If You're Planning to Travel in the Next Month
Vogue
On Wednesday night, President Trump made an announcement to the nation: "To keep new cases from entering our shores, we will be suspending all travel from Europe to the United States for the next 30 days." The declaration was sweeping but also vague, leaving many questions unanswered. (For example, the White House later confirmed the United Kingdom was exempt.) It also left travelers, at home and abroad, scrambling to figure out their plans. There's still a lot of uncertainty a couple of days later, but here's what we know so far.
Imperfect Apartment Created Using Wabi Sabi Principles
Digs Digs
Designed by Nelson Chow of Hong Kong-based architecture practice NCDA, "The Imperfect Residence" is a recently refurbished Hong Kong one-bedroom apartment. The title nevertheless succinctly references the designer's guiding light, namely the ancient Japanese philosophy Wabi Sabi which is based on finding beauty in the imperfect and valuing simplicity.
60 Small Bathroom Designs That Are Far from Boring
Elle Décor
As these bathrooms prove, big things come in small packages.
12 Bedrooms for a Snooze-Fest this Sleep Awareness Week
Interior Design
The week following the switch to daylight savings time is a fitting one for National Sleep Awareness Week. To honor this literal snooze-fest, we're rounding up 12 bedrooms worth hibernating in, ensuring the recommended seven-to-nine hours of shut eye.
---
Become a Chapter Sponsor
ASID Hawaii Chapter strives to work in support of our local interior designers by providing opportunities for continuing education, advocacy for the profession, social events and recognition of Design Excellence through our annual awards gala. While a small portion of our annual membership fees provides seed money for these activities, it is through annual sponsorships from our collaborative team of design firms and industry partners that the financial and personalized support is found to realize the programs and functions the membership expects.
As a sponsor of ASID Hawaii, your company can engage with members, participate in events, host meetings, and sponsor activities. Additionally, you will have the opportunity to increase visibility through additional marketing, branding, special access, and deeper engagement with ASID members. Sponsorship is an excellent opportunity for your business to gain exposure and showcase your products and services to our local interior design community.
For a sponsorship package please send an email reqest to: administrator@hi.asid.org.
---
Advertise with Us
There are several ways you can advertise with our chapter including email blasts, newsletter ads and website ads. Click here to learn more about advertising options.
---
Let's Connect
ASID HAWAII FACEBOOK: Please "like" us on Facebook! CLICK HERE to make sure you are up to date with ASID Hawaii's events, design news and stories. We are also on:
TWITTER
---
Maximize Your ASID Benefits
Trade Pricing and Discounts
ASID membership has its benefits—including exclusive discounts on products and services from national sponsors and industry partners.Make sure your to-the-trade offers or discounts are featured and email industrypartners@asid.org with your company logo, description of your trade service, and a link to register.
Find answers to frequenty asked membership questions including member qualifications, payments and dues, membership cards, updating your profile, CEUs,and password retrieval.
Everything you need to know about NCIDQ exams.
ASID supports the professional development of the Society's members and the profession with continuing education programs and events that allow participants to advance in their careers and build their skill sets. ASID, our Chapters, and Industry Partners offer a variety of continuing education opportunities in-person and online.
ASID Academy: The ASID Academy is a user friendly, dynamic, streamlined continuing education experience offering high-quality courses, webinars, and more in a learn anytime, anywhere (with an internet connection), on your own schedule environment. Topic areas include the Business of Design, Health & Wellness, Institutional, Healthcare, Residential, Workplace, and Hospitality & Retail design. Check out engaging courses like Designing for a New Millennial Culture and earn valuable IDCEC and AIA CEUs in the process. Explore the Academy.

Check out the new IDCEC Website Guide!
ASID members must earn a minimum of 1.0 unit (10 hours) of approved continuing education (CEU) every two years. We've updated the instructions for CEU reporting that align with IDCEC's new website to help you navigate the process.
ASID members are to utilize the Interior Design Continuing Education Council (IDCEC) registry to warehouse CEUs. Every ASID member has a unique IDCEC number to login into the website (your IDCEC number is different than your ASID number). The IDCEC user registry allows you to upload and track your continuing education activity as well as store a record under your account. Check your IDCEC account regularly to ensure your records are up to date.
Each year, ASID recognizes the exemplary achievements and outstanding service demonstrated by highly engaged members, chapters, student chapters, and industry partners through our awards and honors programs.
---
Website Log-in Help
The default login info is first name.lastname.member ID, and then the password is just your member ID. If you've forgotten your password, click Log In and then click Forgot Password.
---
About ASID
The American Society of Interior Designers (ASID) believes that design transforms lives. ASID serves the full range of the interior design profession and practice through the Society's programs, networks, and advocacy. We thrive on the strength of cross-functional and interdisciplinary relationships among designers of all specialties, including workplace, healthcare, retail and hospitality, education, institutional, and residential. We lead interior designers in shared conversations around topics that matter: from evidence-based and human-centric design to social responsibility, well-being, and sustainability. We showcase the impact of design on the human experience and the value interior designers provide.