E-Newsletter: May/June 2020
Mahalo to our 2020 Chapter Sponsors

---
President's Message
Aloha,
I hope this message finds everyone safe and healthy. We are really looking forward to when things are back to "normal." If you are looking for COVID-19 resources, there is a lot of really good info available at our national website: https://www.asid.org/resources/covid-19. Information includes resources, useful links, webinars and an FAQ.
If you are having trouble paying your ASID dues, please contact our membership department at 202-546-3480 or email them: membership@hi.asid.org, and they will work with you on an alternate solution.
The deadline for Design Excellence project submissions is coming soon. Don't forget to upload your Design Excellence projects into your Dropbox folder by May 30, 5pm. We are still working on the logistics for the awards, and will keep you updated.
You may have noticed a lot of free CEU notifications being offered through our industry partners. ASID is also offering all CEUs at no cost until May 31: https://learn.asid.org/ We hope you will be able to make use of these free educational opportunities.
Be sure to take advantage of the free advertising we are offering. During this unprecedented time of change it has become our board's mission to assist in driving business to our membership. We are offering a temporary no cost opportunity for all our members to be featured on our website and social media platforms. This includes a slide on our home page for one week, a small ad in our newsletter (IPs only) and small ads posted on our Facebook page and on Instagram.
To participate, please submit the following for our use in your promotion:
1-2 High Resolution Photos of your Interior Design work
Logo and/or personal image
Company digital information - website, IG, etc
1-2 sentence bio - this needs to be short enough to be catching on Instagram and Facebook.
Please submit all information to administrator@hi.asid.org.
We are still looking for recipes to post on our homepage. If you have a great recipe you would like to share, send it to administrator@hi.asid.org.
Take care, and we hope to see you soon.
Mahalo nui loa,
Dee Dee Ackerman
Hawaii Chapter President
president@hi.asid.org
---
Upcoming CEUs
May 19, 5:00AM – Click here to register.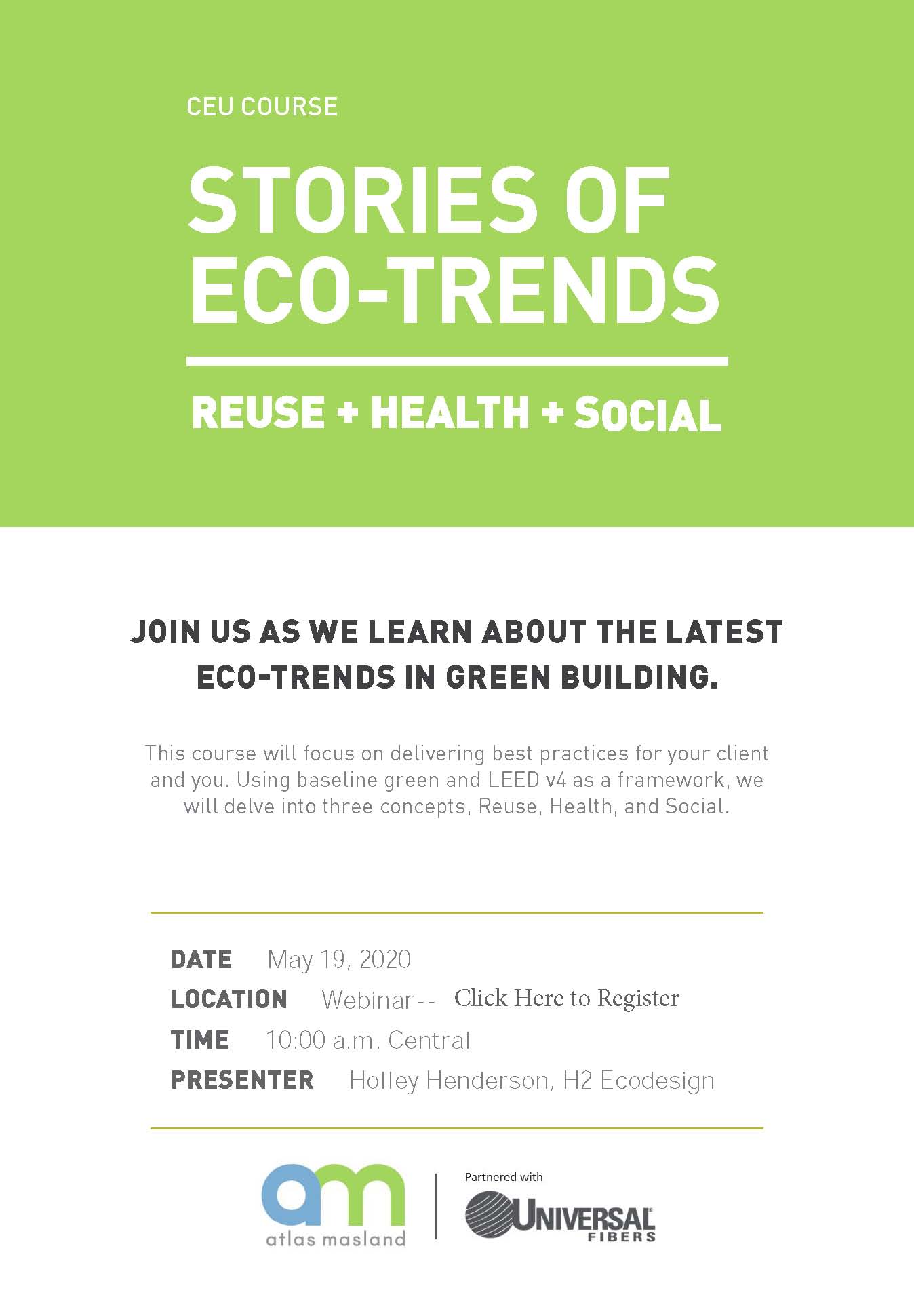 ---
Local Events
Save the Date: Design Excellence Awards
Fall 2020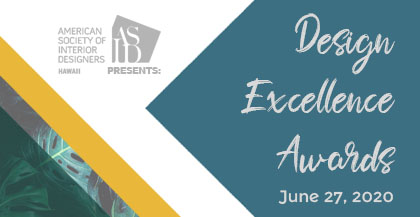 ---
National Events
For a full list of upcoming national events, visit www.asid.org/events.
---
Featured Chapter Sponsor


Quality tiles for your interior and exterior designs.
---
One Voice
Each day interior designers use their voices and visions to reshape spaces--and therefore the lives of those occupying them--for the better. With those same voices working in unison, they have the power to design a better future for themselves and the entire profession. That is why ASID began One Voice; to empower interior designers to get involved and advocate for or against the public policy that will ultimately influence their careers and lives. For more info click here.
---
Design News (Click on title for complete article.)
As Stay-At-Home Orders Ease, Homebuyers Are Getting Back In The Game
Forbes
Social distancing orders are being loosened across the country, and it seems homebuyers are taking full advantage. According to the latest data from the Mortgage Bankers Association, applications to purchase a home were up 11% last week, marking the third straight week of increases.
Design's Role in the Coming Recovery
Multibriefs
Nobel laureate in physics Nils Bohr wisely observed, "Prediction is very difficult, especially if it's about the future." With so many things in flux at the moment, it is pointless to try to predict what will happen in the coming months or years as countries around the world seek to recuperate from the effects of the COVID-19 pandemic.
The 21 Best Office Chairs to Work From Home in 2020
Vogue
Searching for the best office chairs to put in your home workspace? You're not alone. When the coronavirus closed offices across America in March, many thought it was a temporary measure—and their hastily crafted coffee-table cubicles were too. But as reports emerge that some corporate buildings, especially those in the New York area, won't reopen until late 2020, it looks like WFH is the new normal for those of us lucky to do so. Which means it might finally be time to stop lounging on your couch and order a more sustainable seat.
Designers at Home
Hospitality Design
With social distancing implemented and stay-at-home orders mandated in many countries, the notion of the office has certainly changed in recent months. In this three-part series, designers give HD a behind-the-scenes glimpse of what working from home has been like.
Modern Hawaiian Home On A Hardened Lava Field
Digs Digs
Set atop a hardened lava field in Kona, Hawaii is Makani Eka, one of Walker Warner Architects' and Philpotts Interiors' latest residential works. The home features four separate structures with views of sky, sun, and water that are inspired by traditional Hawaiian villages. Fostering a strong connection with the site's natural surroundings of lava and...
Design for Wellness Beyond Today
Interiors and Sources
The 2020 coronavirus pandemic has health and wellness more top of mind than ever when designing buildings and their spaces. Read more for important considerations for designers.
This 488-Square-Foot Hawaiian Forest Cabin Comes With a Fire Pit
Curbed
It might seem wild to build a splendid cabin mere miles from two active volcanoes, and yet, that's exactly what happened with this Hawaiian vacation home. Working with architect Loch Soderquist, owner Jeff Brink built the compact dwelling in a forest on Big Island, just five miles from Hawaii Volcanoes National Park.
---
Become a Chapter Sponsor
ASID Hawaii Chapter strives to work in support of our local interior designers by providing opportunities for continuing education, advocacy for the profession, social events and recognition of Design Excellence through our annual awards gala. While a small portion of our annual membership fees provides seed money for these activities, it is through annual sponsorships from our collaborative team of design firms and industry partners that the financial and personalized support is found to realize the programs and functions the membership expects.
As a sponsor of ASID Hawaii, your company can engage with members, participate in events, host meetings, and sponsor activities. Additionally, you will have the opportunity to increase visibility through additional marketing, branding, special access, and deeper engagement with ASID members. Sponsorship is an excellent opportunity for your business to gain exposure and showcase your products and services to our local interior design community.
For a sponsorship package please send an email reqest to: administrator@hi.asid.org.
---
Advertise with Us
There are several ways you can advertise with our chapter including email blasts, newsletter ads and website ads. Click here to learn more about advertising options.
---
Let's Connect
ASID HAWAII FACEBOOK: Please "like" us on Facebook! CLICK HERE to make sure you are up to date with ASID Hawaii's events, design news and stories. We are also on:
TWITTER
---
Maximize Your ASID Benefits
Trade Pricing and Discounts
ASID membership has its benefits—including exclusive discounts on products and services from national sponsors and industry partners.Make sure your to-the-trade offers or discounts are featured and email industrypartners@asid.org with your company logo, description of your trade service, and a link to register.
Find answers to frequenty asked membership questions including member qualifications, payments and dues, membership cards, updating your profile, CEUs,and password retrieval.
Everything you need to know about NCIDQ exams.
ASID supports the professional development of the Society's members and the profession with continuing education programs and events that allow participants to advance in their careers and build their skill sets. ASID, our Chapters, and Industry Partners offer a variety of continuing education opportunities in-person and online.
ASID Academy: The ASID Academy is a user friendly, dynamic, streamlined continuing education experience offering high-quality courses, webinars, and more in a learn anytime, anywhere (with an internet connection), on your own schedule environment. Topic areas include the Business of Design, Health & Wellness, Institutional, Healthcare, Residential, Workplace, and Hospitality & Retail design. Check out engaging courses like Designing for a New Millennial Culture and earn valuable IDCEC and AIA CEUs in the process. Explore the Academy.

Check out the new IDCEC Website Guide!
ASID members must earn a minimum of 1.0 unit (10 hours) of approved continuing education (CEU) every two years. We've updated the instructions for CEU reporting that align with IDCEC's new website to help you navigate the process.
ASID members are to utilize the Interior Design Continuing Education Council (IDCEC) registry to warehouse CEUs. Every ASID member has a unique IDCEC number to login into the website (your IDCEC number is different than your ASID number). The IDCEC user registry allows you to upload and track your continuing education activity as well as store a record under your account. Check your IDCEC account regularly to ensure your records are up to date.
Each year, ASID recognizes the exemplary achievements and outstanding service demonstrated by highly engaged members, chapters, student chapters, and industry partners through our awards and honors programs.
---
Website Log-in Help
The default login info is first name.lastname.member ID, and then the password is just your member ID. If you've forgotten your password, click Log In and then click Forgot Password.
---
About ASID
The American Society of Interior Designers (ASID) believes that design transforms lives. ASID serves the full range of the interior design profession and practice through the Society's programs, networks, and advocacy. We thrive on the strength of cross-functional and interdisciplinary relationships among designers of all specialties, including workplace, healthcare, retail and hospitality, education, institutional, and residential. We lead interior designers in shared conversations around topics that matter: from evidence-based and human-centric design to social responsibility, well-being, and sustainability. We showcase the impact of design on the human experience and the value interior designers provide.