E-Newsletter: May/June 2017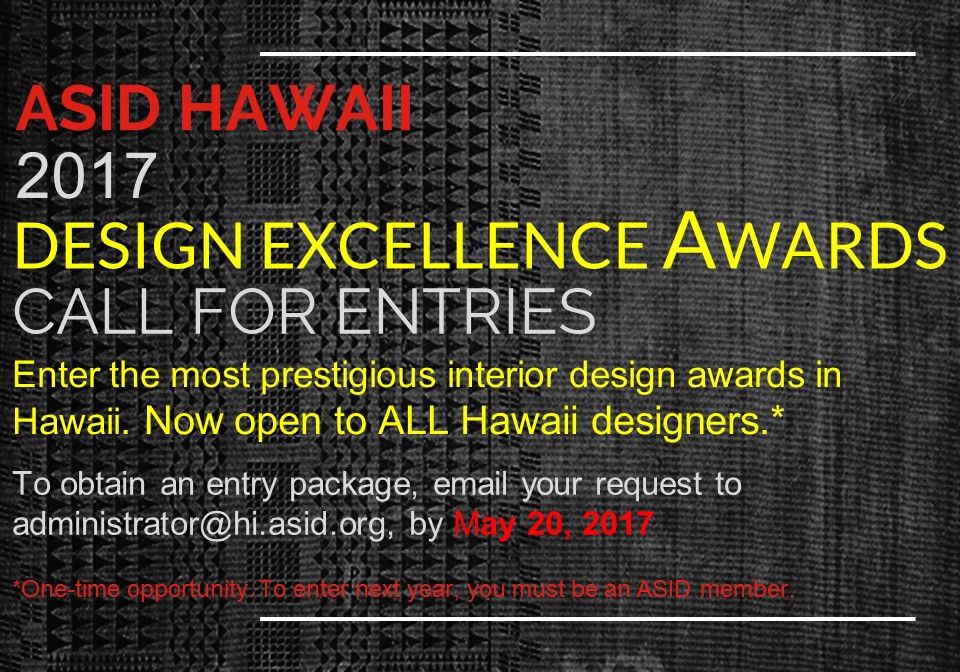 Click here to request an entry package via our website.
President's Message
"We need every design specialty at the top of its game to bring their specialized knowledge to the big problems of our time: environmental degradation, world-wide materials shortages, aging populations. Technology in the form of collaborative software programs—the ways of designing in the 21st century, is already setting examples of the best collaborative practices. I'm not sure what all this great connectivity will be called in 2030, but it will have results that will benefit everyone, everywhere. Designers like to say that they want to create "a better world". It looks like they can, at last, get there by 2030."
This is a quote taken from an excellent past interview I recently came across, with Susan S. Szenasy, Editor in Chief of Metropolis Magazine, and is very good advice. After reading this interview, I had to ponder how far we have come in the past five years. Are we on track to create a better world through design by 2030 as Susan predicted?
I believe we are on track and making great progress. While I won't venture to place a deadline, we have been working hard toward achieving ASID's core values: "The American Society of Interior Designers (ASID) believes that design impacts lives. We collaborate with others to promote the value of interior design. We prepare our members to excel in a dynamic and evolving profession. We generate, collect, and disseminate applied knowledge. Through education, knowledge sharing, advocacy, community building and outreach, we strive to advance the interior design profession and, in the process, to demonstrate and celebrate the power of design to positively change people's lives."
ASID Hawaii has and will continue to help designers "create a better world" and "demonstrate and celebrate the power of design to positively change people's lives." Adapting to constantly changing technology, trends, population shift, politics, and the economy, is crucial to our success. By providing our members with educational and leadership opportunities spanning every design specialty and career stage, we help our members establish and expand their body of knowledge. Our board will continue to seek out and provide the best CEU opportunities that will help us stay current and move forward.
We have also embraced the collaborative spirit by joining with our sister organizations, AIA, IIDA, and NKBA in joint efforts that will promote and benefit the design industry.
We had two fabulous events recently, The Design Biz CEU event in March featuring Terri Taylor and Suite Dreams at Bloomingdale's were both great successes. Design Biz was our first three-island event of the year and we are very pleased with the turnout. We chose this event largely due to member feedback asking for more events that cover successful business practices specific to interior designers. Please continue to send us your feedback and CEU requests.
Design Excellence Awards
We are excited to announce that this year, ALL Hawaii designers are eligible. This will be a one-time opportunity for a non-member designer to participate; future participation will require an ASID membership. Click here to request an entry package. We are firming up the details for the awards gala, so please stay tuned for additional details.
Aloha,
Chuen Yee
President
---
New Members
We are pleased to welcome the following new member:
Amy Vail, Allied ASID
Trans-Pacific Design
Local Events (Click on event title for more details.)
May 17
Cabernet and Credit CEU Event – Presented by Vintage View
Ferguson Bath, Kitchen and Lighting Gallery Expo
May 24
NKBA CEU Event: Steam Showers + Spas and Dress for Success Drive
October 6
BIA Hawaii 32nd Annual Renaissance Building & Remodeling Awards
Please contact administrator@hi.asid.org if you would like to promote your upcoming events in our newsletter, website or Facebook.
National Events (Click on event title for more details.)
May 21 – 24 | ICFF | NYC
June 12 – 14 | NeoCon | Chicago, IL
June 23 – 25 | Dwell on Design | Los Angeles, CA
July 30 – Aug 3 | Summer Las Vegas Market | Las Vegas, NV
Aug 10 – 11 | Metrocon 17 Expo| Dallas, TX
Nov 11 – 14 | Healthcare Design Expo | Kissimmee, FL
For a full list of upcoming events, visit www.asid.org/events.
---
Partner Spotlight Webinar
May 17
Surya
Partner Spotlight provides a 30-minute forum to engage with ASID National Industry Partners, manufacturers, and experts on new trends, product launches, and more. The webinar series does not provide CEUs, but allows members to learn about new and differentiated products and tools to support specification. Register today.
---
Sherwin-Williams Product Lens™ Reports Now Accepted by LEED v4
Product Lens provides relevant information combined with third party credibility
for increased product transparency
CLEVELAND (April 27, 2017)— Sherwin-Williams, the first paint manufacturer to be certified in the Product Lens™ program from UL, (Underwriters Laboratories), provides another opportunity to gain points toward U.S. Green Building Council (USGBC) LEED® v4 green building program. The Product Lens report is an ingredient disclosure tool that provides hazard information across the entire lifecycle of a product and also considers risk and exposure, fulfilling industry demands for transparency. It is now one option toward the category of LEED v4's building product disclosure and optimization – material ingredients.
The Product Lens program was designed specifically with LEED v4 in mind. Product Lens reports are third party certified by UL Environment, which means that the materials have been independently evaluated for transparency and disclosure. Sherwin-Williams ProMar 200 Zero VOC Interior Latex Paint is the first product to be certified by the program.
"Now that Product Lens is officially recognized by USGBC, we're pleased to make it even easier for our customers to achieve LEED v4 certification," said Steve Revnew, senior vice president of product innovation at Sherwin-Williams. "Meeting the demands for more transparency is important to us and achieving Product Lens reports for our products was a natural fit because of our shared dedication to providing credible information to architects, specifiers and other purchasers."
For LEED v4 certification requirements, visit usgbc.org. View Product Lens reports at ul.com/spot. For more information about Sherwin-Williams, visit sherwin-williams.com.
---
Design News (Click on title for more details.)
Outrageous Design Mistakes (Humor)
Funny examples of design gone very wrong.
8 Ways Technology is Disrupting the Design Industry
Interior Design
Disruptive innovation comes in every dimension–3-D printing is just the start.
How Louis Vuitton, Marni, and Hermès Are Making Home Life More Stylish
Preen
A fashion designer's creativity isn't just limited to clothes and accessories. Some have also ventured into interior design to make our lives more stylish.
Morpholio Introduces Ava App to Transform Interior Design
VentureBeat
Morpholio is introducing Ava, a new kind of document for interior designers. It's an app that makes it easier for designers to show their designs and then provide the material lists and sketches to go with them in a single, visual presentation.
A New Angle for Interior Design: Curves
Chicago Tribune
What was straight now curves. What was hard is now soft. There is a big shift happening in residential interiors right now – to a look that is comfortable, livable, and most important, accessible. Are we seeing the death of modern design, something many regarded as cold and suitable only for kid-free minimalists? Probably not, but this trend is one that warms up the modern look.
6 Bedroom Design Trends That Buyers Hate
Realtor.com
A bedroom is one of the most important rooms in the home for a homeowner or buyer. So shouldn't it be one of the most well designed? Potential buyers want to see a bedroom that they can visualize themselves in, so the choices in this room are key. Realtor.com's Jennifer Geddes presents what not to do with these bedroom design trends that buyers don't like.
Think Green: 5 Sustainable Office Building Design Ideas
Realty Biz News
Making green improvements to your office design has a beneficial impact not only on your energy costs, but on employee wellness and productivity as well. Energy efficient commercial buildings are more comfortable to work in, have better air quality, and use less energy compared to offices that have not made green improvements. There are many ways that you can upgrade your office or office building to help make it more sustainable. These five green office improvements will help you optimize your office for success.
---
ASID HAWAII FACEBOOK: Please "like" us on Facebook! CLICK HERE to make sure you are up to date with ASID Hawaii's events, design news and stories. We are also on:
TWITTER
---
One Voice
Each day interior designers use their voices and visions to reshape spaces--and therefore the lives of those occupying them--for the better. With those same voices working in unison, they have the power to design a better future for themselves and the entire profession. That is why ASID began One Voice; to empower interior designers to get involved and advocate for or against the public policy that will ultimately influence their careers and lives.
Industry Partners
Be more than a source – be a resource. ASID comprises over 2,000 Industry Partner member companies. Successful industry representatives gain a competitive edge by building meaningful relationships and providing knowledge to their clients. Learn more about the ASID Industry Partners program and discover exclusive membership benefits to grow your brand and business at https://www.asid.org/belong/apply/industry-partners.
Trade Pricing and Discounts
ASID membership has its benefits—including exclusive discounts on products and services from national sponsors and industry partners.Make sure your to-the-trade offers or discounts are featured and email industrypartners@asid.org with your company logo, description of your trade service, and a link to register.
Website Help
The default login info is first name.lastname.member ID, and then the password is just your member ID. If you've forgotten your password, click Log In and then click Forgot Password.
Membership FAQs
Find answers to frequenty asked membership questions including member qualifications, payments and dues, membership cards, updating your profile, CEUs,and password retrieval.
NCIDQ Exam
Everything you need to know about NCIDQ exams.
Maximize Your ASID Benefits
The ASID national website at https://www.asid.org/ is your best resource for ways to improve your business and further your education. Please visit the site for all the information you need to be successful.
Learn at ASID: ASID supports the professional development of the Society's members and the profession with continuing education programs and events that allow participants to advance in their careers and build their skill sets. ASID, our Chapters, and Industry Partners offer a variety of continuing education opportunities in-person and online.
Additionally, ASID bylaws and policies require all practitioner members (Professional, Allied, and Associate members) to meet the Society's continuing education requirement.
Awards & Competition: Each year, ASID recognizes the exemplary achievements and outstanding service demonstrated by highly engaged members, chapters, student chapters, and industry partners through our awards and honors programs.
About ASID
The American Society of Interior Designers (ASID) believes that design transforms lives. ASID serves the full range of the interior design profession and practice through the Society's programs, networks, and advocacy. We thrive on the strength of cross-functional and interdisciplinary relationships among designers of all specialties, including workplace, healthcare, retail and hospitality, education, institutional, and residential. We lead interior designers in shared conversations around topics that matter: from evidence-based and human-centric design to social responsibility, well-being, and sustainability. We showcase the impact of design on the human experience and the value interior designers provide.