E-Newsletter: May/June 2018
Chapter Sponsors (Click on logo for more info.)



---
President's Message
Aloha Members and Friends,
As I write this message we are less than four weeks from our biggest event of the year. We are going to be on the radio, television and in print. This event is going to put us on the map! Near as I can tell we are only missing one thing…..YOU.
To date, only two companies have offered photos of their work for our booth presentation.
We have received only 12 items for our sample sale.
We have zero items for our online auction.
We have two panel discussions scheduled and no panelists.
We are offering one-hour meetings with designers and only two designers have signed up to participate, and I'm one of them!
I really thought this was what the chapter needed and what all of you… well, a lot of you, were looking for from your dues: promotion of what we do, and opportunities to meet potential clients. We have always delivered on CEUs and other networking events amongst ourselves. But to keep that happening we need to once in awhile raise some money. This is our chance.
I am very concerned and hoping that the day will not be an embarrassment to the chapter. Please sign up to participate in any way you can at http://hi.asid.org/events/design-impacts-lives.
Sincerely,
Nancy Schnur, ASID CAPS
Hawaii Chapter President
president@hi.asid.org
---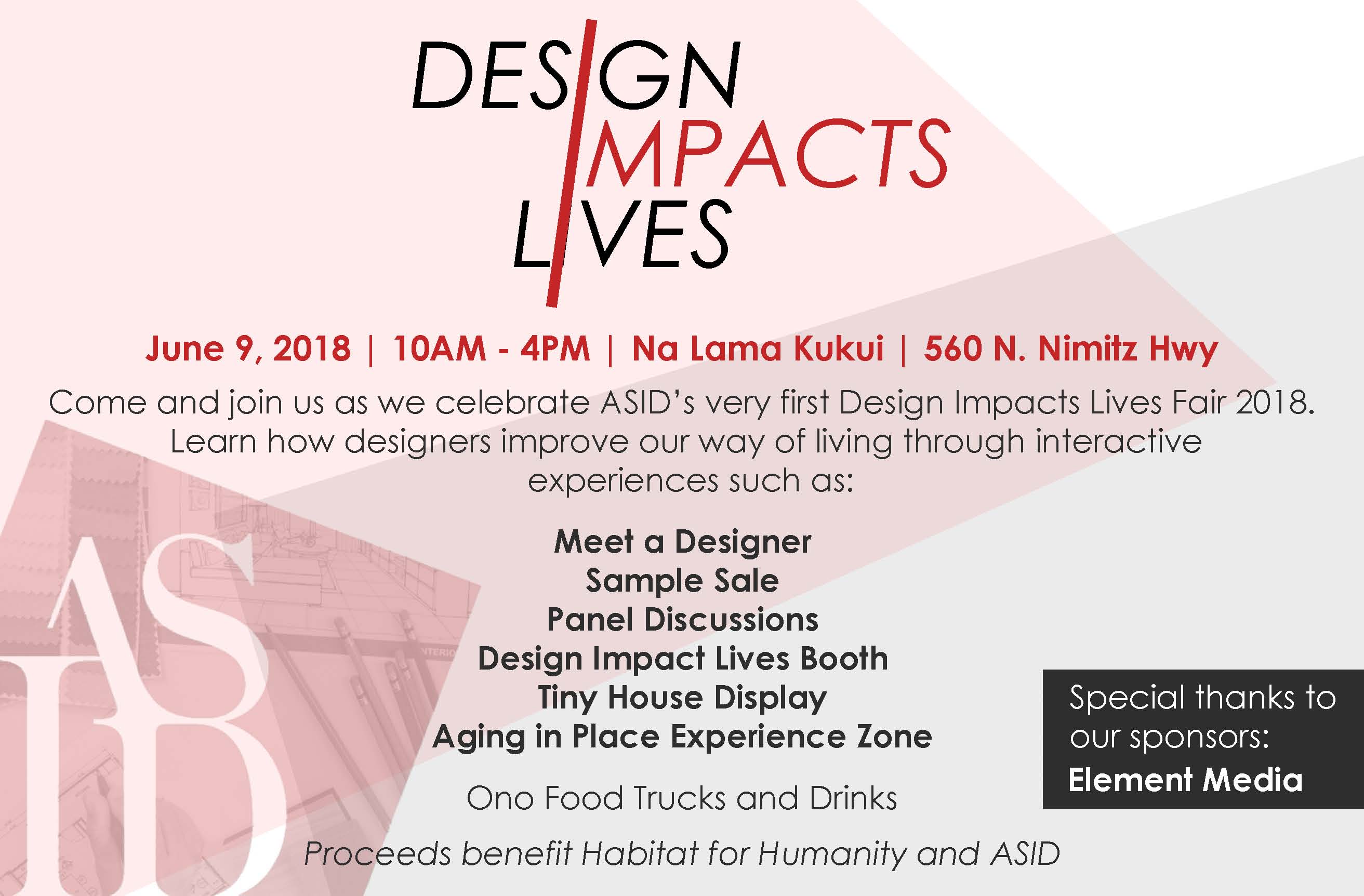 ---
Local Events (Click on event title for more details.)
May 16
Save the Date: Ferguson Showcase
May 11
Save the Date: Environmental + Interior Design Senior Showcase
Jun 9
Save the Date: Design Impacts Lives
---
National Events (Click on event title for more details.)
Jul 19 – 21
The Leadership Experience
Jul 23
Celebration - The ASID Awards Gala
For a full list of upcoming events, visit www.asid.org/events.
---
One Voice
Each day interior designers use their voices and visions to reshape spaces--and therefore the lives of those occupying them--for the better. With those same voices working in unison, they have the power to design a better future for themselves and the entire profession. That is why ASID began One Voice; to empower interior designers to get involved and advocate for or against the public policy that will ultimately influence their careers and lives. For more info:
https://www.asid.org/one-voice/action-report/4122018?utm_source=insider&utm_medium=email&utm_campaign=advocacy2018&utm_term=4.12.2018
Design News (Click on title for complete article.)
Evidence-based Design at Work. Explore the MLK, Jr. School
ASID
ASID has released the second project in its Impact of Design Series, the Dr. Martin Luther King, Jr. School in Cambridge, Massachusetts. Discover the project's challenges and explore the innovative thinking and methodology that led the design team to produce a building that exceeded the expectations of the school community. The Impact of Design Series is dedicated to highlighting projects that use evidence-based design to improve the quality of life in the built environment. Learn more.
True Innovation Requires Meeting Buyers' Needs (Requires Adobe Flash)
Builder
In this video, Lita Dirks, CEO of Lita Dirks & Co., and Deryl Patterson, president of Housing Design Matters, take you step-by-step through the home, explaining the features that they incorporated to address the needs of 55-plus buyers.
Colorful Fixtures (Finally) Return to Bathroom Design
WSJ
Pistachio-hued sinks and strawberry-colored bath tubs from fearless Paris designer India Mahdavi, plus 'ambient' wallpaper from artist and musician Brian Eno.
During Design Week, Celebrities Lend a Hand in the Creation of Home Objects
Vogue
What home designs might come from the minds of actor Jason Schwartzman, or singer Angel Olsen? Field Studies, debuting at this year's Sight Unseen Offsite, has the answers, as it presents 13 objects created collaboratively between designers and creatives working across various disciplines—art, film, food, music, and fashion.
Restroom of the Future Contest
Interiors+Sources
The purpose of the SLOAN Design Contest is to reimagine a commonly used and rarely redesigned space: the commercial public restroom.
Trends in Design and Home Furnishings
The New York Times
From chairs to lighting fixtures and water bottles to fabric, a look at what's popular in design.
---
Let's Connect
ASID HAWAII FACEBOOK: Please "like" us on Facebook! CLICK HERE to make sure you are up to date with ASID Hawaii's events, design news and stories. We are also on:
TWITTER
---
Maximize Your ASID Benefits
Trade Pricing and Discounts
ASID membership has its benefits—including exclusive discounts on products and services from national sponsors and industry partners.Make sure your to-the-trade offers or discounts are featured and email industrypartners@asid.org with your company logo, description of your trade service, and a link to register.
Membership FAQs
Find answers to frequenty asked membership questions including member qualifications, payments and dues, membership cards, updating your profile, CEUs,and password retrieval.
NCIDQ Exam
Everything you need to know about NCIDQ exams.
ASID supports the professional development of the Society's members and the profession with continuing education programs and events that allow participants to advance in their careers and build their skill sets. ASID, our Chapters, and Industry Partners offer a variety of continuing education opportunities in-person and online.
ASID Academy: ASID assembled this catalog of online design courses, papers, and videos to bring the best continuing education offerings to ASID members and other designers in an easily-accessible, online-anytime, curated collection. Earn IDCEC and AIA-approved and accredited CEUs in a variety of topic areas including health and wellness, biophilia, HSW, and much more. ASID bylaws and policies require all practitioner members (Professional, Allied, and Associate members) to meet the Society's continuing education requirement.
Check out the new IDCEC Website Guide!
ASID members must earn a minimum of 1.0 unit (10 hours) of approved continuing education (CEU) every two years. The current reporting period is from January 1, 2017 – December 31, 2018. We've updated the instructions for CEU reporting that align with IDCEC's new website to help you navigate the process.
ASID members are to utilize the Interior Design Continuing Education Council (IDCEC) registry to warehouse CEUs. Every ASID member has a unique IDCEC number to login into the website (your IDCEC number is different than your ASID number). The IDCEC user registry allows you to upload and track your continuing education activity as well as store a record under your account. Check your IDCEC account regularly to ensure your records are up to date.
Each year, ASID recognizes the exemplary achievements and outstanding service demonstrated by highly engaged members, chapters, student chapters, and industry partners through our awards and honors programs.
Website Log-in Help
The default login info is first name.lastname.member ID, and then the password is just your member ID. If you've forgotten your password, click Log In and then click Forgot Password.
---
About ASID
The American Society of Interior Designers (ASID) believes that design transforms lives. ASID serves the full range of the interior design profession and practice through the Society's programs, networks, and advocacy. We thrive on the strength of cross-functional and interdisciplinary relationships among designers of all specialties, including workplace, healthcare, retail and hospitality, education, institutional, and residential. We lead interior designers in shared conversations around topics that matter: from evidence-based and human-centric design to social responsibility, well-being, and sustainability. We showcase the impact of design on the human experience and the value interior designers provide.