E-Newsletter: November/December 2017
Chapter Sponsors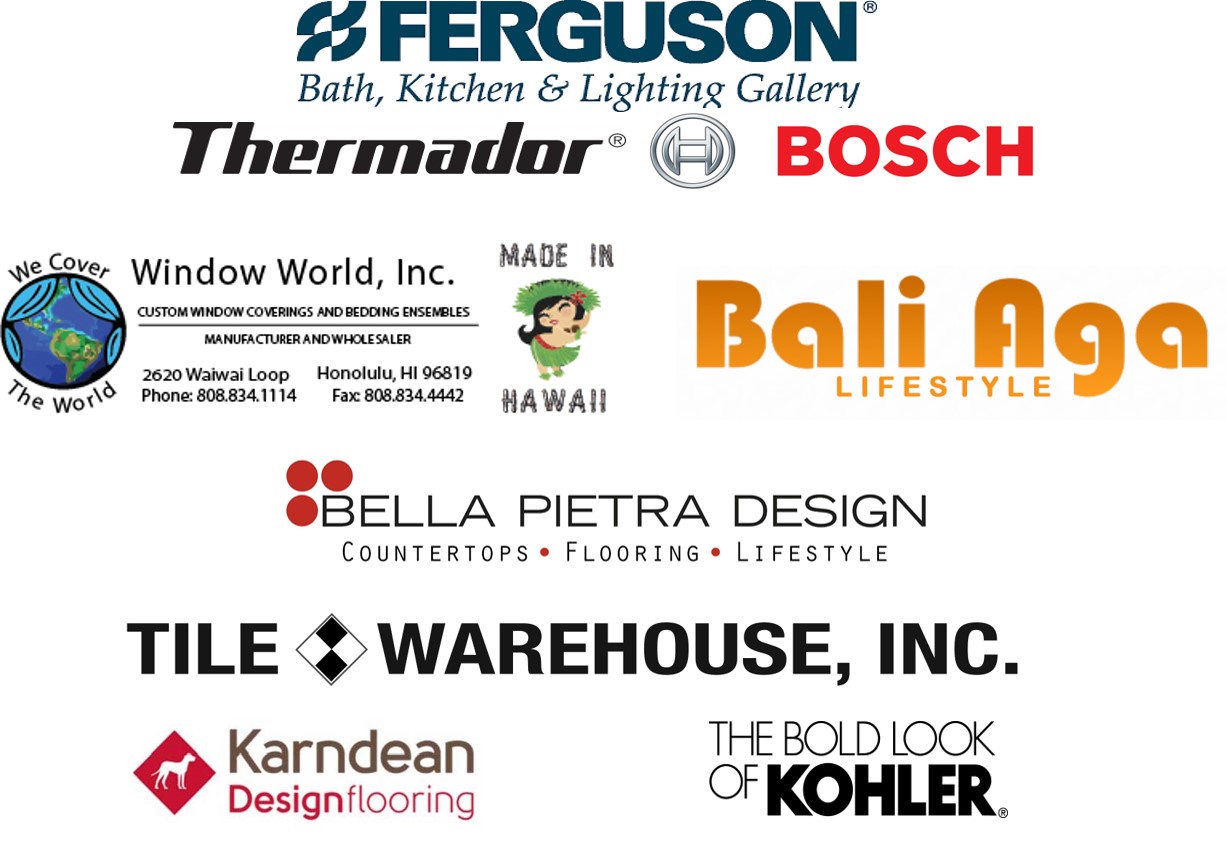 ---
President's Message
Aloha Members and Friends,
This month will be a busy one for me, I will be travelling to Maui twice, attending our 2nd annual Design and Construction Holiday event on Oahu and hopefully visiting the Big Island as well. During my visits I will be explaining what we have instore for the year, but I come with an open year to listen to your ideas about what you think the year should bring.
If you recall, in my message last month I told you I wanted to shake things up a bit. After having been away from the board for five years and coming back with a fresh eye it appears to me that the awards have begun to absorb too much of our chapter resources. Aside from resources, we need to change the time of year in which the event takes place. We also need to expand our resources for funding the event so that our membership dues can be freed up for new possibilities. So, you will not see a call for entries this spring. Instead it will come in the fall for a spring event in 2019. In the meantime we hope to have put in place a viable fundraiser for the awards.
We will continue our efforts to provide CEUs locally. And, of course, I hope I will see some of you at the Holiday party on December 1st at the Ko'olau Ballroom. Let's not let AIA and NKBA outnumber us and have all of the fun!
Nancy Schur, ASID CAPS
Hawaii Chapter President
---
Welcome New Member
Yvette Crosby, Associate ASID
Yvette Crosby and Company, Maui
---
Have You Met the New CEU Requirement? Deadline is December 31.
ASID members must earn a minimum of 1.0 unit (10 hours) of approved continuing education (CEU) every two years. The current reporting period is from January 1, 2016 – December 31, 2017. Click here for more info.
---
Local Events (Click on event title for more details.)
Nov 28
CEU: Artisinal Craft in Sustainable Spaces
Dec 1
2017 Design & Construction Industry Holiday Party
Dec 9
Maui Designers' Holiday Party
Please contact administrator@hi.asid.org if you would like to promote your upcoming events in our newsletter, website or Facebook.
---

---
National Events (Click on event title for more details.)
Dec 3 – 5
Design Connections
Jan 9 – 11
The Kitchen & Bath Industry Show (KBIS)
Jan 15 – 21
IMM Cologne - The International Interiors Show
For a full list of upcoming events, visit www.asid.org/events.
---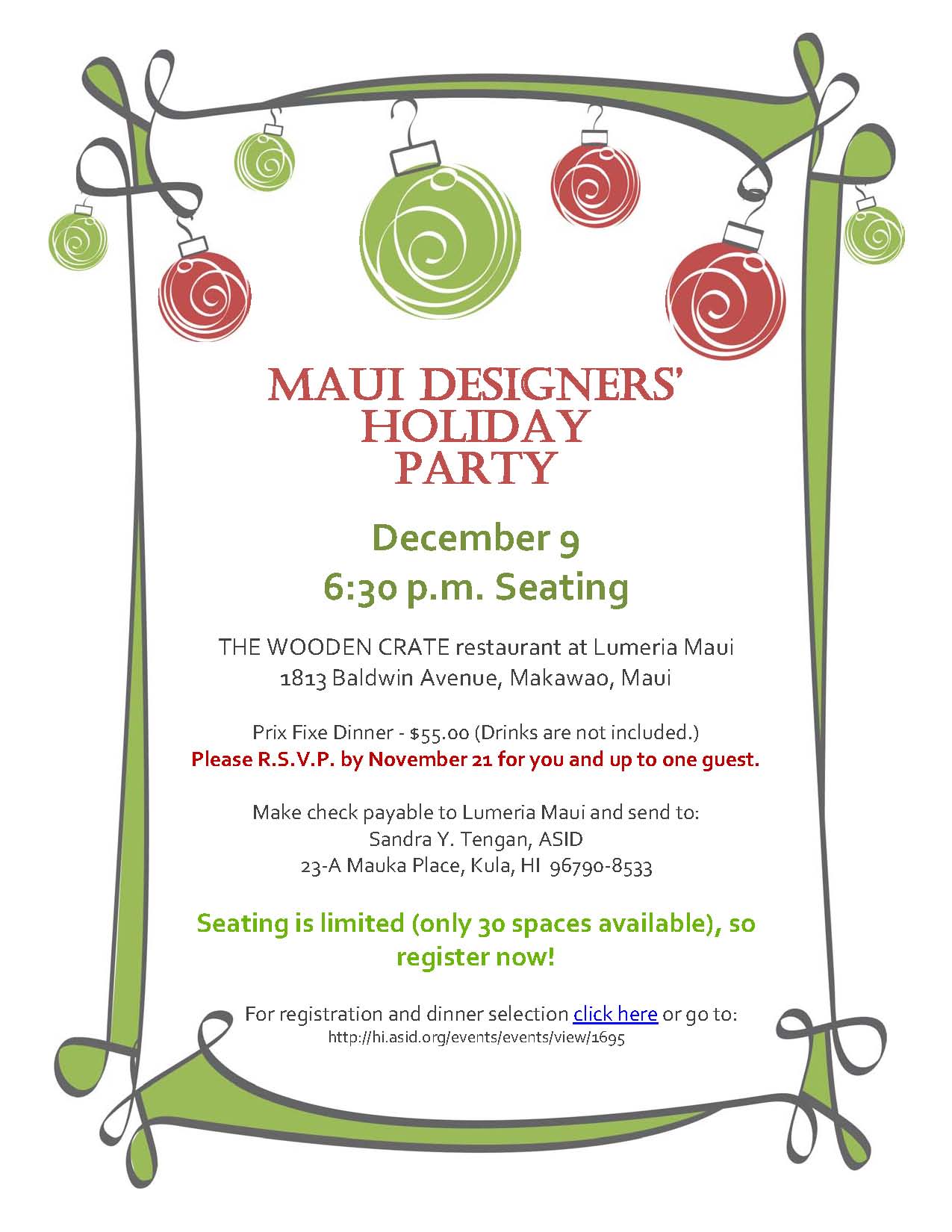 ---
Design News (Click on title for article.)
How Will We Live on the Moon? Will There be Designers and Architects?
Houzz
In his new book, 'Artemis,' Andy Weir, author of The Martian, geeks out on how homes and cities could one day be built on the lunar surface.
Pineapples are the New Christmas Trees
ELLEDecor
First, there were the pineapple jack-o'-lanterns that took over your Instagram feed in October. Now, there's a new pineapple decoration perfect for the upcoming holiday season: pineapple Christmas trees. Yes, really. Think of it as a way to add a little tropical flare to your holiday decor. And luckily, there are already a variety of pineapple Christmas trees out there to serve as inspiration.
At Home with DOGS and their DESIGNERS, Sharing a Stylish Life
CourtneyPrice
Susanna Salk and Stacy Bewkes have done it again with their AT HOME WITH series, inviting us into the posh homes of 21 dog-loving interior designers. We get to see just how much these top designers value the lucky dogs in their lives and how they thoughtfully design their homes around these pups.
A Healthy Return
Metropolis
Rethinking the workplace with millennials in mind has been a hot topic in design circles for nearly a decade. But if you look closely, the rethink goes deeper than that. New studies show that while millennials may have been the catalyst for change in offices across the country, organizations are taking the opportunity to look at the well-being of all of their workers in order to design a workspace that is productive and uplifting. Susan S. Szenasy, our director of design innovation, sat down with a panel of design experts at the Haworth showroom in Dallas to learn more about the business case for well-being and how improving office design can limit employee turnover and improve performance.
The Rustic-Chic Trend is Taking Over Interiors
Multi-Briefs
Designers are more ready than ever to embrace emerging technology and blend it in with affordable designs to create state-of-the-art interiors. The focus of their work has slowly shifted from being designer-centric to being more people-centric.
It's really hats off to the ingenuity of the designers who have come up with trends like the rustic-chic look. Yes, this force has been driving the interior design industry for some time, but never has the rustic-chic trend been as in demand as it is now.
Color, Color Everywhere: Your 2018 Colors of the Year
Remodeling
Since June, color companies have announced their predictions for what color will be 2018's defining hue. While fashionistas and color enthusiasts are still anticipating what Pantone will pick for its 2018 color of the year, below you will find what colors paint companies think will adorn your remodels in 2018.
This '80s Decorating Style Is Making a Comeback
The Washington Post
Pop culture from the 1980s is having a bit of a moment, and it's not just because of "Stranger Things." Bold, blocky, geometric forms, reminiscent of the design phenomenon known as Memphis, are making a comeback, according to Los Angeles-based interior architect and interior designer Jamie Bush.
The Reality of Integrated Design
Building Design Construction
If the first 10 percent of design effort accounts for 90 percent of project success, how might that reality change the design effort? How does it change an owner's expectations of how the team works and communicates throughout the project? This 10/90-split idea is the reality behind an integrated design philosophy.
---
ASID HAWAII FACEBOOK: Please "like" us on Facebook! CLICK HERE to make sure you are up to date with ASID Hawaii's events, design news and stories. We are also on:
TWITTER
---
One Voice
Each day interior designers use their voices and visions to reshape spaces--and therefore the lives of those occupying them--for the better. With those same voices working in unison, they have the power to design a better future for themselves and the entire profession. That is why ASID began One Voice; to empower interior designers to get involved and advocate for or against the public policy that will ultimately influence their careers and lives.
---
Maximize Your ASID Benefits
Trade Pricing and Discounts
ASID membership has its benefits—including exclusive discounts on products and services from national sponsors and industry partners.Make sure your to-the-trade offers or discounts are featured and email industrypartners@asid.org with your company logo, description of your trade service, and a link to register.
Membership FAQs
Find answers to frequenty asked membership questions including member qualifications, payments and dues, membership cards, updating your profile, CEUs,and password retrieval.
NCIDQ Exam
Everything you need to know about NCIDQ exams.
ASID supports the professional development of the Society's members and the profession with continuing education programs and events that allow participants to advance in their careers and build their skill sets. ASID, our Chapters, and Industry Partners offer a variety of continuing education opportunities in-person and online.
ASID Academy: ASID assembled this catalog of online design courses, papers, and videos to bring the best continuing education offerings to ASID members and other designers in an easily-accessible, online-anytime, curated collection. Earn IDCEC and AIA-approved and accredited CEUs in a variety of topic areas including health and wellness, biophilia, HSW, and much more. ASID bylaws and policies require all practitioner members (Professional, Allied, and Associate members) to meet the Society's continuing education requirement.
Check out the new IDCEC Website Guide!
ASID members must earn a minimum of 1.0 unit (10 hours) of approved continuing education (CEU) every two years. The current reporting period is from January 1, 2016 – December 31, 2017. We've updated the instructions for CEU reporting that align with IDCEC's new website to help you navigate the process.
ASID members are to utilize the Interior Design Continuing Education Council (IDCEC) registry to warehouse CEUs. Every ASID member has a unique IDCEC number to login into the website (your IDCEC number is different than your ASID number). The IDCEC user registry allows you to upload and track your continuing education activity as well as store a record under your account. Check your IDCEC account regularly to ensure your records are up to date.
Each year, ASID recognizes the exemplary achievements and outstanding service demonstrated by highly engaged members, chapters, student chapters, and industry partners through our awards and honors programs.
Website Help
The default login info is first name.lastname.member ID, and then the password is just your member ID. If you've forgotten your password, click Log In and then click Forgot Password.
About ASID
The American Society of Interior Designers (ASID) believes that design transforms lives. ASID serves the full range of the interior design profession and practice through the Society's programs, networks, and advocacy. We thrive on the strength of cross-functional and interdisciplinary relationships among designers of all specialties, including workplace, healthcare, retail and hospitality, education, institutional, and residential. We lead interior designers in shared conversations around topics that matter: from evidence-based and human-centric design to social responsibility, well-being, and sustainability. We showcase the impact of design on the human experience and the value interior designers provide.