E-Newsletter: October/November 2017
Chapter Sponsors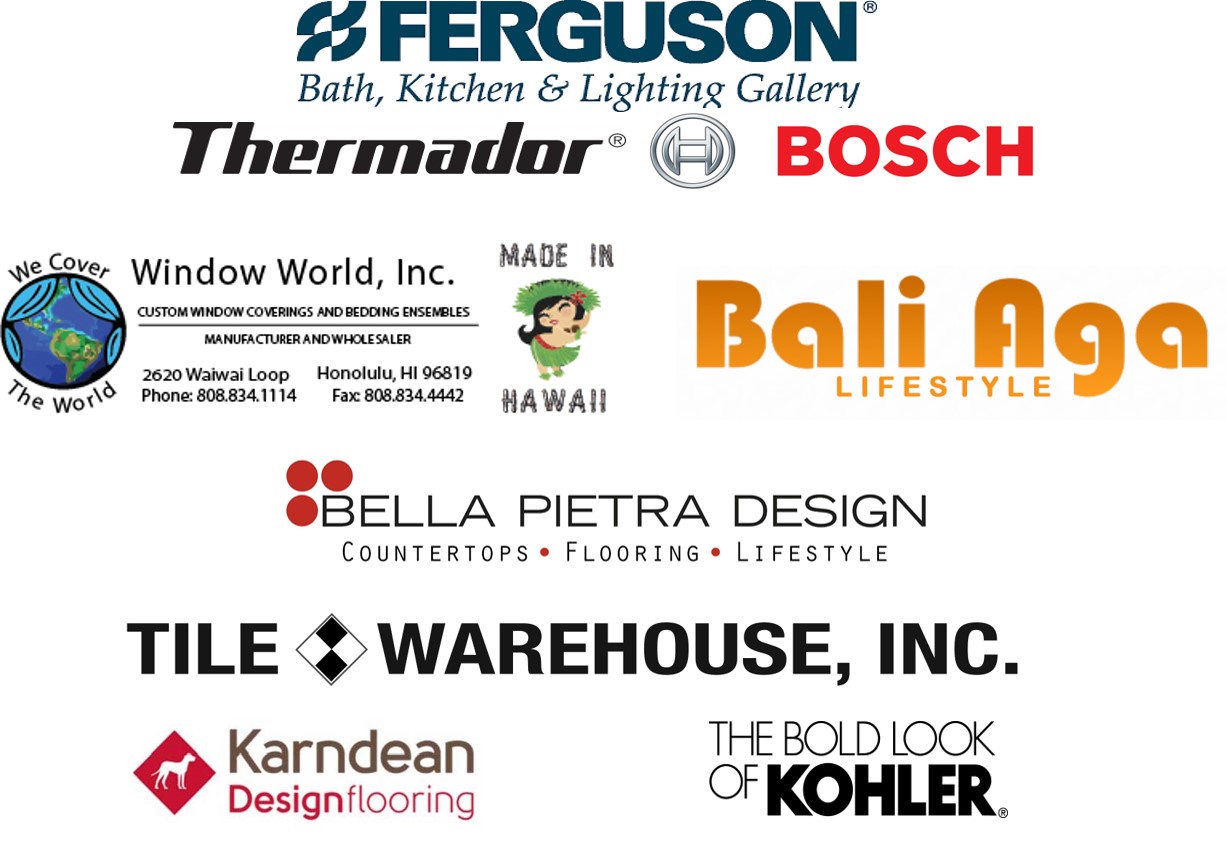 ---
President's Message
Well, here we are again with me as your chapter president and, as it turns out, your finance director as well. You are certainly putting a lot of trust in me! I start my year in awe of the work and dedication Chuen gave us this past year. From Reiko to Chuen to me, I am humbled to follow such great leaders in our chapter and in our profession.
I'm in the mood to shake things up a little around here. I was at the Leadership Experience with your president-elect, Tiare Pinto, and if you weren't there, you really missed out. For those of you who have been on the board in the past, they have redefined the conference to include leadership seminars for anyone. Not just those of us who continually get recruited to be on the board. I want more of our members to experience the education, comradery and fun that board members experience.
My biggest take away this time was that although we have a financially healthy chapter, we are shy of participating members; the expectations by our chapter members is either high or nonexistent but not participatory. That's a tall order. So, my first order of business is to meet with members face to face. Because anything I say here may be read by interested ears, but without interaction I cannot hope to understand what should come next.
One of the biggest changes in the past few years is the communication and collaboration between design organizations on Oahu. Last year we had our first joint holiday party and this year we expect it to be even better. Members from ASID, BIA, AIA, NKBA and possibly more, will be celebrating the joyous season to come and the productive year that is winding down, together at the Ko'olau Ballroom in Kaneohe on December 1st. BE THERE! It will be a blast.
Nancy Schur, ASID CAPS
Hawaii Chapter President
---
Have You Met the New CEU Requirement? Deadline is December 31.
ASID members must earn a minimum of 1.0 unit (10 hours) of approved continuing education (CEU) every two years. The current reporting period is from January 1, 2016 – December 31, 2017. Click here for more info.
---
New Benefit for Industry Partners: Please read, you must opt in to participate.

The Business is There. Let it Come to You
At ASID, we know the importance of having the right partner on a project.
The ASID Find an IP feature allows designers, members, and customers to quickly identify and locate ASID Industry Partners by name, location, chapter affiliation, and area of specialty. All ASID IP individual members (all representatives listed on a company's roster) receive a complimentary listing as a member benefit. The Find an IP service will launch soon, so be sure to opt-in today.
Sign in to your account on ASID.org
Select 'Update Find an IP Information' from the member homepage
Select 'Basic Information' from the menu, update all desired fields, and save
On the main menu, select 'Opt in/Opt Out' to designate the information you want to display, then select 'Yes' to publish your listing
View your listing to verify the information is displayed correctly (it may take up to 15 minutes to publish)
Stand Out with an Enhanced Profile
After the Find an IP launch, all IPs will have the opportunity to take their businesses to an even higher level with an enhanced profile featuring priority placement, photos, and more.
If you already have an enhanced profile, we've transferred all of your information and images to the new platform and extended your subscription to account for the time we were upgrading the site.
Please review and update your enhanced profile today:
Contact membership@asid.org or IndustryPartners@asid.org or call 202-796-2045 with login or support questions. Business hours are 9 a.m. to 5 p.m. Eastern, Monday through Friday, except major holidays.
---
Going to KBIS? Here's Your Free Booth Badge!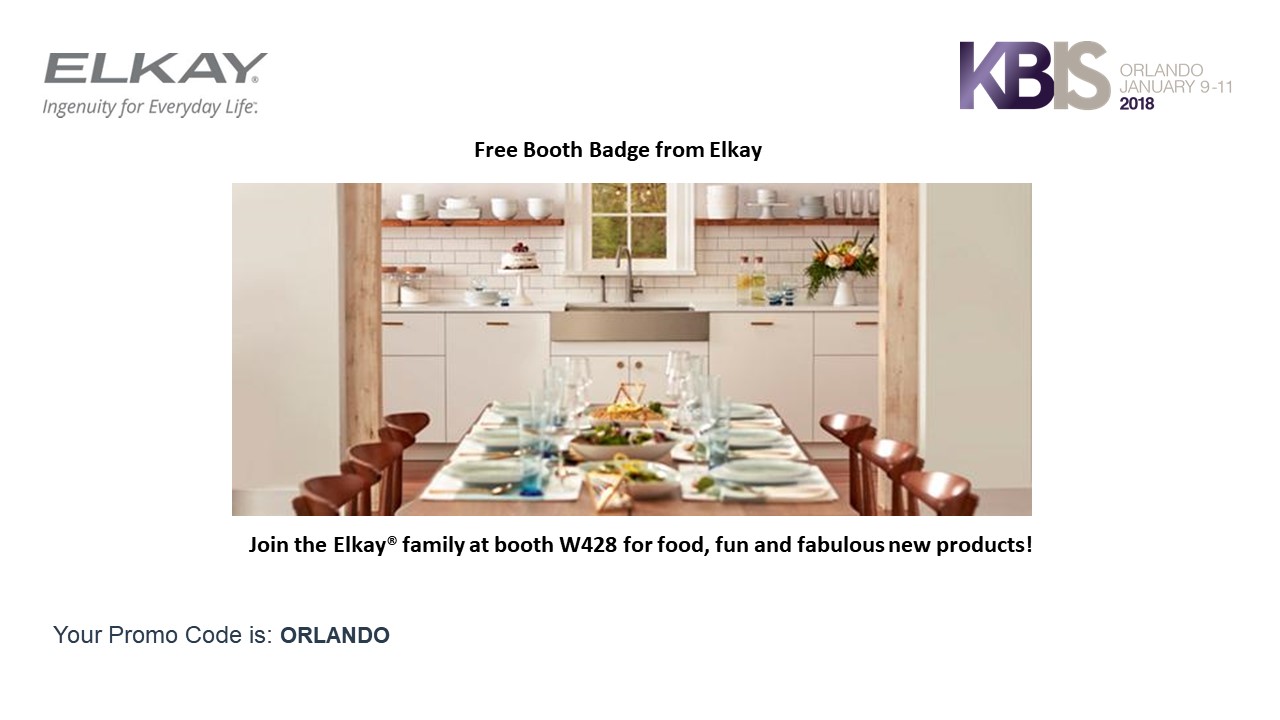 ---
Partner Spotlight Webinar
Partner Spotlight provides a monthly 30-minute forum for designers to engage with ASID National Industry Partners, manufacturers, and experts on new trends, product launches, and more. The webinar series does not provide CEUs, but allows members to learn about new and differentiated products and tools to support specification.
Oct 18
Benjamin Moore
Nov 1
Sherwin-Williams
Nov 15
Wilsonart
---
Local Events (Click on event title for more details.)
Oct 16
IIDA CEU Event: Standards, Engagement and Trends in Commercial Interiors
Oct 21
INspiration 20th Anniversary: Heart Healthy Holidays
Oct 25 & 26
Salon Lumiere 2017, An Intimate 2 Night Series of Movies & Dialogue Illuminating These Iconic Women of Design: Eileen Gray and Zaha Hadid
Nov 1
AIA Presents: How to Give a Presentation Tomorrow and Sleep Well Tonight
Nov 2
Pacific Edge Magazine Oct-Dec 2017 Issue Networking Event
Dec 1
2017 Design & Construction Industry Holiday Party
Please contact administrator@hi.asid.org if you would like to promote your upcoming events in our newsletter, website or Facebook.
---
National Events (Click on event title for more details.)
Oct 20 – 24
Host Milano
Nov 15 – 16
NeoCon East
Nov 8 – 10
Greenbuild
Nov 11 – 14
Healthcare Design Expo
Nov 12 – 13
BDNY
Dec 3 – 5
Design Connections
Jan 9 – 11
The Kitchen & Bath Industry Show (KBIS)
Jan 15 – 21
IMM Cologne - The International Interiors Show
For a full list of upcoming events, visit www.asid.org/events.
---
Design News (Click on title for article.)
Not-So-Haunted House: Subtle Halloween Decorations to Celebrate the Season
Vogue
Here,​ ​a​ ​selection of ​eerie​ ​objects​ ​that​ ​will​ ​make​ ​your​ ​home​ ​and​ ​life​ ​a​ ​bit​ ​more​ ​Halloween-ready, whether you're hosting a celebration of the season or trying to conjure a few friendly spirits.
7 Features That Hurt Your Home's Value
AOL.com
Calling all homeowners! If you own property, chances are you're constantly investing in new renovations to keep your home spiffy and fresh. While you're most likely choosing restorations based on your personal preferences and tastes, you should always keep resale value in mind. You never know when your home is going to hit the market, and if you're hoping to sell your digs down the road, the money and effort you pour in now is going to come back around come bid time.
5 New Kitchen Trends for 2017
Architectural Digest
We kick off each year at the annual Kitchen and Bath Industry Show, exploring the latest introductions from top brands and designers that will refresh your home. From innovative materials to color and hardware trends, there is no shortage of new ideas to take away and apply to your own kitchen or bath.
Here's Why Your House Is Always So Freaking Dusty
Architectural Digest
One day, your home is sparkling clean, the next, it's covered in a layer of dust. There might be no more frustrating housekeeping conundrum, and we've all been there. Perhaps endless dust is just one of those things we have to learn to deal with, but Kadi Dulude, owner of New York City cleaning service Wizard of Homes, names a handful of reasons your home could be particularly dirt-prone—plus the best ways to tackle the grime. Get ready for a few aha! moments. . .
There's a Window in My Shower — And Other Hotel Design Flaws
The Washington Post
When Marc Burdiss stepped into the shower at the Rio All-Suite Hotel & Casino in Las Vegas, he was shocked by the clear view of the bedroom through a glass window. "Weird," he thought to himself. Burdiss, an emergency-preparedness consultant based in Flagstaff, Ariz., then let out a sigh of relief. When he made the reservations, he had thought of bringing his teenage kids. Giving them privacy would have required a "MacGyver-like workaround," using duct tape and towels, he says. Burdiss had also thought of sharing the room with another couple. That wouldn't have worked, either — for obvious reasons.
Jason Wu Creates His Own Pantone Color and Uses it to Create a Monochromatic Fashion Playhouse
ELLEDecor
It all started with a grey t-shirt. Jason Wu's clothing designs fluctuate between feminine and futuristic, while remaining steadfast in their fabulousness, so it might be surprising to hear that GREY by Jason Wu was inspired by his favorite article of clothing: a plain, grey tee. Off-duty, warm, a piece of clothing that is evergreen in both design and necessity, Wu handed over his go-to t-shirt when developing his own personal color for Pantone. It embodied everything he wanted for his personalized shade.
This $25 Million Funded Interior Design Firm Uses Instagram to Show Off the Spaces It Reinvented
Entrepreneur
Leura Fine says she wants to help her customers change their lives through great design. As the founder and CEO of online interior design service Laurel & Wolf, Fine's mission is to take the uncertainty, cost, and sunk time out of space makeovers. Her company connects customers with licensed interior designers to create their ideal space for a flat fee.
---
ASID HAWAII FACEBOOK: Please "like" us on Facebook! CLICK HERE to make sure you are up to date with ASID Hawaii's events, design news and stories. We are also on:
TWITTER
---
One Voice
Each day interior designers use their voices and visions to reshape spaces--and therefore the lives of those occupying them--for the better. With those same voices working in unison, they have the power to design a better future for themselves and the entire profession. That is why ASID began One Voice; to empower interior designers to get involved and advocate for or against the public policy that will ultimately influence their careers and lives.
---
Maximize Your ASID Benefits
Trade Pricing and Discounts
ASID membership has its benefits—including exclusive discounts on products and services from national sponsors and industry partners.Make sure your to-the-trade offers or discounts are featured and email industrypartners@asid.org with your company logo, description of your trade service, and a link to register.
Membership FAQs
Find answers to frequenty asked membership questions including member qualifications, payments and dues, membership cards, updating your profile, CEUs,and password retrieval.
NCIDQ Exam
Everything you need to know about NCIDQ exams.
ASID supports the professional development of the Society's members and the profession with continuing education programs and events that allow participants to advance in their careers and build their skill sets. ASID, our Chapters, and Industry Partners offer a variety of continuing education opportunities in-person and online.
ASID Academy: ASID assembled this catalog of online design courses, papers, and videos to bring the best continuing education offerings to ASID members and other designers in an easily-accessible, online-anytime, curated collection. Earn IDCEC and AIA-approved and accredited CEUs in a variety of topic areas including health and wellness, biophilia, HSW, and much more. ASID bylaws and policies require all practitioner members (Professional, Allied, and Associate members) to meet the Society's continuing education requirement.
Check out the new IDCEC Website Guide!
ASID members must earn a minimum of 1.0 unit (10 hours) of approved continuing education (CEU) every two years. The current reporting period is from January 1, 2016 – December 31, 2017. We've updated the instructions for CEU reporting that align with IDCEC's new website to help you navigate the process.
ASID members are to utilize the Interior Design Continuing Education Council (IDCEC) registry to warehouse CEUs. Every ASID member has a unique IDCEC number to login into the website (your IDCEC number is different than your ASID number). The IDCEC user registry allows you to upload and track your continuing education activity as well as store a record under your account. Check your IDCEC account regularly to ensure your records are up to date.
Each year, ASID recognizes the exemplary achievements and outstanding service demonstrated by highly engaged members, chapters, student chapters, and industry partners through our awards and honors programs.
Website Help
The default login info is first name.lastname.member ID, and then the password is just your member ID. If you've forgotten your password, click Log In and then click Forgot Password.
About ASID
The American Society of Interior Designers (ASID) believes that design transforms lives. ASID serves the full range of the interior design profession and practice through the Society's programs, networks, and advocacy. We thrive on the strength of cross-functional and interdisciplinary relationships among designers of all specialties, including workplace, healthcare, retail and hospitality, education, institutional, and residential. We lead interior designers in shared conversations around topics that matter: from evidence-based and human-centric design to social responsibility, well-being, and sustainability. We showcase the impact of design on the human experience and the value interior designers provide.