E-Newsletter: October/November 2020
Mahalo to our 2020 Sponsors

---
President's Message
Aloha, ASID Hawaii Chapter Members:
I am honored to represent the Hawaii Chapter of ASID for this 2020-2021 Board Year. Our board is working hard to provide new and exciting events, activities, and opportunities for our members. For the coming year, we plan to focus on supporting our design students and emerging professionals, while continuing to bring awareness to the interior design profession, made up of our talented and dedicated local designers. Please look forward to a calendar of events and sponsorship package within the upcoming month.
Our friends at Bella Pietra will be hosting a virtual new product introduction with Ernie from Artistic Tile for designers and architects. The presentation will be on Thursday, October 29 at 10am. If you are interested in attending, please contact Meagan Jensen at meagan@bellapietra.com and a Zoom invitation will be provided.
The Design Excellence Awards winners and honorees will officially be announced on Wednesday, October 28, 2020 at 5:00pm. We apologize for the long wait. Our Design Awards Committee members have been working diligently to create a unique and impactful way to highlight and honor the work of our design professionals. Please join us in watching our first ever Design Awards video, which will be available for viewing on YouTube and on our website. Link to the video will be provided later.
We will be accepting nominations for our upcoming election in January. The board positions available are Communications Director, Professional Development Director, Financial Director, and President Elect. These two-year terms will start on October 1, 2021. Please email me if you are interested in becoming a board member and would like further information.
We value your continuous support and dedication to the Hawaii Chapter.
Thank you,
McKenna Makizuru, Allied ASID
President, Hawaii Chapter
president@hi.asid.org
---
Your FY2021 Board of Directors
President: McKenna Makizuru
President Elect: Christine Reimer
Membership Director: Lisa Nguyen
Communications Director: Cassandra Okimoto
Finance Director: Danette Hoe
At-Large Director: Samantha Mortimer
Professional Development Director: Jennifer Johnson
Student Representative to the Board: Rohin Kapadia
---
Local Events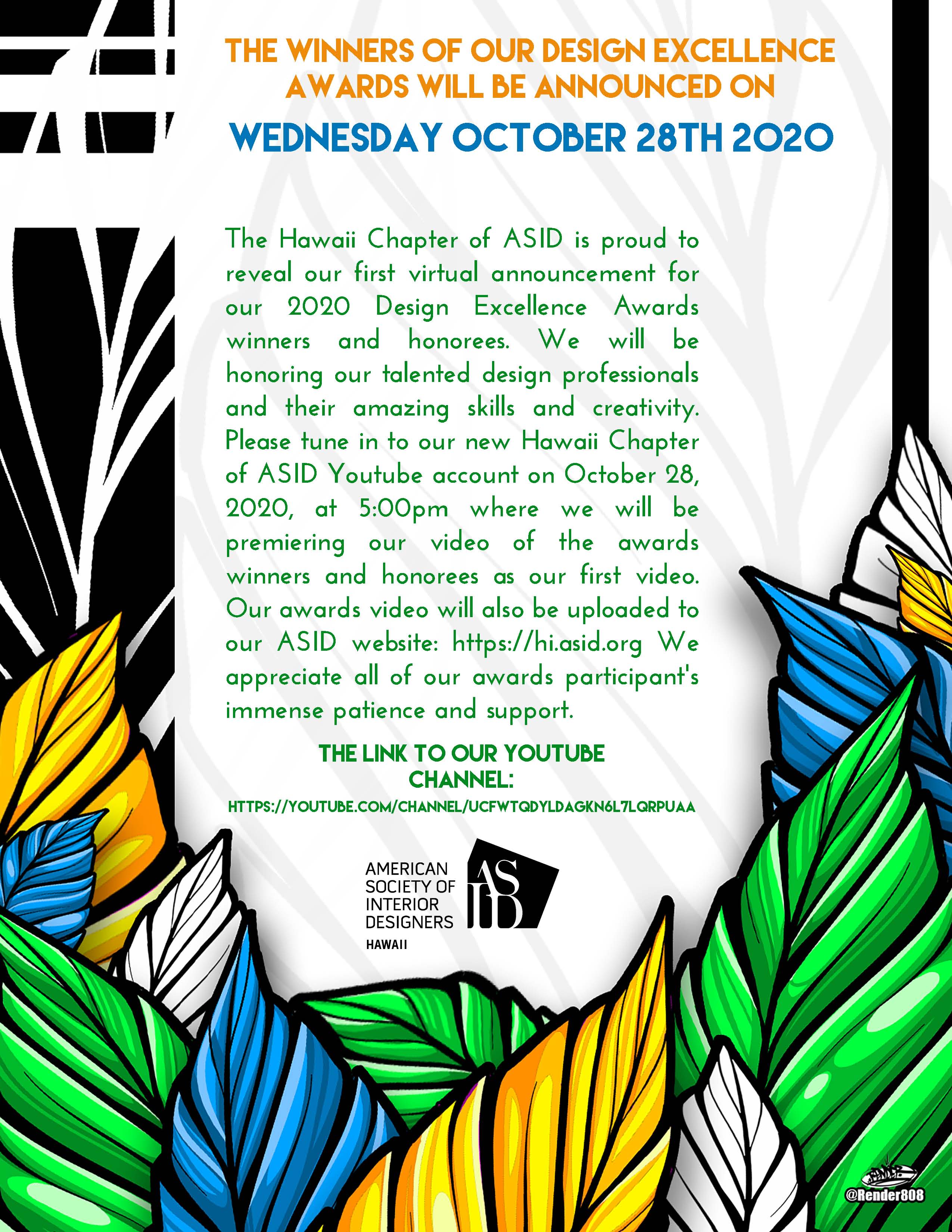 ---
National Events
For a full list of upcoming national events, visit www.asid.org/events.
---
One Voice
Each day interior designers use their voices and visions to reshape spaces--and therefore the lives of those occupying them--for the better. With those same voices working in unison, they have the power to design a better future for themselves and the entire profession. That is why ASID began One Voice; to empower interior designers to get involved and advocate for or against the public policy that will ultimately influence their careers and lives. For more info click here.
---
Design News (Click on title for complete article.)
An Apartment on a Residential Yacht That Transforms From One Bedroom to Two
Design Milk
A transforming apartment that serves as a couple's holiday retreat located aboard the largest residential yacht in the world.
Sanitizing Butlers, UV Robots: 'Covid Cleaning' Solutions Are The Latest Luxury Amenities
Forbes
Mudrooms are out. Instead the real estate world is giving a hearty welcome to disinfection rooms—the same physical space that mudrooms took up in a house, but now they're being rebranded as a place for homeowners or their guests to take steps to prevent any possible covid germs from being spread.
Valspar Selects 12 Soothing Shades for Its 2021 Colors of the Year
Builder
From Soft Candlelight to Lucy Blue, the palette will bring a sense of comfort and... More
Hospitality Embraces Co-Working to Entice a New Kind Of Business Client
Multibriefs
Recently, in a move to increase revenues and entice guests, a number of hotels have announced that they have added co-working spaces and packages for individuals and groups, whether they choose to come for a few hours or stay longer.
Top 6 Long-Term Trends Emerging From the Pandemic and What They Mean for Office Design
Interiors and Sources
Rather than viewing the pandemic as a source of unwanted change, the current moment can be an accelerant of good ideas and result in positive, long-term changes for workplace design.
How to Retool Your Work-from-Home Space, According to 4 Experts
Vogue
Nearly seven months in, most of us have the working-from-home thing figured out, right? Maybe so, and maybe no. Whether you've decamped to your childhood home, sequestered yourself somewhere pretty with a "pod," or stayed firmly put in your apartment since March, it's not too late to give your current arrangement a refresh.
Modsy's New Tool is an E-Design Breakthrough
Business of Home
One afternoon this summer, while sheltering in place in a borrowed home in upstate New York, I held up my iPhone to film and performed a slow, almost ritualistic walk around the perimeter of the living room. A few days later, I received a file: a 3D model of the room, decorated in a pleasantly cozy style. The rendering was shockingly accurate, down to the dark wood bannister. The only discrepancy? In the image, there was sunshine pouring in through the windows. In real life, it had been a flat gray day.
---
Become a Chapter Sponsor
ASID Hawaii Chapter strives to work in support of our local interior designers by providing opportunities for continuing education, advocacy for the profession, social events and recognition of Design Excellence through our annual awards gala. While a small portion of our annual membership fees provides seed money for these activities, it is through annual sponsorships from our collaborative team of design firms and industry partners that the financial and personalized support is found to realize the programs and functions the membership expects.
As a sponsor of ASID Hawaii, your company can engage with members, participate in events, host meetings, and sponsor activities. Additionally, you will have the opportunity to increase visibility through additional marketing, branding, special access, and deeper engagement with ASID members. Sponsorship is an excellent opportunity for your business to gain exposure and showcase your products and services to our local interior design community.
For a sponsorship package please send an email reqest to: administrator@hi.asid.org.
---
Advertise with Us
There are several ways you can advertise with our chapter including email blasts, newsletter ads and website ads. Click here to learn more about advertising options.
---
Let's Connect
ASID HAWAII FACEBOOK: Please "like" us on Facebook! CLICK HERE to make sure you are up to date with ASID Hawaii's events, design news and stories. We are also on:
TWITTER
---
Maximize Your ASID Benefits
Trade Pricing and Discounts
ASID membership has its benefits—including exclusive discounts on products and services from national sponsors and industry partners.Make sure your to-the-trade offers or discounts are featured and email industrypartners@asid.org with your company logo, description of your trade service, and a link to register.
Find answers to frequenty asked membership questions including member qualifications, payments and dues, membership cards, updating your profile, CEUs,and password retrieval.
Everything you need to know about NCIDQ exams.
ASID supports the professional development of the Society's members and the profession with continuing education programs and events that allow participants to advance in their careers and build their skill sets. ASID, our Chapters, and Industry Partners offer a variety of continuing education opportunities in-person and online.
ASID Academy: The ASID Academy is a user friendly, dynamic, streamlined continuing education experience offering high-quality courses, webinars, and more in a learn anytime, anywhere (with an internet connection), on your own schedule environment. Topic areas include the Business of Design, Health & Wellness, Institutional, Healthcare, Residential, Workplace, and Hospitality & Retail design. Check out engaging courses like Designing for a New Millennial Culture and earn valuable IDCEC and AIA CEUs in the process. Explore the Academy.

Check out the new IDCEC Website Guide!
ASID members must earn a minimum of 1.0 unit (10 hours) of approved continuing education (CEU) every two years. We've updated the instructions for CEU reporting that align with IDCEC's new website to help you navigate the process.
ASID members are to utilize the Interior Design Continuing Education Council (IDCEC) registry to warehouse CEUs. Every ASID member has a unique IDCEC number to login into the website (your IDCEC number is different than your ASID number). The IDCEC user registry allows you to upload and track your continuing education activity as well as store a record under your account. Check your IDCEC account regularly to ensure your records are up to date.
Each year, ASID recognizes the exemplary achievements and outstanding service demonstrated by highly engaged members, chapters, student chapters, and industry partners through our awards and honors programs.
---
Website Log-in Help
The default login info is first name.lastname.member ID, and then the password is just your member ID. If you've forgotten your password, click Log In and then click Forgot Password.
---
About ASID
The American Society of Interior Designers (ASID) believes that design transforms lives. ASID serves the full range of the interior design profession and practice through the Society's programs, networks, and advocacy. We thrive on the strength of cross-functional and interdisciplinary relationships among designers of all specialties, including workplace, healthcare, retail and hospitality, education, institutional, and residential. We lead interior designers in shared conversations around topics that matter: from evidence-based and human-centric design to social responsibility, well-being, and sustainability. We showcase the impact of design on the human experience and the value interior designers provide.