E-Newsletter: September/October 2020
Mahalo to our 2020 Sponsors

---
President's Message
Aloha,
It is with sadness that I am writing my last letter as your ASID Hawaii President. My tenure has been quite a different experience than anyone ever expected. With the
Coronavirus wreaking havoc on our islands, many of the plans and events that were slated to go on this year had to be postponed or cancelled.

Design Excellence was able to continue, but without the great gala that we had planned. The Design Excellence team continues to work and plan on the "Big Reveal" which should be very soon.

I would like to thank my current Board for all their assistance during these unusual circumstances.

McKenna Makizuru, President-Elect
Cassandra Okimoto, Communications Director
Valorie Spence, Membership Director
Christine Reimer, At-Large Director
Danette Hoe, Finance Director
Jennifer Johnson, Professional Development Director
Samantha Mortimer, Student Representative

Your new 2020-2021 Board will be:

McKenna Makizuru, President
Christine Reimer, President-Elect
Cassandra Okimoto, Communications Director
Lisa Nguyen, Membership Director
Samantha Mortimer, At-Large Director
Danette Hoe, Finance Director
Jennifer Johnson, Professional Development Director
Rohin Kapadia, Student Representative

It has been my pleasure to serve as your president. Please show your support to the new board as they strive to continue to improve and grow our chapter.
Our chapter is a strong one that has kept the Aloha Spirit going, and will continue to go forward next year and beyond.
Mahalo and A Hui Ho!

Dee Dee Ackerman, ASID Allied
D L Ackerman Design Group

---
National News
A Message from the Chair of ASID
"In our current reality that has been dramatically affected by COVID-19, our resources are limited. We need all hands on deck. We call on our chapters, members, and industry partners to build a community of sustained mentorship (up and down) to create relevance, resonance, and equity for our Black interior design colleagues," says Jennifer Kolstad, ASID, Assoc. AIA, Global Design Director at Ford Motor Company. The latest ASID Chair's Message encourages the interior design community to commit to finding meaningful ways to contribute to a more equitable and inclusive design community and society. READ MORE
Now Open! Preview the ASID Virtual Conference Exhibit Hall
The ASID Virtual Conference Exhibit Hall is now open for business through September 17! Check out a special preview of the Exhibit Hall now and receive exclusive discounts and offers on the newest, most innovative products. The Exhibit Hall will also feature live chats and pop-ups with industry representatives during designated times on September 15-17. Network and learn what's changing the game in the product world – register to join the ASID Virtual Conference for free to access all content next week. READ MORE
---
Local Events
Save the Date: Design Excellence Awards
Fall 2020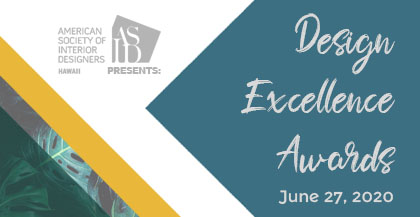 ---
National Events
For a full list of upcoming national events, visit www.asid.org/events.
---

---
One Voice
Each day interior designers use their voices and visions to reshape spaces--and therefore the lives of those occupying them--for the better. With those same voices working in unison, they have the power to design a better future for themselves and the entire profession. That is why ASID began One Voice; to empower interior designers to get involved and advocate for or against the public policy that will ultimately influence their careers and lives. For more info click here.
---
Design News (Click on title for complete article.)
12 Desks That Work Best for a Productive Home Office
Dwell
In the new normal, setting up a home office is more important than ever. And while it may sound like a no-brainer, the key element of any comfortable and productive workspace is a desk. Settling on the right one, however, is no easy task.
8 Essential Design Books Every Interiors Lover Should Read
Architectural Digest
Whether you're looking to brush up on the basic principles of good design or seeking some eye-candy inspiration, it's always a good idea to stock up on design books. These classic tomes offer an aesthetic foundation for any interior designer's toolkit, and are the perfect introductory education for anyone even just dabbling in the field. Read more
AIA Outlines Ways To Mitigate Risk Of COVID-19 In Senior Living Communities
Environments for Aging
The report offers strategies and 3-D models that can help reduce the risk of COVID-19 transmission while supporting the well-being and comfort of senior residents. READ MORE
Why Staying Connected to the Design Community is More Important Than Ever
Interiors and Sources
As design educators and students begin to navigate a challenging fall semester, becoming and staying involved with the design profession and community remains a top priority.
More Ideas About Design After the Coronavirus
Treehugger
Architect Tom Bassett-Dilley on air quality and privacy gradients.
People Fleeing Big Cities May Spur Economic Growth In Smaller Metros
Forbes
Back in April, as it was becoming clear that the Coronavirus pandemic would have a lasting impact on everything from the future of work to religious worship, a Harris Poll survey found that nearly 40 percent of urbanites were considering absconding cities for less-crowded environments.
Urban Exodus Revives Luxury Home Sales
MultiBriefs
Not all the news about the coronavirus pandemic is bad news. After slowing to a crawl in April and May, sales of luxury single-family homes rebounded in late June and July as affluent urbanites fled from congested cities and the confines of their high-end…
This California Home Is Designed for the Era of Social Distancing
Elle Décor
The contemporary hillside house has freestanding guest "pods" and plenty of indoor-outdoor spaces.
---
Become a Chapter Sponsor
ASID Hawaii Chapter strives to work in support of our local interior designers by providing opportunities for continuing education, advocacy for the profession, social events and recognition of Design Excellence through our annual awards gala. While a small portion of our annual membership fees provides seed money for these activities, it is through annual sponsorships from our collaborative team of design firms and industry partners that the financial and personalized support is found to realize the programs and functions the membership expects.
As a sponsor of ASID Hawaii, your company can engage with members, participate in events, host meetings, and sponsor activities. Additionally, you will have the opportunity to increase visibility through additional marketing, branding, special access, and deeper engagement with ASID members. Sponsorship is an excellent opportunity for your business to gain exposure and showcase your products and services to our local interior design community.
For a sponsorship package please send an email reqest to: administrator@hi.asid.org.
---
Advertise with Us
There are several ways you can advertise with our chapter including email blasts, newsletter ads and website ads. Click here to learn more about advertising options.
---
Let's Connect
ASID HAWAII FACEBOOK: Please "like" us on Facebook! CLICK HERE to make sure you are up to date with ASID Hawaii's events, design news and stories. We are also on:
TWITTER
---
Maximize Your ASID Benefits
Trade Pricing and Discounts
ASID membership has its benefits—including exclusive discounts on products and services from national sponsors and industry partners.Make sure your to-the-trade offers or discounts are featured and email industrypartners@asid.org with your company logo, description of your trade service, and a link to register.
Find answers to frequenty asked membership questions including member qualifications, payments and dues, membership cards, updating your profile, CEUs,and password retrieval.
Everything you need to know about NCIDQ exams.
ASID supports the professional development of the Society's members and the profession with continuing education programs and events that allow participants to advance in their careers and build their skill sets. ASID, our Chapters, and Industry Partners offer a variety of continuing education opportunities in-person and online.
ASID Academy: The ASID Academy is a user friendly, dynamic, streamlined continuing education experience offering high-quality courses, webinars, and more in a learn anytime, anywhere (with an internet connection), on your own schedule environment. Topic areas include the Business of Design, Health & Wellness, Institutional, Healthcare, Residential, Workplace, and Hospitality & Retail design. Check out engaging courses like Designing for a New Millennial Culture and earn valuable IDCEC and AIA CEUs in the process. Explore the Academy.

Check out the new IDCEC Website Guide!
ASID members must earn a minimum of 1.0 unit (10 hours) of approved continuing education (CEU) every two years. We've updated the instructions for CEU reporting that align with IDCEC's new website to help you navigate the process.
ASID members are to utilize the Interior Design Continuing Education Council (IDCEC) registry to warehouse CEUs. Every ASID member has a unique IDCEC number to login into the website (your IDCEC number is different than your ASID number). The IDCEC user registry allows you to upload and track your continuing education activity as well as store a record under your account. Check your IDCEC account regularly to ensure your records are up to date.
Each year, ASID recognizes the exemplary achievements and outstanding service demonstrated by highly engaged members, chapters, student chapters, and industry partners through our awards and honors programs.
---
Website Log-in Help
The default login info is first name.lastname.member ID, and then the password is just your member ID. If you've forgotten your password, click Log In and then click Forgot Password.
---
About ASID
The American Society of Interior Designers (ASID) believes that design transforms lives. ASID serves the full range of the interior design profession and practice through the Society's programs, networks, and advocacy. We thrive on the strength of cross-functional and interdisciplinary relationships among designers of all specialties, including workplace, healthcare, retail and hospitality, education, institutional, and residential. We lead interior designers in shared conversations around topics that matter: from evidence-based and human-centric design to social responsibility, well-being, and sustainability. We showcase the impact of design on the human experience and the value interior designers provide.