E-Newsletter: August/September 2022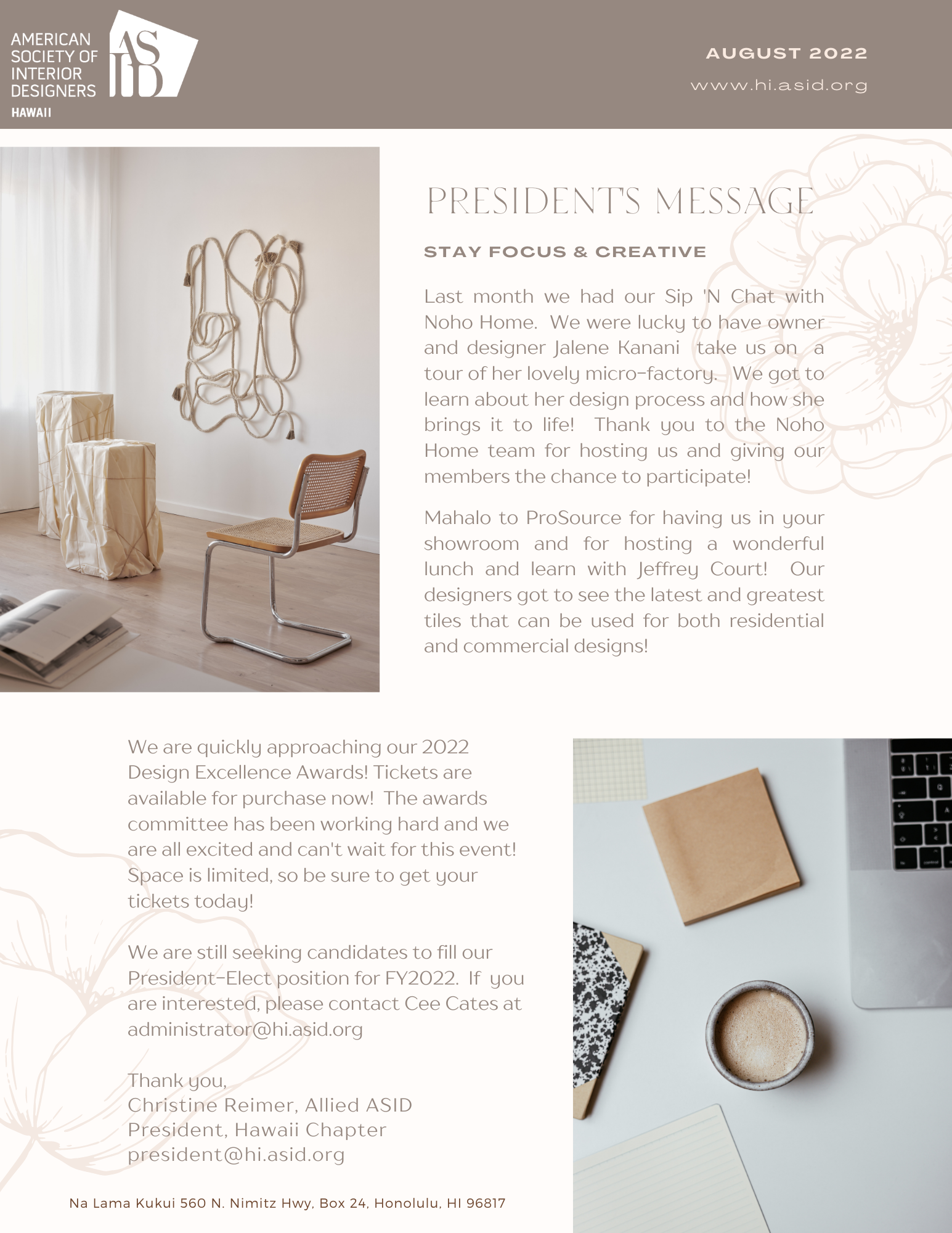 ---
Election Results
We would like to make a formal announcement of the results of the FY2022 ASID Hawaii Board of Directors election. Mahalo to the chapter nominating committee for their assistance. We would also like to thank the candidates and chapter members for participating in the election. Terms will start 10/01/2022.
The newly elected board members are:
President-Elect: Vacant - We are still seeking candidates for this position.
At-Large Director: Gabby Polendey, Allied ASID
Membership Director: Anthony Perna, Industry Partner
The board has appointed Maria Bernaldez as Student Representative to the Board.
Please contact administrator@hi.asid. org if you are interested in the president election position and you will be emailed a full description of duties.
---
Local Events (Click on links for more info where highlighted.)
September 30
Design Excellence Awards - Cupola Gallery at INspiration
---
National Events
Please click here for a complete list of national events.
---
Design Articles
15 Brazilian Product Highlights from Salone del Mobile
Interior Design
At this year's Salone del Mobile in Milan, Brazilian designers seized an opportunity to shine. The country grew its presence at the fair, which bounced back from the smaller Supersalone last year, thanks to a big push on Brazilian furniture, culture, materials, and design from the Brazilian Association of the Furniture Industry (Abimóvel). "Design Transforma," an exhibition presented through the Brazilian Furniture Project by Abimóvel and The Brazilian Trade and Investment Promotion Agency (Apex-Brasil), showcased 12 Brazilian designers and 21 Brazilian furniture manufacturers at Milan's Piazza Santo Stefano.
Pros and Cons: 7 Kitchen and Bath Countertop Materials
Dwell
We break down the benefits and costs of laminate, wood, concrete, stainless steel, engineered quartz, granite, and marble.
10 Quick Money Makeovers to Improve Your Bottom Line
The Business of Home
We tapped designers, business coaches and industry pros for fast, easy ways to manage your firm's money smarter.
How Much Do Homeowners Trust Smart Technology?
designwell
Are they a cause for comfort or concern? Homeowners still hold stigmas over certain devices in the home.
A Behavioral Health Hospital Takes Cues from Nature
Metropolis
CannonDesign incorporated the ideas of 19th century reformer Moses Sheppard to design a new psychiatric hospital.
Valspar Announces 2023 Colors of the Year
Interiors and Sources
Twelve designer-inspired colors promise to freshen up any space.
Sail Into This Waterfront Hotel
Interior Design
A James Bond film put this beachfront property on the map, but this update by Moinard Bétaille gives it staying power.
---
Become a Chapter Sponsor
ASID Hawaii Chapter strives to work in support of our local interior designers by providing opportunities for continuing education, advocacy for the profession, social events and recognition of Design Excellence through our annual awards gala. While a small portion of our annual membership fees provides seed money for these activities, it is through annual sponsorships from our collaborative team of design firms and industry partners that the financial and personalized support is found to realize the programs and functions the membership expects.
As a sponsor of ASID Hawaii, your company can engage with members, participate in events, host meetings, and sponsor activities. Additionally, you will have the opportunity to increase visibility through additional marketing, branding, special access, and deeper engagement with ASID members. Sponsorship is an excellent opportunity for your business to gain exposure and showcase your products and services to our local interior design community.
For a sponsorship package, please click here.
---
Advertise with Us
There are several ways you can advertise with our chapter including email blasts, newsletter ads and website ads. Please send an email to administrator@hi.asid.org to learn more about advertising options.
---
Let's Connect
ASID HAWAII FACEBOOK: Please "like" us on Facebook! CLICK HERE to make sure you are up to date with ASID Hawaii's events, design news and stories. We are also on:
TWITTER
---
Maximize Your ASID Benefits
Trade Pricing and Discounts
ASID membership has its benefits—including exclusive discounts on products and services from national sponsors and industry partners.Make sure your to-the-trade offers or discounts are featured and email industrypartners@asid.org with your company logo, description of your trade service, and a link to register.
Find answers to frequenty asked membership questions including member qualifications, payments and dues, membership cards, updating your profile, CEUs,and password retrieval.
Everything you need to know about NCIDQ exams.
ASID supports the professional development of the Society's members and the profession with continuing education programs and events that allow participants to advance in their careers and build their skill sets. ASID, our Chapters, and Industry Partners offer a variety of continuing education opportunities in-person and online.
ASID Academy: The ASID Academy is a user friendly, dynamic, streamlined continuing education experience offering high-quality courses, webinars, and more in a learn anytime, anywhere (with an internet connection), on your own schedule environment. Topic areas include the Business of Design, Health & Wellness, Institutional, Healthcare, Residential, Workplace, and Hospitality & Retail design. Check out engaging courses like Designing for a New Millennial Culture and earn valuable IDCEC and AIA CEUs in the process. Explore the Academy.

Check out the new IDCEC Website Guide!
ASID members must earn a minimum of 10 unit (10 hours) of approved continuing education (CEU) every two years. We've updated the instructions for CEU reporting that align with IDCEC's new website to help you navigate the process.
ASID members are to utilize the Interior Design Continuing Education Council (IDCEC) registry to warehouse CEUs. Every ASID member has a unique IDCEC number to login into the website (your IDCEC number is different than your ASID number). The IDCEC user registry allows you to upload and track your continuing education activity as well as store a record under your account. Check your IDCEC account regularly to ensure your records are up to date.
Each year, ASID recognizes the exemplary achievements and outstanding service demonstrated by highly engaged members, chapters, student chapters, and industry partners through our awards and honors programs.
---
One Voice
Each day interior designers use their voices and visions to reshape spaces--and therefore the lives of those occupying them--for the better. With those same voices working in unison, they have the power to design a better future for themselves and the entire profession. That is why ASID began One Voice; to empower interior designers to get involved and advocate for or against the public policy that will ultimately influence their careers and lives. For more info click here.
---
Website Log-in Help
The default login info is first name.lastname.member ID, and then the password is just your member ID. If you've forgotten your password, click Log In and then click Forgot Password.
---
About ASID
The American Society of Interior Designers (ASID) believes that design transforms lives. ASID serves the full range of the interior design profession and practice through the Society's programs, networks, and advocacy. We thrive on the strength of cross-functional and interdisciplinary relationships among designers of all specialties, including workplace, healthcare, retail and hospitality, education, institutional, and residential. We lead interior designers in shared conversations around topics that matter: from evidence-based and human-centric design to social responsibility, well-being, and sustainability. We showcase the impact of design on the human experience and the value interior designers provide.