E-Newsletter: February/March 2022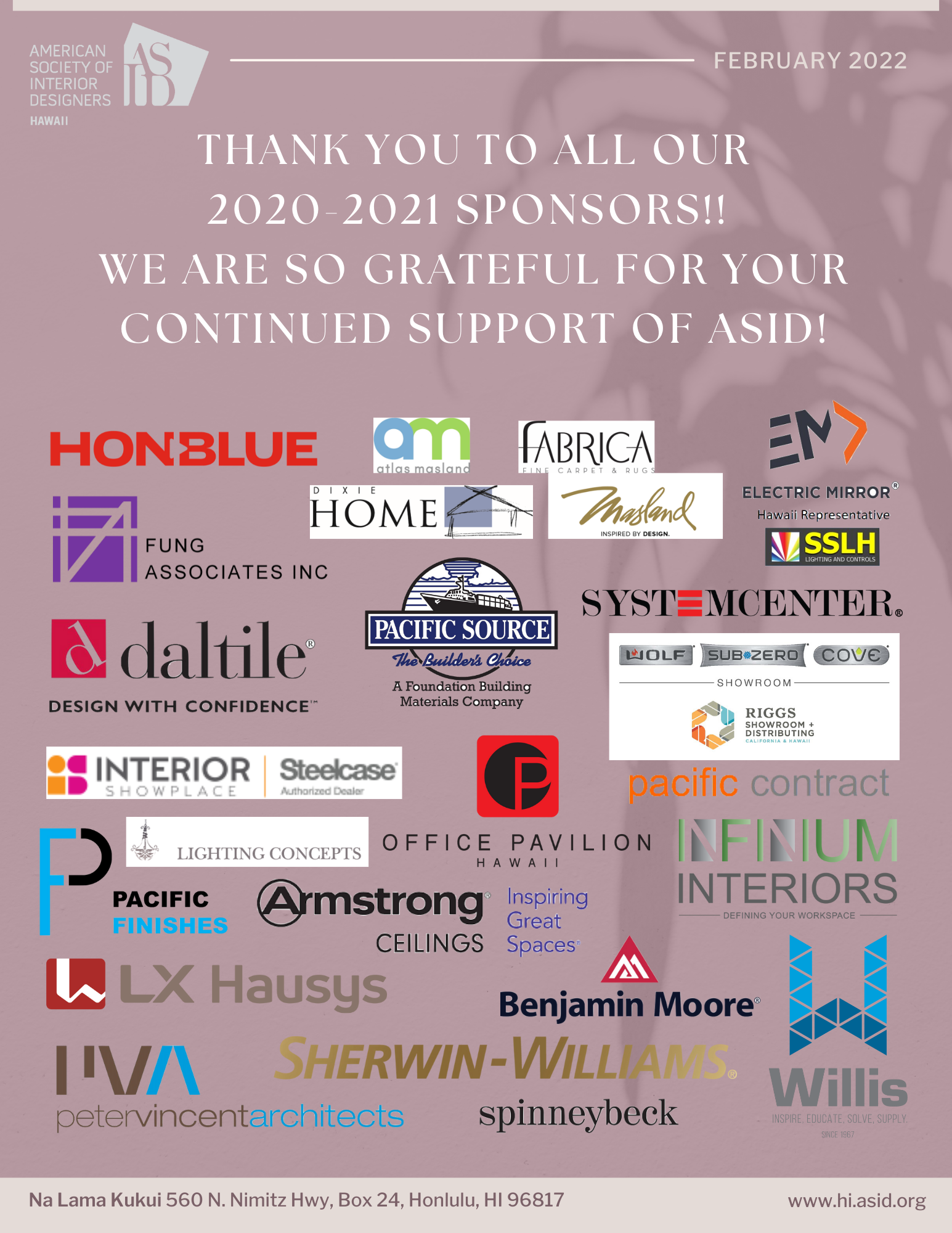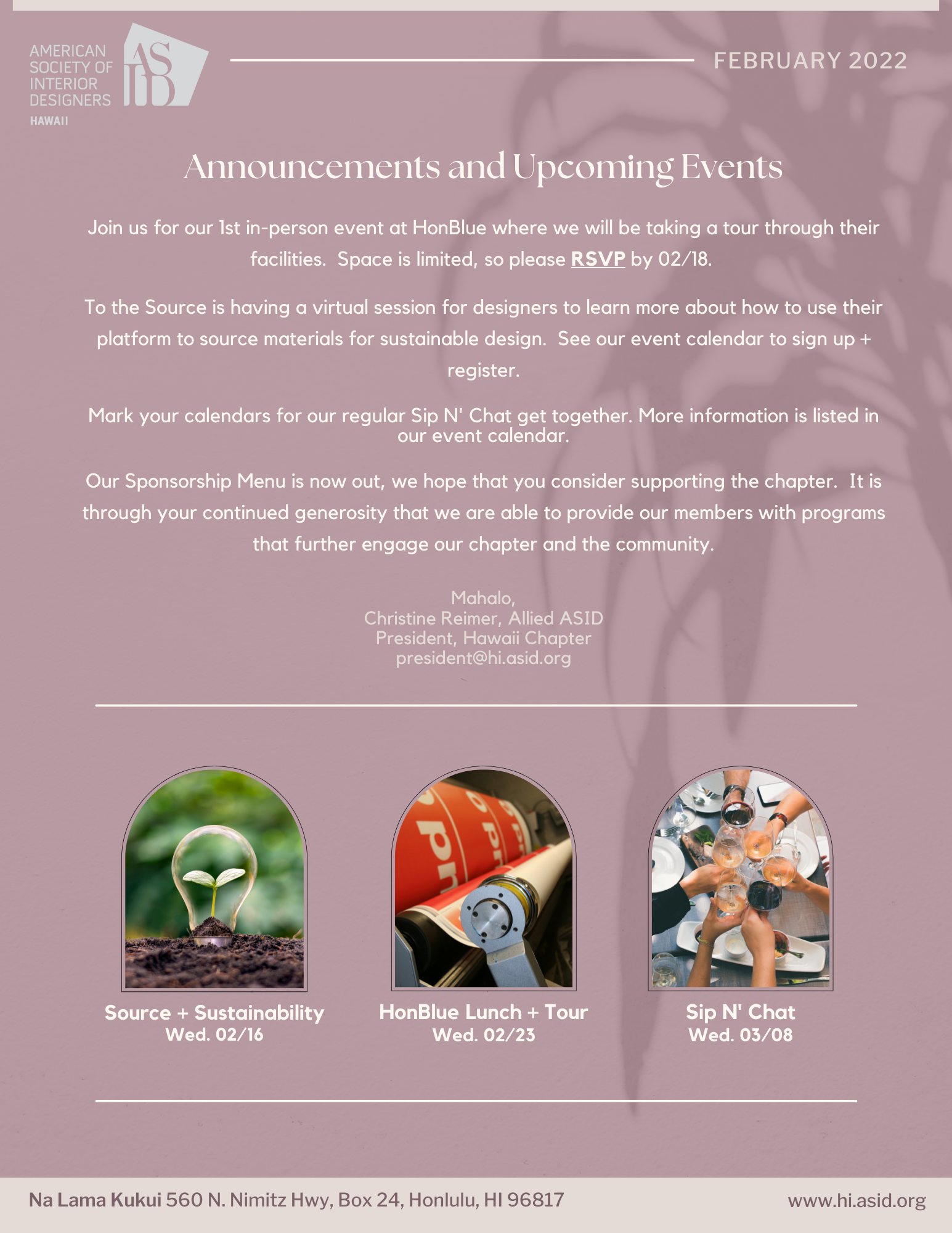 ---
Local Events (Click on links for more info.)
February 16
Source + Sustainability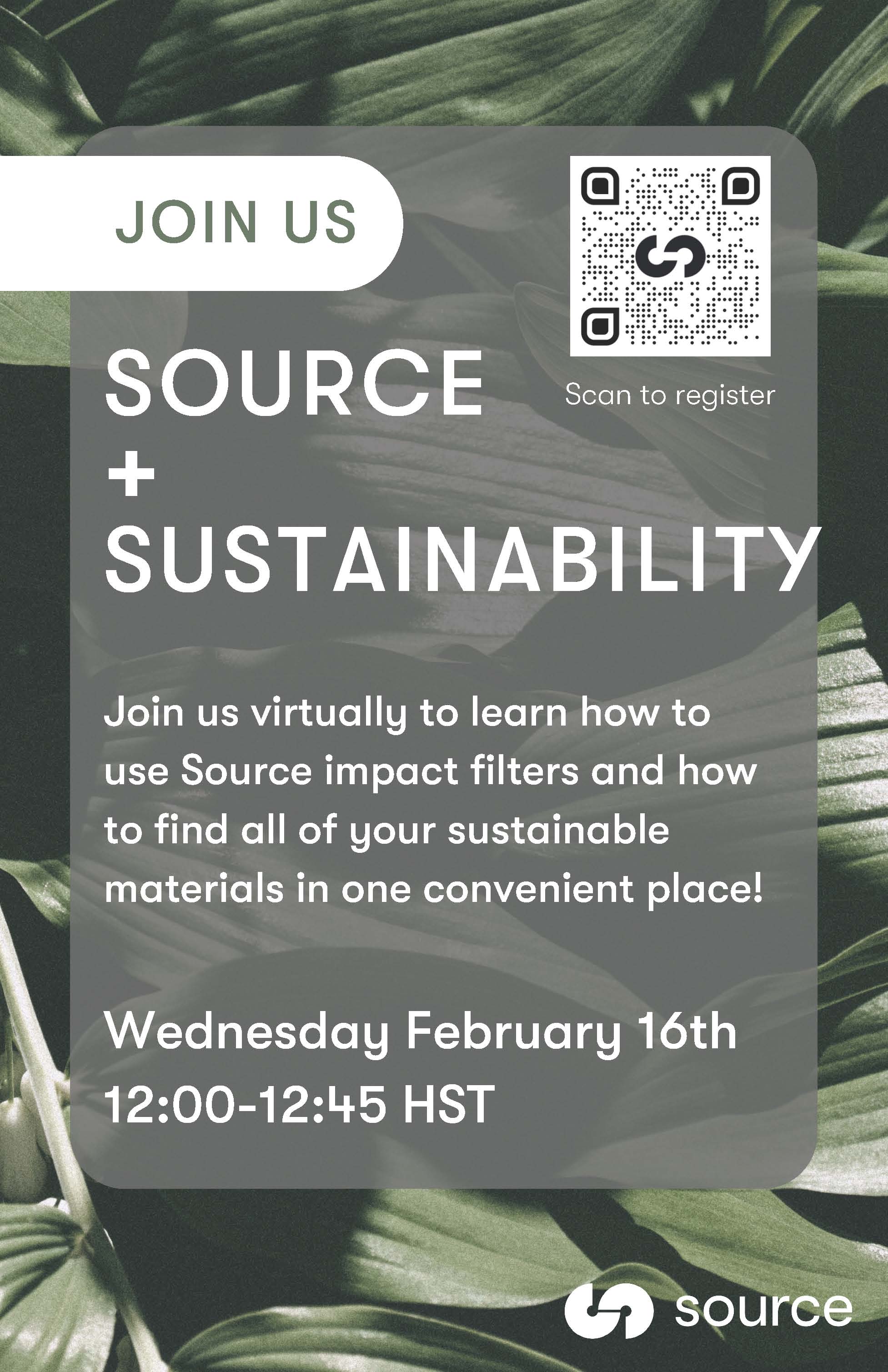 February 23
Lunch + Tour with HonBlue and ASID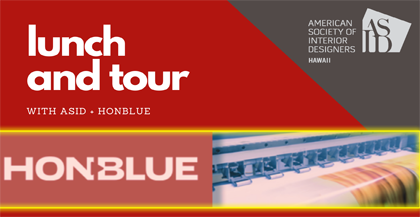 March 8
Sip N' Chat Pau Hana Event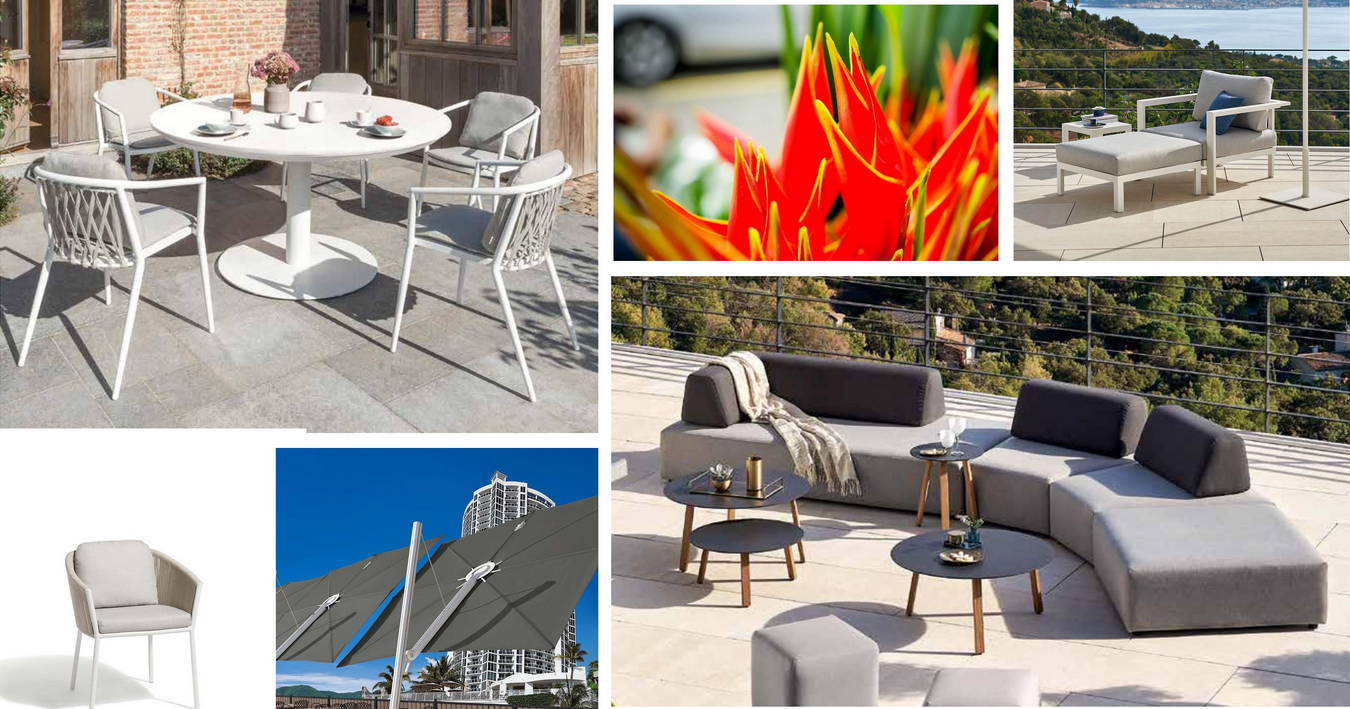 ---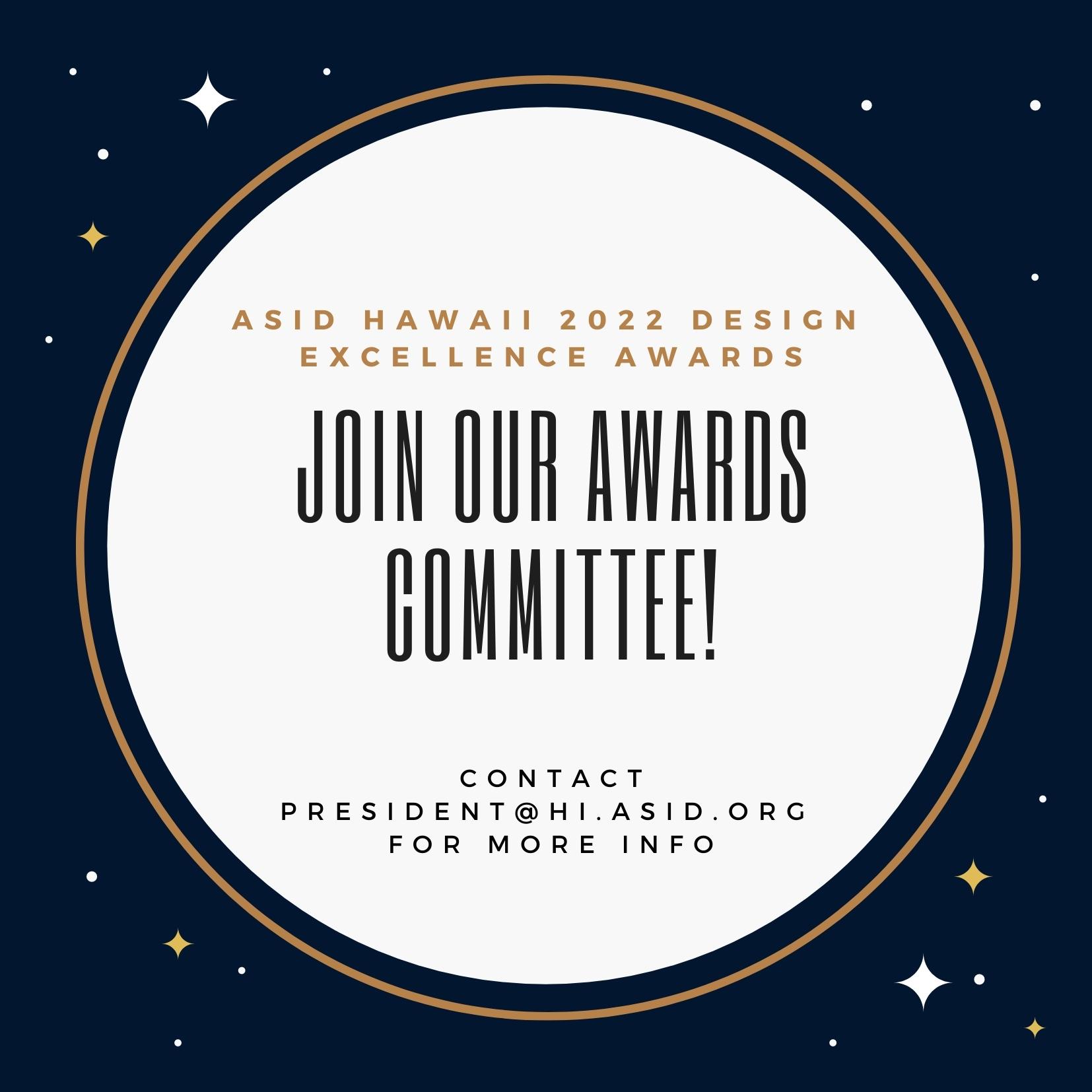 ---
ASID Chapter Sponsorship Opportunities are now available!
Click here to become a chapter sponsor.
---
National Events
For a full list of national events, click here.
---
Design News (Click on title for complete article.)
What Makes a Small Room Look Bigger: Five Decorating Myths Debunked
Wall Street Journal
Interior designers push back on five truisms about kitting out little rooms to make them look larger—paint it all white, avoid patterns—and tell you the truth.
Closet Lighting Ideas That Will Wow You
The Spruce
Everyone understands the importance of good closet lighting—there's a reason that asking if someone got dressed in the dark is a running joke, after all. Proper light fixtures will ensure that you can see all of your clothing and accessories while getting ready for anything from a typical day at work to a big night out.
The Best Debuts at KBIS and IBS
Business of Home
From mint green oven ranges to hands-free light switches, here are some of the most memorable launches from the Kitchen and Bath Industry Show and International Builders' Show in Orlando.
Naava is Using AI-Powered Green Walls to En-Wild Buildings
designwell
Combining nature, machine learning and Scandinavian design, Naava creates a truly unique environmental solution.
5 Best Practices for Designing Better Ceilings
i+s
Building science engineers often posit that the perfect building is one that disappears in its occupants' minds. It provides conditions that allow its inhabitants to thrive and frequently embraces the positive influences of nature through the incorporation of biophilic design.
Smart Home Technology Innovations Support Safer, Healthier, Aging-Friendly Living
Forbes
Smart home technology has been gaining acceptance in American households for the last five years, with the pandemic doubling usage, according to research quoted in Security Infowatch in May 2021. While concerns remain, especially among older adults, users of all ages are seeing the advantages these services offer, including to their health, safety and well-being.
---
Become a Chapter Sponsor
ASID Hawaii Chapter strives to work in support of our local interior designers by providing opportunities for continuing education, advocacy for the profession, social events and recognition of Design Excellence through our annual awards gala. While a small portion of our annual membership fees provides seed money for these activities, it is through annual sponsorships from our collaborative team of design firms and industry partners that the financial and personalized support is found to realize the programs and functions the membership expects.
As a sponsor of ASID Hawaii, your company can engage with members, participate in events, host meetings, and sponsor activities. Additionally, you will have the opportunity to increase visibility through additional marketing, branding, special access, and deeper engagement with ASID members. Sponsorship is an excellent opportunity for your business to gain exposure and showcase your products and services to our local interior design community.
For a sponsorship package, please click here.
---
Advertise with Us
There are several ways you can advertise with our chapter including email blasts, newsletter ads and website ads. Please send an email to administrator@hi.asid.org to learn more about advertising options.
---
Let's Connect
ASID HAWAII FACEBOOK: Please "like" us on Facebook! CLICK HERE to make sure you are up to date with ASID Hawaii's events, design news and stories. We are also on:
TWITTER
---
Maximize Your ASID Benefits
Trade Pricing and Discounts
ASID membership has its benefits—including exclusive discounts on products and services from national sponsors and industry partners.Make sure your to-the-trade offers or discounts are featured and email industrypartners@asid.org with your company logo, description of your trade service, and a link to register.
Find answers to frequenty asked membership questions including member qualifications, payments and dues, membership cards, updating your profile, CEUs,and password retrieval.
Everything you need to know about NCIDQ exams.
ASID supports the professional development of the Society's members and the profession with continuing education programs and events that allow participants to advance in their careers and build their skill sets. ASID, our Chapters, and Industry Partners offer a variety of continuing education opportunities in-person and online.
ASID Academy: The ASID Academy is a user friendly, dynamic, streamlined continuing education experience offering high-quality courses, webinars, and more in a learn anytime, anywhere (with an internet connection), on your own schedule environment. Topic areas include the Business of Design, Health & Wellness, Institutional, Healthcare, Residential, Workplace, and Hospitality & Retail design. Check out engaging courses like Designing for a New Millennial Culture and earn valuable IDCEC and AIA CEUs in the process. Explore the Academy.

Check out the new IDCEC Website Guide!
ASID members must earn a minimum of 10 unit (10 hours) of approved continuing education (CEU) every two years. We've updated the instructions for CEU reporting that align with IDCEC's new website to help you navigate the process.
ASID members are to utilize the Interior Design Continuing Education Council (IDCEC) registry to warehouse CEUs. Every ASID member has a unique IDCEC number to login into the website (your IDCEC number is different than your ASID number). The IDCEC user registry allows you to upload and track your continuing education activity as well as store a record under your account. Check your IDCEC account regularly to ensure your records are up to date.
Each year, ASID recognizes the exemplary achievements and outstanding service demonstrated by highly engaged members, chapters, student chapters, and industry partners through our awards and honors programs.
---
One Voice
Each day interior designers use their voices and visions to reshape spaces--and therefore the lives of those occupying them--for the better. With those same voices working in unison, they have the power to design a better future for themselves and the entire profession. That is why ASID began One Voice; to empower interior designers to get involved and advocate for or against the public policy that will ultimately influence their careers and lives. For more info click here.
---
Website Log-in Help
The default login info is first name.lastname.member ID, and then the password is just your member ID. If you've forgotten your password, click Log In and then click Forgot Password.
---
About ASID
The American Society of Interior Designers (ASID) believes that design transforms lives. ASID serves the full range of the interior design profession and practice through the Society's programs, networks, and advocacy. We thrive on the strength of cross-functional and interdisciplinary relationships among designers of all specialties, including workplace, healthcare, retail and hospitality, education, institutional, and residential. We lead interior designers in shared conversations around topics that matter: from evidence-based and human-centric design to social responsibility, well-being, and sustainability. We showcase the impact of design on the human experience and the value interior designers provide.