E-Newsletter: March/April 2022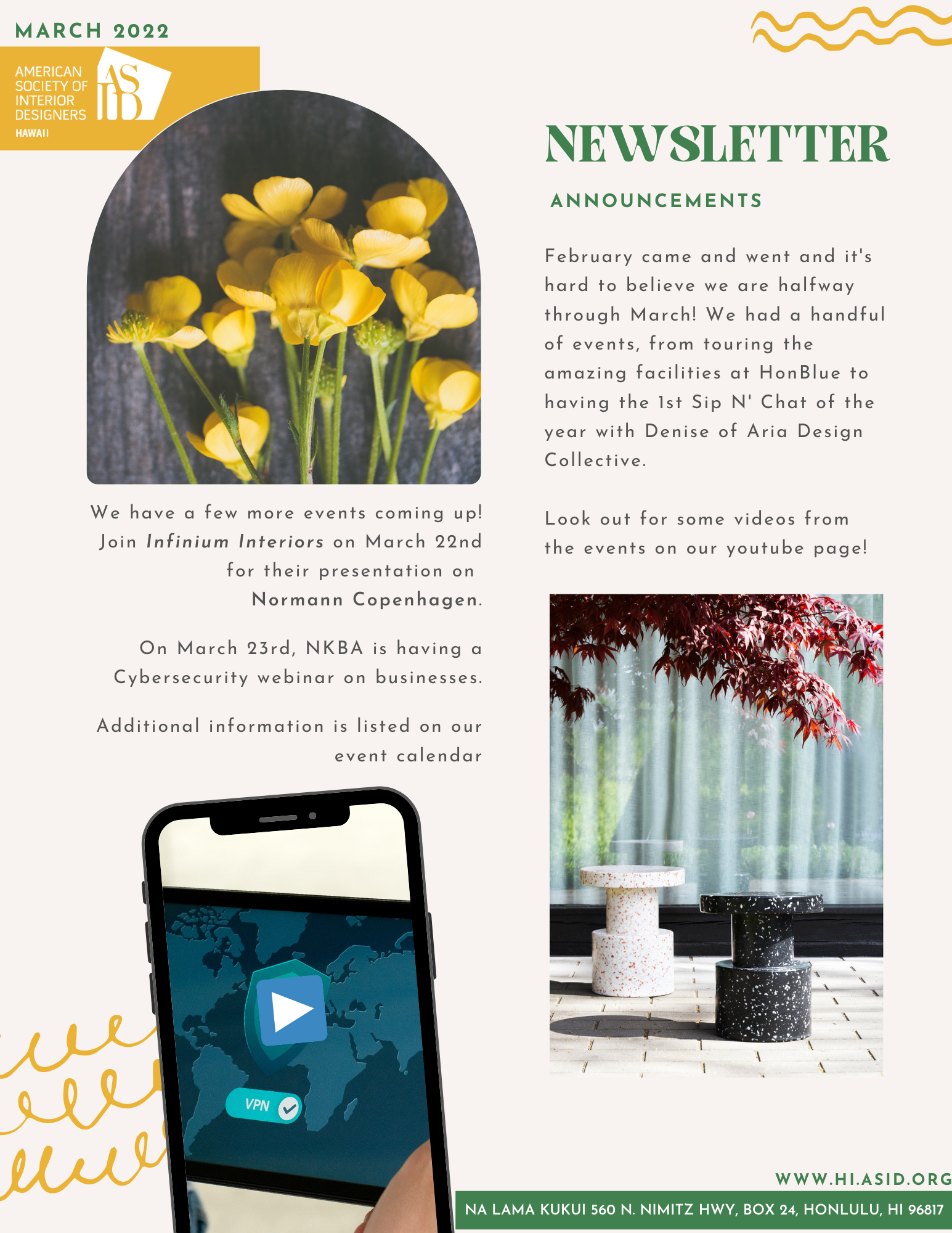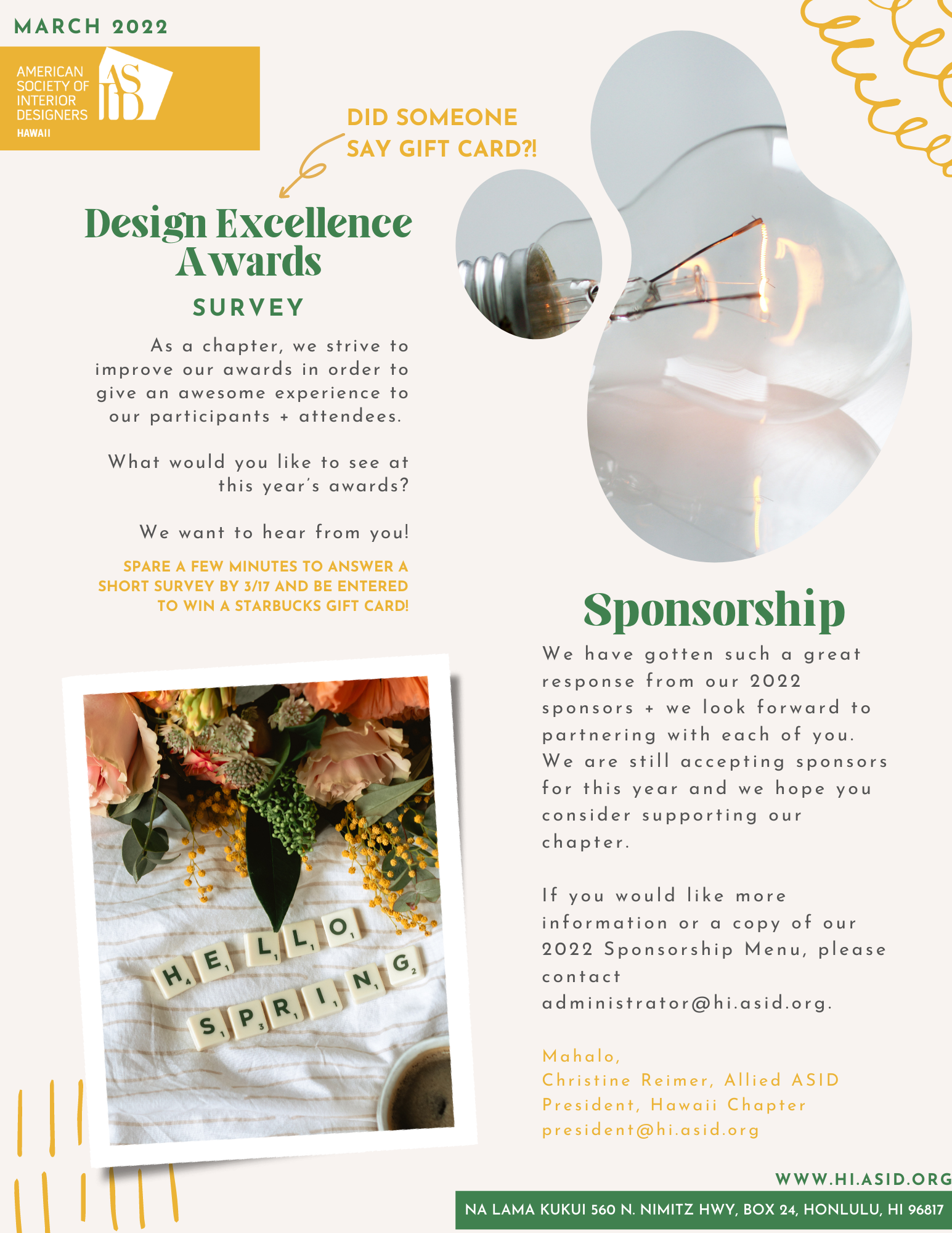 ---
Design Excellence Awards Survey
The ASID Hawaii Chapter constantly strives to improve our Design Excellence Awards in order to give an awesome experience to our participants and attendees. What do you want to see at this year's awards? We want to hear from you!
Please spare a few minutes to answer this short survey and be entered to win a $10 Starbucks gift cards: https://docs.google.com/forms/d/1RWzqdioayk96WLTsbb1CuGKL2GSW1O1V_EuqDqBlFMI/edit
Survey open to ASID members and non-members. Closing date for the survey is Thursday, March 17 at 12:00pm. Mahalo in advance for your feedback.
---
Local Events (Click on links for more info.)
March 22
Introducing Normann Copenhagen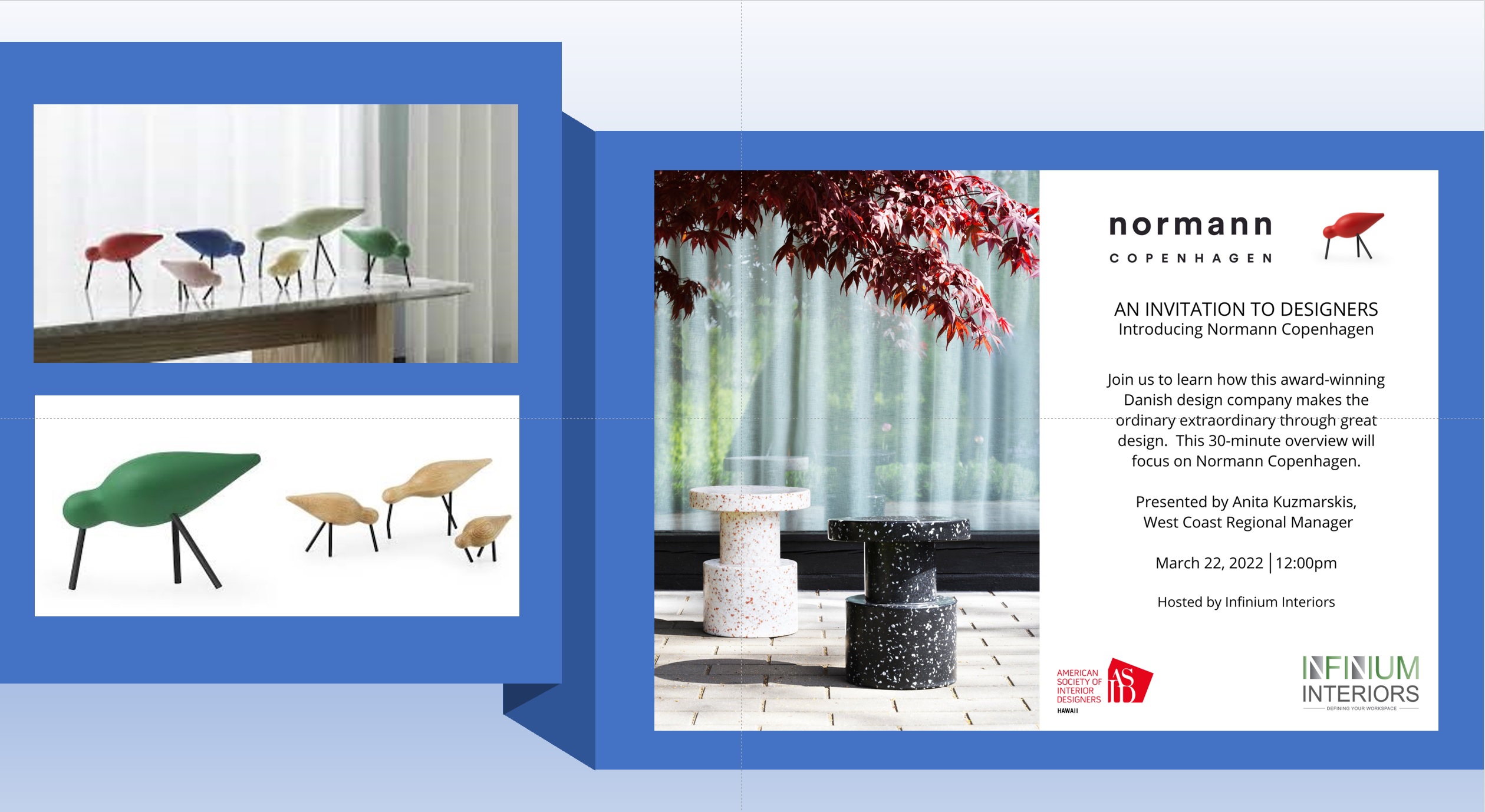 March 23
NKBA Event – Cybersecurity - Basics for Businesses (Zoom): https://bbb-nwp.zoom.us/j/83223535660#success
---
National Events
Please click here for a complete list of national events.
---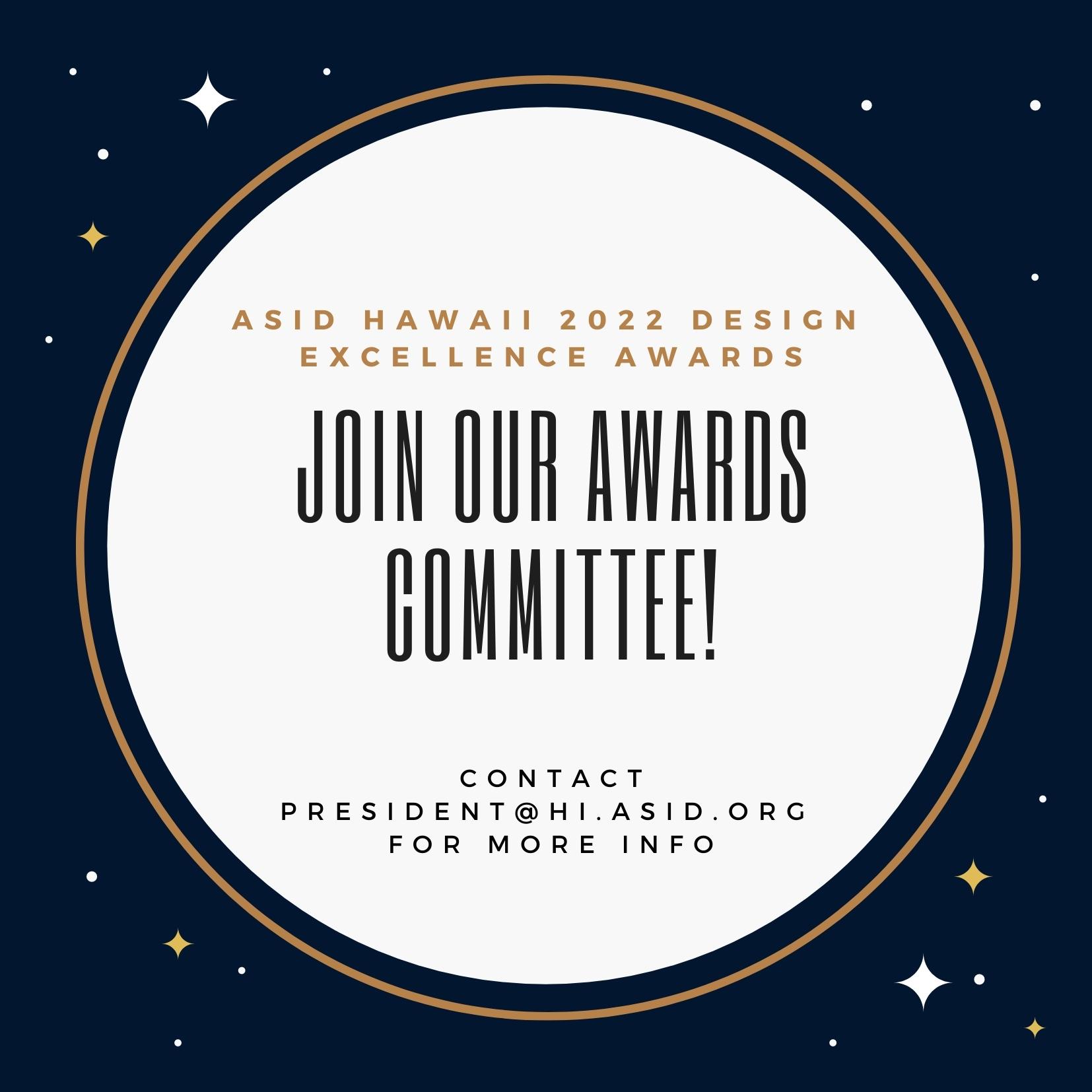 ---
ASID Chapter Sponsorship Opportunities are now available!
Click here to become a chapter sponsor.
---
Student News
Expand Your Career Potential: Apply for ASID Foundation Scholarships & Grants
At ASID, we know education matters. That's why the ASID Foundation provides a number of annual scholarships and grant opportunities to expand research and knowledge around the impact of interior design on behavior, health, and wellbeing. Open to professionals and students, get funding ranging from $4,000 to $5,000 and accelerate your design career – applications are open now through April 20.
The Emerging Professionals Design Competition, sponsored by Dunn-Edwards Paints, is now accepting submissions! This design competition is open to all eligible students nationwide. With beginner and advanced levels in both residential and commercial design categories plus an Early Bird Sweepstakes for those who submit early, there are various prizes up for grabs. Submissions are due by August 7th, or to be an Early Bird, submit by June 19th.
The design competition landing page has more details and submission instructions: http://dunnedwards-6537909.hs-sites.com/design-competition-2022
---
Design News (Click on title for complete article.)
The Biggest Decor Trends The Year You Were Born
Elle
Some ideas were surprisingly ahead of their time, while others haven't exactly aged well.
Before & After: A Honolulu Midcentury Becomes a Designer's Vivacious Home and Studio
Dwell
Hawaii interior designer, Ginger Lunt, revives a 1954 residence that she fell in love with as a young girl growing up in the tropical forests of Mount Tantalus.
10 Single-Family Trends That Likely Will Influence Home Design in 2022
Builder
To see what's in store for the coming year, BUILDER compiled predictions from Zillow, Houzz, and the NKBA.
Spanifornia – the Californian design trend making waves beyond the West Coast
Homes and Gardens
This movement celebrates SoCal spirit with a Spanish twist – and Cali-designers can't get enough.

Handel Architects Conceives of a Luxurious Senior Living Space in New York
Interior Design
Luxurious, hand-crafted details abound, many of which cleverly hide special accommodations. For example, bright, naturally colored stones on accent walls serve as way-finding signage for the visually impaired, and furniture is specifically dimensioned to promote mobility.
15 Top Interior Design Trends of 2022 - New Home Decor Ideas
Good Housekeeping
The interior design trends that will be everywhere in 2022.
A Designer's Guide To Better Cash Flow
Business of Home
In any design business, there's money coming and going at a dizzying, sometimes unpredictable rate. That's why it's crucial to create systems that allow you to access a constant stream of income. Here's how successful design firms do it.
4 Tips to Create a WELL-Centric Workplace
Interiors and Sources
As employers continue to shift their plans about bringing workers back to the workplace, one thing is certain: employee health and well-being must be a priority. Companies can take steps toward this by incorporating principles of the WELL Building Standard into interior design. The standard, developed by the International Well Building Institute, is a roadmap for creating human-centered spaces that enhance health and wellbeing.
The Wellness Equation: Office Amenities And Spaces Combine To Combat Burnout
Forbes
Burnout is not a new phenomenon, but it is on the rise as the pandemic makes forced remote work a lingering reality. Even those people who initially embraced work-from-home can't hide from increased levels of stress and mental fatigue.
---
Become a Chapter Sponsor
ASID Hawaii Chapter strives to work in support of our local interior designers by providing opportunities for continuing education, advocacy for the profession, social events and recognition of Design Excellence through our annual awards gala. While a small portion of our annual membership fees provides seed money for these activities, it is through annual sponsorships from our collaborative team of design firms and industry partners that the financial and personalized support is found to realize the programs and functions the membership expects.
As a sponsor of ASID Hawaii, your company can engage with members, participate in events, host meetings, and sponsor activities. Additionally, you will have the opportunity to increase visibility through additional marketing, branding, special access, and deeper engagement with ASID members. Sponsorship is an excellent opportunity for your business to gain exposure and showcase your products and services to our local interior design community.
For a sponsorship package, please click here.
---
Advertise with Us
There are several ways you can advertise with our chapter including email blasts, newsletter ads and website ads. Please send an email to administrator@hi.asid.org to learn more about advertising options.
---
Let's Connect
ASID HAWAII FACEBOOK: Please "like" us on Facebook! CLICK HERE to make sure you are up to date with ASID Hawaii's events, design news and stories. We are also on:
TWITTER
---
Maximize Your ASID Benefits
Trade Pricing and Discounts
ASID membership has its benefits—including exclusive discounts on products and services from national sponsors and industry partners.Make sure your to-the-trade offers or discounts are featured and email industrypartners@asid.org with your company logo, description of your trade service, and a link to register.
Find answers to frequenty asked membership questions including member qualifications, payments and dues, membership cards, updating your profile, CEUs,and password retrieval.
Everything you need to know about NCIDQ exams.
ASID supports the professional development of the Society's members and the profession with continuing education programs and events that allow participants to advance in their careers and build their skill sets. ASID, our Chapters, and Industry Partners offer a variety of continuing education opportunities in-person and online.
ASID Academy: The ASID Academy is a user friendly, dynamic, streamlined continuing education experience offering high-quality courses, webinars, and more in a learn anytime, anywhere (with an internet connection), on your own schedule environment. Topic areas include the Business of Design, Health & Wellness, Institutional, Healthcare, Residential, Workplace, and Hospitality & Retail design. Check out engaging courses like Designing for a New Millennial Culture and earn valuable IDCEC and AIA CEUs in the process. Explore the Academy.

Check out the new IDCEC Website Guide!
ASID members must earn a minimum of 10 unit (10 hours) of approved continuing education (CEU) every two years. We've updated the instructions for CEU reporting that align with IDCEC's new website to help you navigate the process.
ASID members are to utilize the Interior Design Continuing Education Council (IDCEC) registry to warehouse CEUs. Every ASID member has a unique IDCEC number to login into the website (your IDCEC number is different than your ASID number). The IDCEC user registry allows you to upload and track your continuing education activity as well as store a record under your account. Check your IDCEC account regularly to ensure your records are up to date.
Each year, ASID recognizes the exemplary achievements and outstanding service demonstrated by highly engaged members, chapters, student chapters, and industry partners through our awards and honors programs.
---
One Voice
Each day interior designers use their voices and visions to reshape spaces--and therefore the lives of those occupying them--for the better. With those same voices working in unison, they have the power to design a better future for themselves and the entire profession. That is why ASID began One Voice; to empower interior designers to get involved and advocate for or against the public policy that will ultimately influence their careers and lives. For more info click here.
---
Website Log-in Help
The default login info is first name.lastname.member ID, and then the password is just your member ID. If you've forgotten your password, click Log In and then click Forgot Password.
---
About ASID
The American Society of Interior Designers (ASID) believes that design transforms lives. ASID serves the full range of the interior design profession and practice through the Society's programs, networks, and advocacy. We thrive on the strength of cross-functional and interdisciplinary relationships among designers of all specialties, including workplace, healthcare, retail and hospitality, education, institutional, and residential. We lead interior designers in shared conversations around topics that matter: from evidence-based and human-centric design to social responsibility, well-being, and sustainability. We showcase the impact of design on the human experience and the value interior designers provide.