E-Newsletter: May/June 2022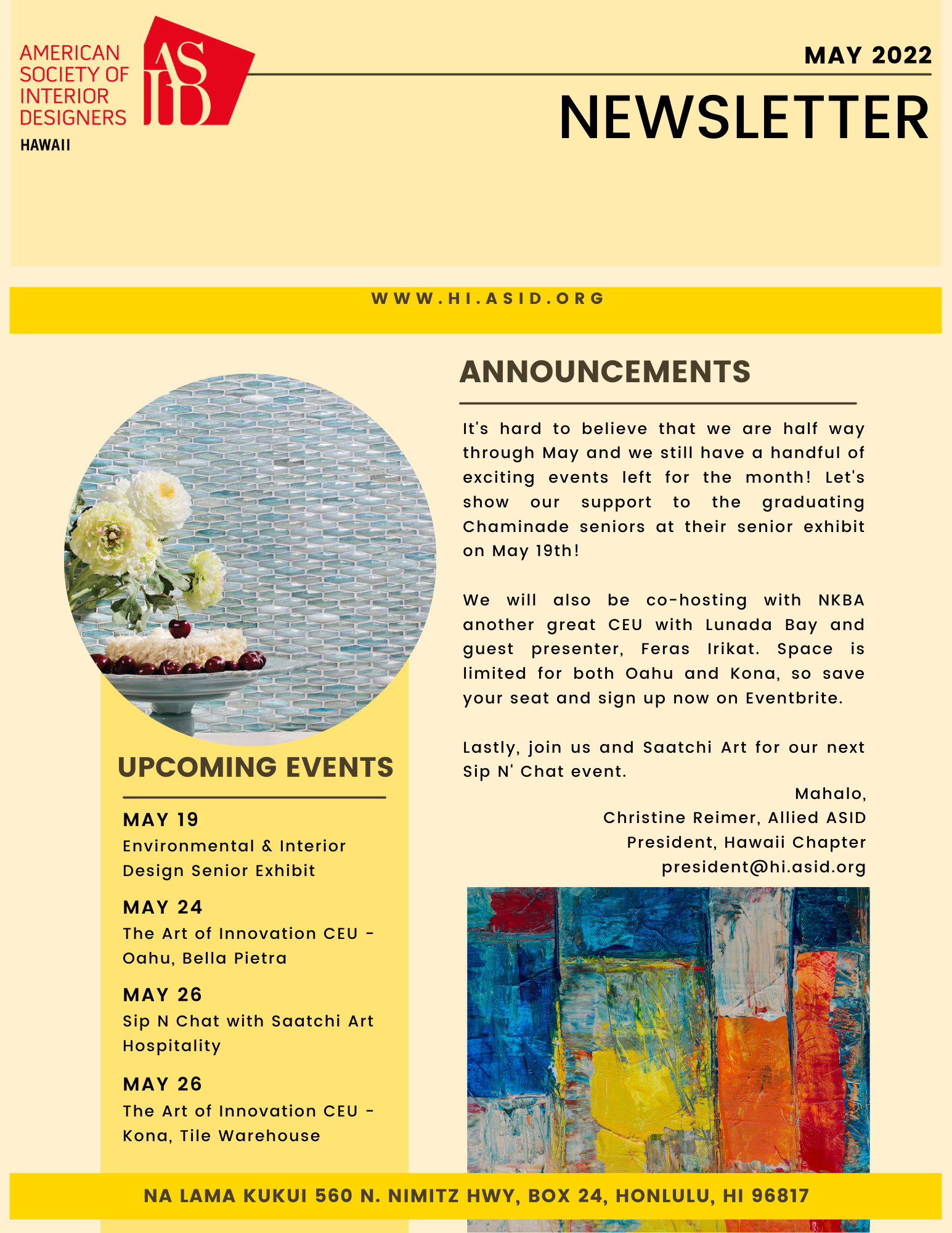 ---
Design Excellence Awards
Mahalo to those who entered. By now, you should have received your link to your Dropbox folder. Please contact Cee at administrator@hi.asid.org. You have until June 17, 5PM to upload your projects. Winners will be announced on September 30 at the Design Excellence Awards Gala. More details to follow. Good luck!
---
Local Events (Click on links for more info where highlighted.)
May 19
Environmental + Interior Design Senior Exhibit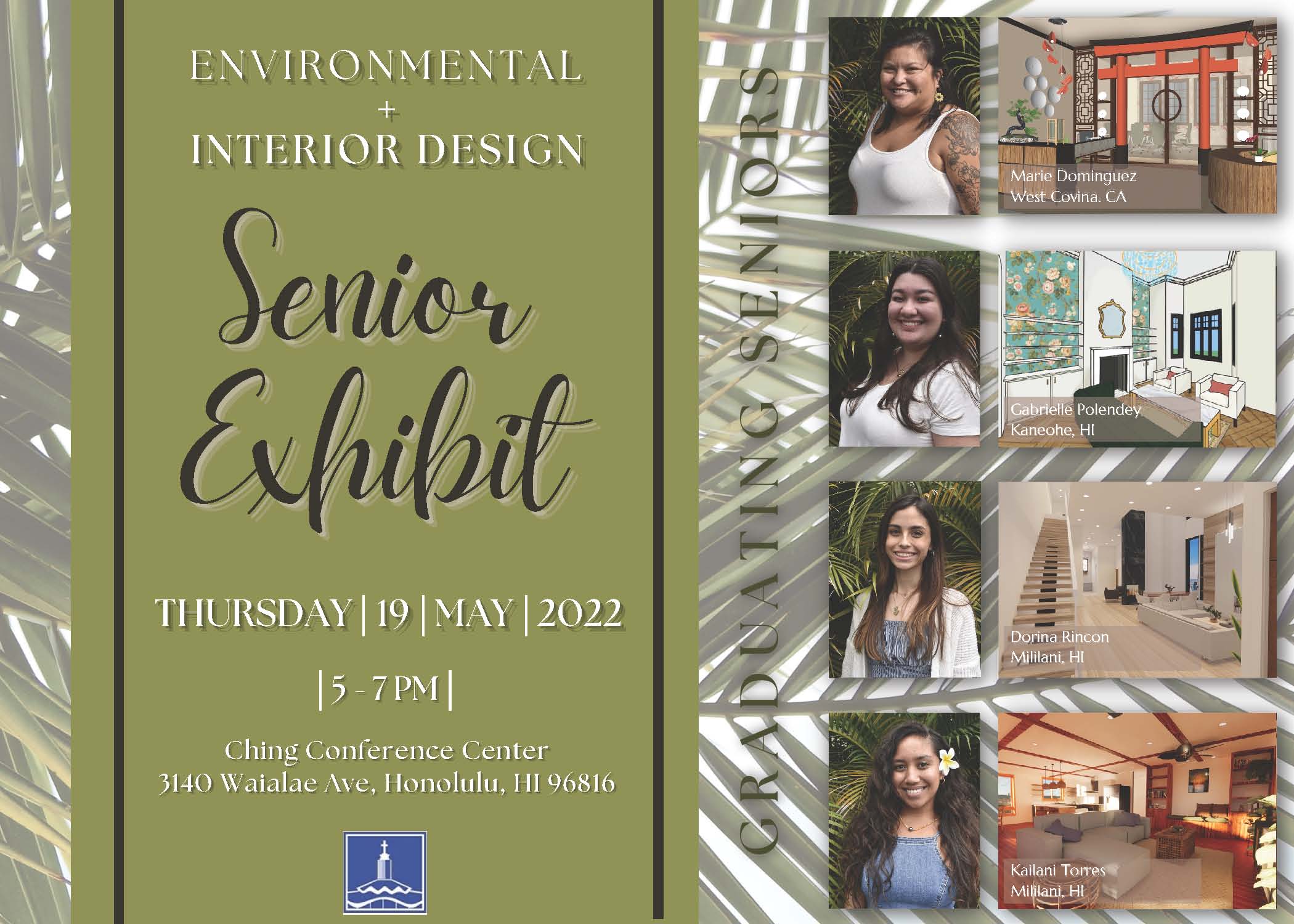 May 24
CEU: The Art of Innovation (Oahu)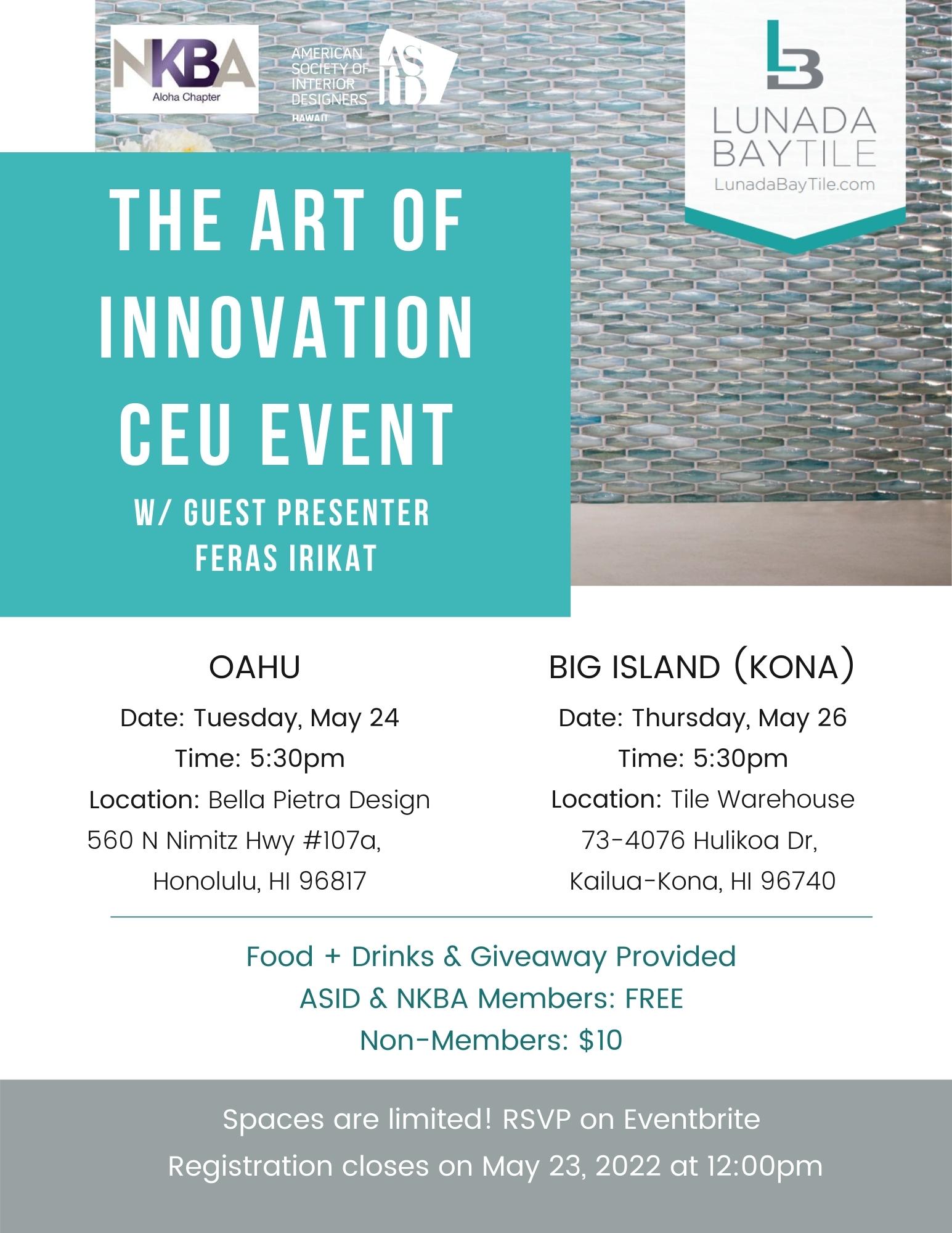 May 26
CEU: The Art of Innovation (Big Island)
May 26
Sip n' Chat with Saatchi Art Hospitality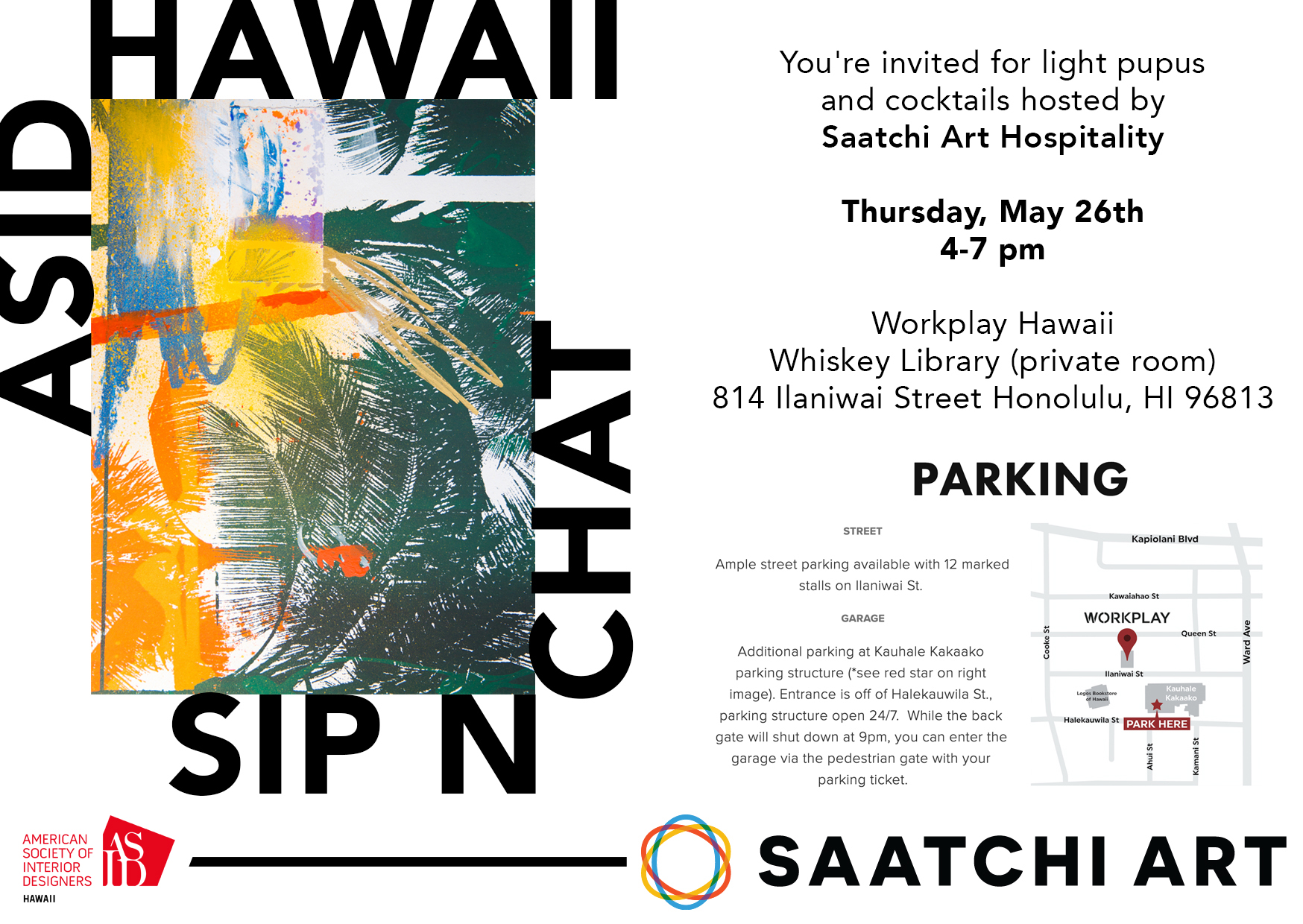 September 30
Design Excellence Awards (Watch for official announcement soon.)
---
National Events
Please click here for a complete list of national events.
---
ASID Chapter Sponsorship Opportunities are now available!
Click here to become a chapter sponsor.
---
Design News (Click on title for complete article.)
A Sustainable Martian Habitat
Dwell
The idea of a Martian colony may seem phantasmagorical, yet its mixed-use building typology references vertical villas throughout the millennia, starting with Trajan's Market in ancient Rome. The trio embraced this hybrid model, where astronauts and civilians will live and work in harmony. "We believe in the importance of community life," Celik says, "even for extraterrestrial projects."
The Interior Design Move That Is Both Calming and Statement-Making
Wall Street Journal
Want to give a room a wow factor in a subtle, 2022 way? Adopt a tone-on-tone approach, decorating in many shades of the same color.
Home brands are well positioned to embrace circularity. Will they?
The Business of Home
Last week's Circular City conference drew more than 300 experts to discuss circularity in a variety of industries. According to the event's founder, the home business is uniquely poised to go circular.
This Kitchen Uses Aging-in-Place Elements to Create a Universally Accessible Space
designwell
Despite being geared towards older generations, aging-in-place design accommodates younger occupants as well.
What Is the Carbon Footprint of Interior Renovations?
Interiors and Sources
It's often noted that the built environment contributes 40% of carbon emissions worldwide. Architects and facilities professionals have responded to this number by attacking carbon emissions on two fronts; architects have worked to reduce the embodied carbon in common materials like concrete and steel, while facilities teams have focused on reducing energy use and implementing renewable energy as a way to reduce dependence on fossil fuels, which release emissions as they're burned.
But this conversation has so far left out the impact of building interiors—and according to new research by LMN Architects, the carbon footprint of interior design may be bigger than anyone realized.
From Infrared Saunas to Meditation Corners, "Wellness" Is 2022's Hottest Design Trend
Vogue
In a recent report from the American Society of Interior Designers, "health and wellness" was highlighted as one of the top interior design trends for 2022: "Homeowners are increasingly searching for designs and products that will promote good health and an overall sense of well-being," the report reads, noting an increased interest in "mental wellness enhancements," "outdoor living spaces," and "places where they can relax and restore from the increased stresses of everyday life."
60 Small Patio Ideas That Will Make You Want to Spend All Day Outside
Elle
In a perfect world, your home would have a sprawling backyard with designated spaces for a pool, an outdoor kitchen, and a lounge area. The reality for most of us (we're looking at you, city dwellers)? A small deck or a diminutive patch of grass. But, if the homes in ELLE DECOR have taught us anything, it's that big design opportunities can come in small packages—you just need to get a little creative.
---
Become a Chapter Sponsor
ASID Hawaii Chapter strives to work in support of our local interior designers by providing opportunities for continuing education, advocacy for the profession, social events and recognition of Design Excellence through our annual awards gala. While a small portion of our annual membership fees provides seed money for these activities, it is through annual sponsorships from our collaborative team of design firms and industry partners that the financial and personalized support is found to realize the programs and functions the membership expects.
As a sponsor of ASID Hawaii, your company can engage with members, participate in events, host meetings, and sponsor activities. Additionally, you will have the opportunity to increase visibility through additional marketing, branding, special access, and deeper engagement with ASID members. Sponsorship is an excellent opportunity for your business to gain exposure and showcase your products and services to our local interior design community.
For a sponsorship package, please click here.
---
Advertise with Us
There are several ways you can advertise with our chapter including email blasts, newsletter ads and website ads. Please send an email to administrator@hi.asid.org to learn more about advertising options.
---
Let's Connect
ASID HAWAII FACEBOOK: Please "like" us on Facebook! CLICK HERE to make sure you are up to date with ASID Hawaii's events, design news and stories. We are also on:
TWITTER
---
Maximize Your ASID Benefits
Trade Pricing and Discounts
ASID membership has its benefits—including exclusive discounts on products and services from national sponsors and industry partners.Make sure your to-the-trade offers or discounts are featured and email industrypartners@asid.org with your company logo, description of your trade service, and a link to register.
Find answers to frequenty asked membership questions including member qualifications, payments and dues, membership cards, updating your profile, CEUs,and password retrieval.
Everything you need to know about NCIDQ exams.
ASID supports the professional development of the Society's members and the profession with continuing education programs and events that allow participants to advance in their careers and build their skill sets. ASID, our Chapters, and Industry Partners offer a variety of continuing education opportunities in-person and online.
ASID Academy: The ASID Academy is a user friendly, dynamic, streamlined continuing education experience offering high-quality courses, webinars, and more in a learn anytime, anywhere (with an internet connection), on your own schedule environment. Topic areas include the Business of Design, Health & Wellness, Institutional, Healthcare, Residential, Workplace, and Hospitality & Retail design. Check out engaging courses like Designing for a New Millennial Culture and earn valuable IDCEC and AIA CEUs in the process. Explore the Academy.

Check out the new IDCEC Website Guide!
ASID members must earn a minimum of 10 unit (10 hours) of approved continuing education (CEU) every two years. We've updated the instructions for CEU reporting that align with IDCEC's new website to help you navigate the process.
ASID members are to utilize the Interior Design Continuing Education Council (IDCEC) registry to warehouse CEUs. Every ASID member has a unique IDCEC number to login into the website (your IDCEC number is different than your ASID number). The IDCEC user registry allows you to upload and track your continuing education activity as well as store a record under your account. Check your IDCEC account regularly to ensure your records are up to date.
Each year, ASID recognizes the exemplary achievements and outstanding service demonstrated by highly engaged members, chapters, student chapters, and industry partners through our awards and honors programs.
---
One Voice
Each day interior designers use their voices and visions to reshape spaces--and therefore the lives of those occupying them--for the better. With those same voices working in unison, they have the power to design a better future for themselves and the entire profession. That is why ASID began One Voice; to empower interior designers to get involved and advocate for or against the public policy that will ultimately influence their careers and lives. For more info click here.
---
Website Log-in Help
The default login info is first name.lastname.member ID, and then the password is just your member ID. If you've forgotten your password, click Log In and then click Forgot Password.
---
About ASID
The American Society of Interior Designers (ASID) believes that design transforms lives. ASID serves the full range of the interior design profession and practice through the Society's programs, networks, and advocacy. We thrive on the strength of cross-functional and interdisciplinary relationships among designers of all specialties, including workplace, healthcare, retail and hospitality, education, institutional, and residential. We lead interior designers in shared conversations around topics that matter: from evidence-based and human-centric design to social responsibility, well-being, and sustainability. We showcase the impact of design on the human experience and the value interior designers provide.